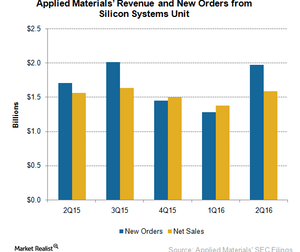 Applied Materials and the Shift from DRAM to NAND
By Puja Tayal

Updated
Revenue by segments
In fiscal 2Q16, Applied Materials (AMAT) earned 65% of its revenue from its Silicon Systems segment, 26% from its Services segment, 7% from Display Products, and the remaining 2% from Energy and Environmental Solutions in fiscal 2Q16.
Article continues below advertisement
Silicon Systems
Silicon Systems' revenue rose by 1.7% YoY (year-over-year) to ~$1.6 billion in fiscal 2Q16. The segment's non-GAAP (generally accepted accounting principle) operating margin fell from 26.8% in fiscal 2Q15 to 25.8% in fiscal 2Q16. New orders rose by 15.4% YoY as semiconductor customers are investing in developing device technologies and ramping up new technologies. This is boosting AMAT's sales for differentiated products and services.
Memory
Memory accounted for 66% of new orders in fiscal 2Q16. Although the company expects overall memory spending to remain flat on a YoY basis, it expects spending to shift from DRAM (dynamic random access memory) to nonvolatile flash memory NAND. This is visible from the changing dynamics of the new orders. In fiscal 2Q15, DRAM accounted for 31% of new orders and Flash for 21%. This ratio changed in fiscal 2Q16 to 17% for DRAM and 49% for Flash. AMAT's NAND orders rose to a record $963 million in fiscal 2Q16.
The memory industry is also transitioning to 3D NAND, which is manufactured using a three-step process of depositing, removing, and modifying materials with high precision. This could increase AMAT's NAND market by three times.
Notably, Intel (INTC), Micron Technology (MU), and SanDisk (SNDK) are building 3D NAND plants in China, Singapore, and Japan, respectively, though not in Korea (EWY).
Article continues below advertisement
Foundry
Foundry accounted for 23% of AMAT's new orders in fiscal 2Q16 as against 36% in fiscal 2Q15. This is because semiconductor companies are focusing more on new technologies than building capacity. AMAT expects foundry spending in fiscal 2016 to be flat over its fiscal 2015 level. Foundries are spending large sums on ramping up the 10-nm (nanometer) node, and starting to pilot production of 7nm.
TSMC (TSM) is investing $9 billion–$10 billion in capital expenditure in fiscal 2016 to ramp up production of 16-nm technology and bring into production 10-nm and 7-nm technologies over the next two years.
Logic
Logic accounted for 11% of AMAT's new orders in fiscal 2Q16, which was almost unchanged from the 12% it saw in fiscal 2Q15. AMAT expects logic spending to remain almost flat in fiscal 2016.
Now let's analyze the performance of AMAT's Display Products segment.