Lithium ETFs and Stocks to Consider Amid Musk's Optimism, Increased Demand
Tesla's earnings calls are always fun. From Elon Musk calling out an analyst for a "bonehead" question to defending the company's $1 trillion valuation, the calls have been full of action. Now, the world's richest person has termed lithium refining as a "lucrative money-minting business." What lithium stocks and ETFs could benefit from the expected increase in lithium demand?
Article continues below advertisement
Global lithium demand has been rising amid the soaring sales of EVs (electric vehicles). Despite the COVID-19 pandemic and supply chain issues, global EV sales have been rising and almost doubled in 2021. Tesla, which was the largest EV seller in 2021 but lost the title of Warren Buffett-backed BYD, expects its EV production to rise at a CAGR of 50 percent over the next many years.
More EV sales mean higher lithium demand.
Global EV sales are expected to rise rapidly over the next decade as legacy automakers, as well as startup EV companies, ramp up their production. None of the companies producing electric cars are perturbed about demand. What's bothering EV producers are the supply chain issues and there has been a scramble to secure minerals like lithium and cobalt.
Article continues below advertisement
Elon Musk finds lithium refining a sure-shot way to make money.
During Tesla's earnings call for the second quarter of 2022, Musk sounded quite bullish on the lithium refining business. He said, "I would really like to encourage, once again, entrepreneurs to enter the lithium refining business. You can't lose." He said that the margins in lithium processing are similar to software, an industry known for its high margins.
Article continues below advertisement
Investors can consider these three lithium stocks in 2022.
Albemarle (NYSE: ALB), Lithium America (NYSE: LAC), and Pilbara Minerals (OTC: PILBF) are three lithium stocks that you can consider in 2022. All these stocks have come off their highs amid the broader market crash. However, Albemarle stock is outperforming its peers.
Article continues below advertisement
Albemarle plans to increase its U.S. processing capacity.
Albemarle supplies lithium to U.S. EV producers including Tesla. Even before Musk called upon entrepreneurs to take up lithium processing, Albemarle had said that it was contemplating building a plant in the U.S. with an annual nameplate capacity of 100,000 tons. Overall, the company expects to increase its annual production capacity to 500,000 tons, a five-fold increase from the current volumes.
Article continues below advertisement
Wall Street analysts have a fixed forecast for ALB stock.
Wall Street analysts have a mixed forecast for ALB stock. Of the 17 analysts polled by TipRanks, 10 have a buy rating while five have a hold rating. Two analysts have a sell rating. Its average target price of $270.80 is a premium of 20 percent over current prices.
While analysts are almost unanimous on the growth in lithium demand, some have been wary of soaring valuations. For example, ALB's NTM (next-12 month) EV-to-EBITDA multiple soared to 36x in November 2021. Usually, mining companies have single digits multiples. Meanwhile, ALB's NTM EV-to-EBITDA multiple has now corrected to 11.5x. While it's still above historical averages, it has fallen steeply from the peaks.
Article continues below advertisement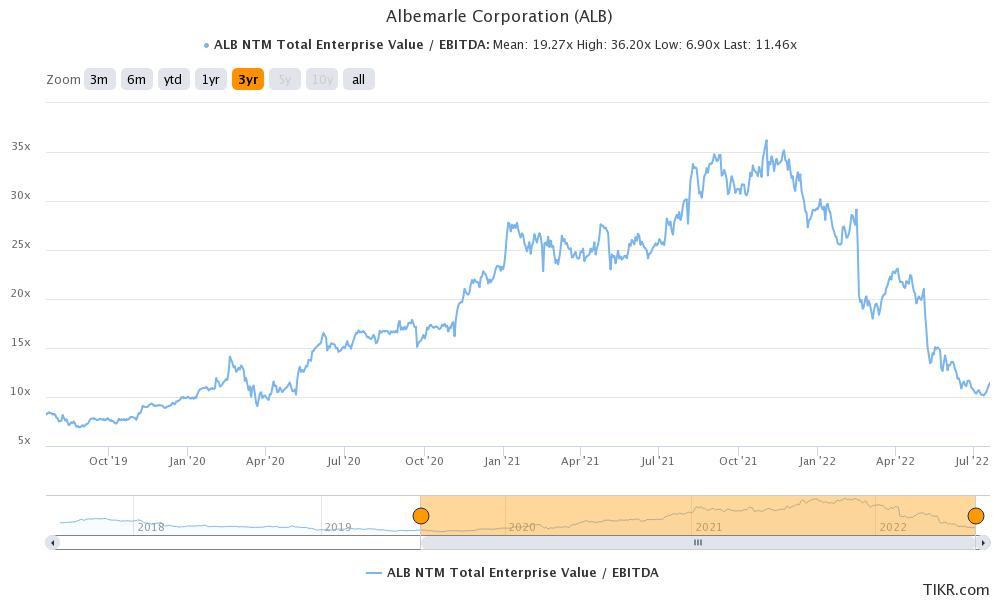 These lithium ETFs are worth considering in 2022.
ETF investing has gained traction due to its low-cost structure. The Global X Lithium & Battery Tech ETF (NYSE: LIT) is a lithium ETF that invests in companies involved in lithium mining, lithium refining, and battery production. The ETF has net assets of $4.42 billion and an annual expense ratio of 75 basis points.
Article continues below advertisement
Almost half of the holdings in LIT are Chinese companies while U.S.-based companies account for just above one-sixth of the portfolio. With an almost 11 percent stake, Albemarle is the largest holding of the ETF.
Is investing in lithium a good idea?
Lithium is a play on soaring EV sales. Global EV sales are expected to rise multi-fold over the next two decades as most legacy automakers have committed themselves to a zero-emission future. Lithium stocks and ETFs are a good way to capitalize on the rising sales of electric cars.