Warren Buffett's Holding BYD (BYDDF) Stock — But Should You?
Berkshire Hathaway chairman and legendary value investor are among the investors of Chinese electric vehicle company BYD (BYDDF). Notably, Buffett is invested in the company since 2008 despite the fact that EV stocks don't exactly fit into his definition of value stocks. BYD stock is now down 37 percent from its 52-week highs amid the sell-off in all green energy stocks. Should you buy BYDDF stock now?
Article continues below advertisement
Chinese EV stocks including BYDDF, NIO, XPeng Motors, and Li Auto are popular among U.S. investors. Both Li Auto and XPeng listed in 2020 only and delivered stellar returns. NIO stock also rose over 1,100 percent in 2020 which was ahead of Tesla's 740 percent rise in the year.
News of BYD's Q1 deliveries seems promising for the stock's growth
BYD has released its delivery report for March and Q1 2021. It sold a total of 16,301 battery-powered EVs in the month. Overall, the company delivered sold more than 23,000 new energy vehicles in the month. It outsold NIO, XPeng, as well as Li Auto in March as well as the first quarter of 2021.
Article continues below advertisement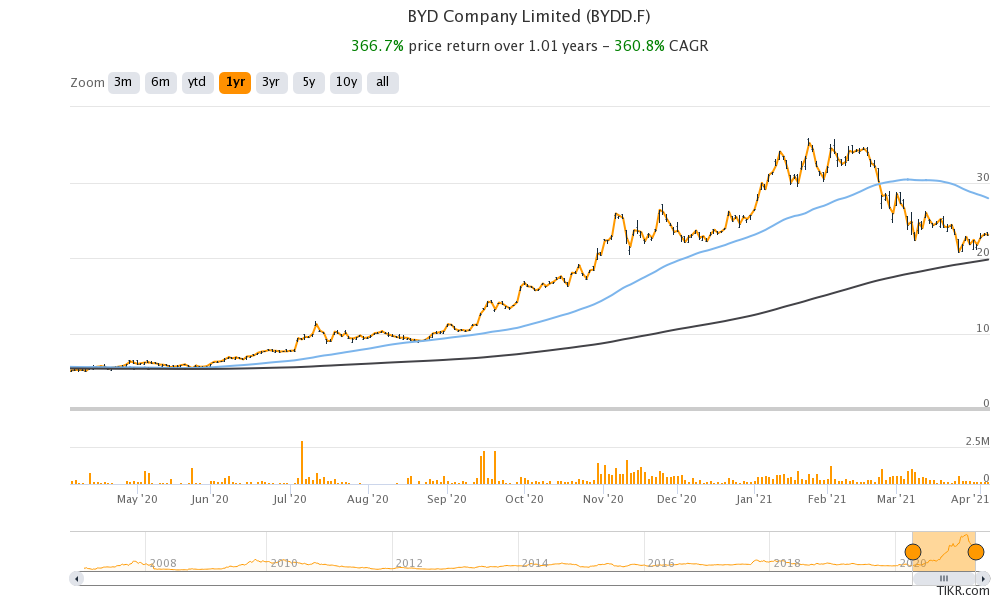 NIO delivered 7,257 electric cars in March which took its Q1 2021 deliveries to 20,060 which was ahead of its guidance. Li Auto delivered 12,759 vehicles in the first quarter while XPeng delivered 5,102 vehicles in March which took its Q1 2021 deliveries to 13,340.
Article continues below advertisement
Tesla delivered 184,800 EVs globally in Q1 2021. While we don't have the breakup for China, according to China's Association of Automotive Manufacturers, the Elon Musk-led company sold 18,318 vehicles in February in China.
Article continues below advertisement
BYDDF stock forecast is partly cloudy due to its OTC status.
Since BYDDF is traded on the OTC markets, not many analysts cover the stock. That said, the company is a strong player in the Chinese EV market. BYDDF stock trades at an NTM enterprise value to EBITDA multiple of 23.04x which looks reasonable considering the bloated valuations of other pure-play EV companies.
BYDDF stock is the talk of Reddit's r/wallstreetbets.
While EV stocks like Tesla and NIO are quite popular on Reddit groups, BYD is not among the popular names on Reddit. A post on popular Reddit group WallStreetBets, which was upvoted over 2,100 times, referred to BYD among the value stocks listed by Keith Gill on his Reddit forum.
Article continues below advertisement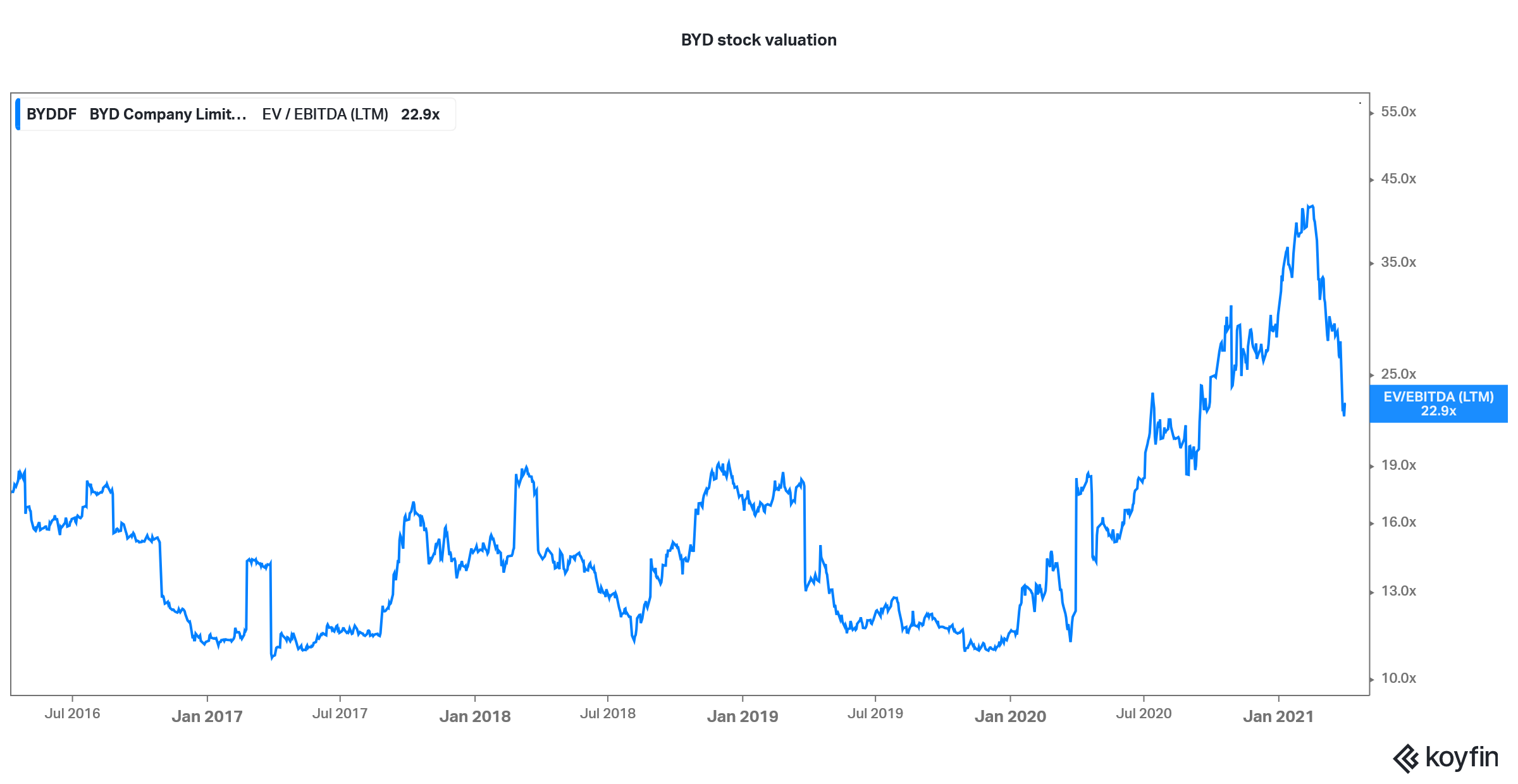 So, is BYDDF stock a good investment?
BYDDF is a good way to play the EV market. While companies like NIO and Tesla get most of the attention, and therefore stretched valuations, BYD looks like a good stock to have in the portfolio. The faith Warren Buffett has put in the company is another stamp of approval for investors.
Article continues below advertisement
Investing in BYD versus NIO versus XPeng
BYD, NIO, and XPeng target different segments. NIO is a play on the high-end electric car market while XPeng offers affordable electric cars. BYD is a diversified producer and apart from passenger cars, it also sells commercial vehicles rail transit, batteries, and electronics. However, from a valuation perspective, BYD is the cheapest as compared to NIO, XPeng, as well as Li Motors.
Article continues below advertisement
How to buy BYDDF stock:
BYD trades under two ticker symbols on the OTC markets, "BYDDF"and "BYDDY." The difference is that BYDDY is the ADR of BYD stock, while BYDDF is its H-shares and BYDDY trades at roughly twice what BYDDF trades at.
Most brokers let you trade in OTC stocks and you can open an account with any reputed broker including Robinhood if you wish to buy BYDDF stock.