Why XPEV Stock Should Be on Investors' Radar After the Crash
There has been broad-based selling in all green energy stocks including EV (electric vehicle) stocks. Chinese EV maker XPeng (XPEV) fell over 11 percent on March 2 and is now down 26 percent YTD. The stock is trading at less than half of its 52-week peak of $74.49. What's the forecast for XPEV stock after the crash? Will the stock keep falling or has it bottomed out.
Article continues below advertisement
XPeng listed in 2020 along with Li Auto. The stocks surged after the listing, which prompted the companies to do a share sale towards the end of the year. Tesla and NIO issued shares three times in 2020. Now, Tesla has more cash than debt on its balance sheet after the $13 billion share issuance in 2020.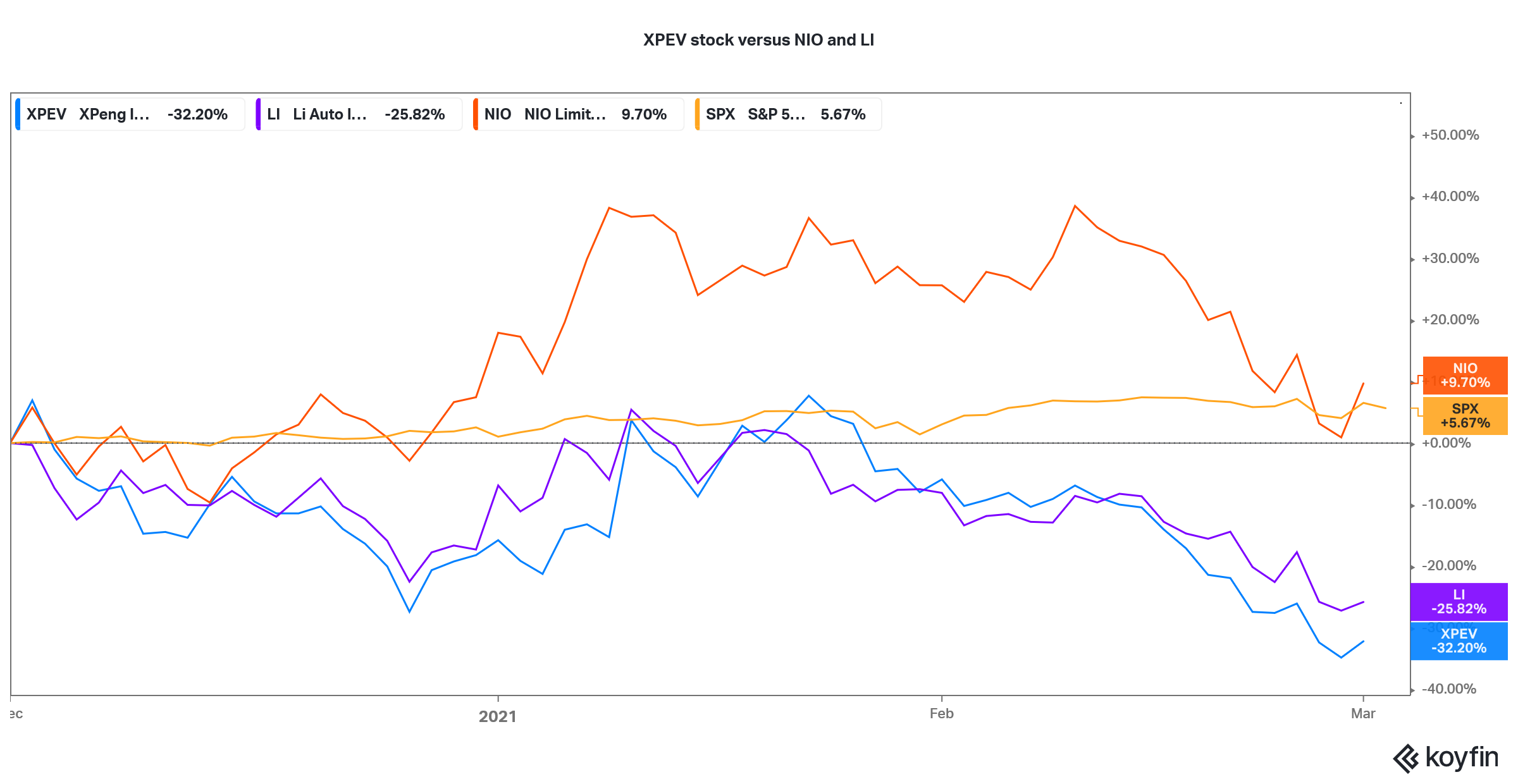 Article continues below advertisement
Why XPeng stock is falling
XPeng stock is down 58 percent from its 52-week highs, while Li Auto is down 50 percent. NIO has done "better" and is down 35 percent from its 52-week highs. XPEV stock has fallen for many reasons. First, the entire green energy space started to look like it was in a bubble after the spike in 2020.
While the global shift towards EVs and renewable energy is for real, investors were willing to pay any premium for these companies. Second, Chinese EV companies including NIO and XPeng reported tepid delivery numbers for February. While the lower deliveries were due to the Chinese Lunar Year Holidays, markets didn't buy into the argument.
Article continues below advertisement
Finally, the competition is heating up in the EV industry with a flurry of upcoming models. The new models would compete for customers' wallet share and there's a high possibility of a price war. The signs are already visible in China.
Article continues below advertisement
Forecast for XPEV stock
Analysts have a positive forecast for XPEV stock. According to the estimates compiled by MarketBeat, XPEV's average target price is $56.17, which is a premium of 78 percent over the current prices. Its highest target price is $70, while its lowest target price is $43. After the steep fall, XPEV is trading even below its street low target price.
Among the nine analysts covering XPEV stock, six recommend a buy, while one recommends a sell. The remaining two analysts recommend a hold or equivalent rating on the stock. In February, Morgan Stanley initiated coverage on XPeng with an outperform rating and a street high target price of $70.
Article continues below advertisement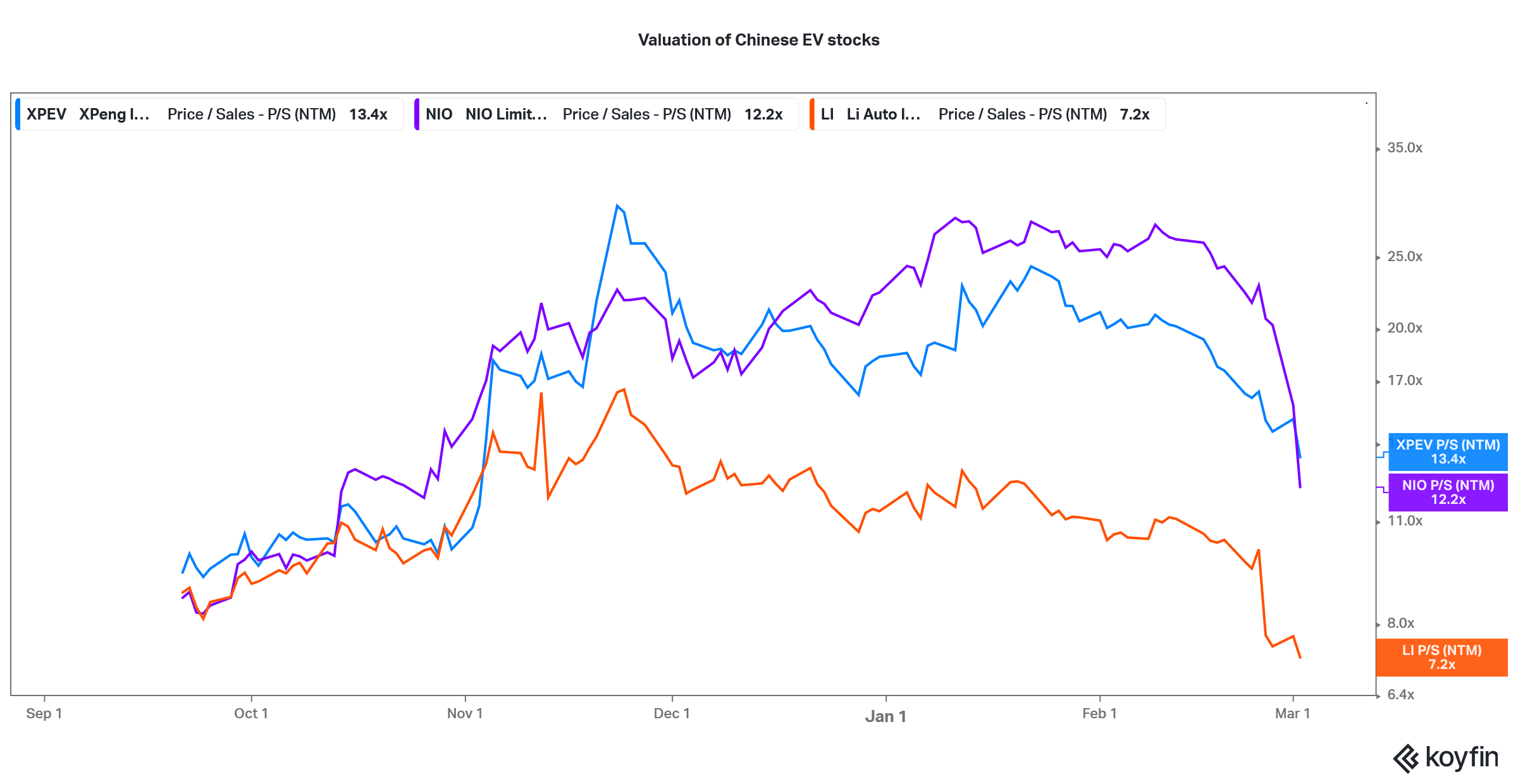 XPeng stock looks like a buy after the crash
After the crash, XPEV stock now trades at an NTM (next-12 month) PE multiple of 13.4x. The multiple peaked near 30x in 2020 and now looks in line with NIO, which has an NTM PE multiple of 12.2x. Li Auto trades at an NTM PE multiple of 7.2x.
Article continues below advertisement
XPEV's valuation multiples look much more reasonable after the crash. The company's market capitalization is $24 billion, which looks digestible considering the fact that Tesla's market capitalization is above $650 billion.
EV stocks have been very volatile over the last month. Investors seem to be getting wary of their valuations and weighing that against the growth outlook. With legacy automakers like Volkswagen, Ford, and General Motors stepping up their EV offerings, pure-play EV makers will see immense competition.
XPEV stock was trading higher in pre-market trading on March 3 along with other EV stocks. Considering the reasonable valuations and growth outlook, XPEV looks like a decent buy at these prices.