U.S. Steel (X) Stock Is Rising, Could be a Reddit Target After CLF
U.S. Steel Corporation (X) stock was trading sharply higher on July 9. Why is X stock rising and could it be the next target for Reddit group WallStreetBets after Cleveland-Cliffs (CLF)?
Article continues below advertisement
Article continues below advertisement
X and CLF are both integrated steel mills. This means that the company produces both steel and iron ore. Looking at the YTD price action, CLF stock is outperforming X with gains of over 52 percent. That said, X isn't doing too badly either and is up 40 percent so far in 2021. U.S. steel stocks have been strong in 2021. Nucor, which is the only steel name in the S&P 500, is among the top five gainers of the S&P 500 so far.
Why U.S. Steel stock is going up
On July 8, Credit Suisse issued a bullish note calling for more upside in U.S. steel stocks. Steel prices in the U.S. have looked strong. As I noted previously, we are in a steel supercycle. The rally looks like it's here to stay despite concerns over a crash in commodity prices.
Article continues below advertisement
Meanwhile, there's a broad-based rally in metals and mining stocks on July 9. Apart from the uptrend in broader markets, China's reserve ratio cut for banks also seems to be helping commodity stocks. China is the world's largest consumer of most commodities and prices tend to react sharply to any economic news from the country.
Article continues below advertisement
Article continues below advertisement
X stock looks undervalued
X stock looks very undervalued with an NTM (next-12-month) EV-to-EBITDA multiple of only about 2.3x. In comparison, CLF, Nucor, and Steel Dynamics have NTM EV-to-EBITDA multiples of 2.9x, 4.1x, and 3.3x. The valuations multiples look tempting both on an absolute as well as a relative basis.
Article continues below advertisement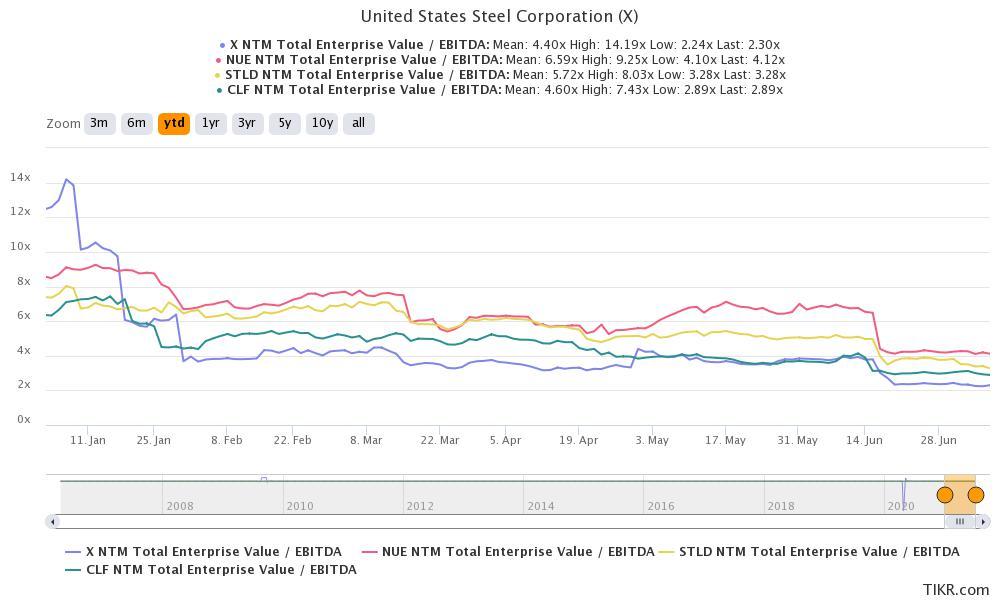 Article continues below advertisement
X stock short interest
According to the data from Fintel, over 3.4 million X shares were sold short on July 8, which was over 17.7 percent of the total traded volume. The short volume ratio on the day was the highest for July. While the short volume isn't incredibly high to trigger an epic short squeeze, it's good enough to get Reddit traders' attention.
Article continues below advertisement
Will Reddit traders target U.S. Steel after CLF?
The short interest shouldn't be the sole reason for buying a stock. X is a play on the positive macro environment as well as the company's turnaround. Over the last few years, X has taken several actions to structurally improve the earnings. The asset revitalization plan will start playing out soon, which will have a dual impact on the stock.
First, the company will have to spend less cash towards modernization, which it can then use to lower the debt or deploy that in share repurchases. Second, there would be a structural improvement in the company's earnings and cash flows. X is also pivoting towards a greener future, which is a positive sign.
Article continues below advertisement
Article continues below advertisement
Overall, with tepid valuations, high short interest, and a positive fundamental story, X stock ticks many boxes that Reddit traders look for. Also, X has been an overlooked steel name that could also attract WallStreetBets members.
X stock forecast looks positive
Wall Street analysts are also positive on X stock and its median target price of $32 is a 32 percent premium over the current prices. The stock's highest target price of $41 implies an upside potential of 70 percent over the current prices. Looking at the strong momentum in commodity prices and the expected uptick in the industry considering the Biden administration's infrastructure plans, X looks like a good steel stock to buy now.