Alcoa Stock Will Likely Rally More, Looks Like a Good Buy Now
Alcoa released its earnings for the second quarter of 2021 on July 15 after the markets closed. The company's earnings were better than expected on both the top line and the bottom line. Should you buy Alcoa stock now after the earnings beat or wait for better prices?
Article continues below advertisement
AA stock was trading marginally higher in the premarket on July 16. The stock is now down over 22 percent from the 52-week highs and is in a bear market territory. Most other metals and mining plays including steel and copper producers have come off their 2021 highs.
Aluminum prices
Aluminum prices have fallen slightly from their recent highs, which has taken a toll on aluminum producers' stock prices. In general, investors have been wary of metal stocks amid fears that prices might have peaked and are headed down.
Article continues below advertisement
Alcoa Q2 earnings beat the estimates
Alcoa's second-quarter earnings sound reassuring. The company reported revenues of $2.83 billion in the quarter, which was ahead of the $2.65 billion that analysts were expecting. The company's adjusted EBITDA also increased 19 percent compared to the first quarter. Alcoa increased its shipment guidance for the year.
Article continues below advertisement
The second quarter was a record quarter for Alcoa in terms of net income since it was listed as a separate company in 2016. The company is also progressing well on its plans and its adjusted net debt was $2.1 billion at the end of June, which is towards the lower end of its targeted range of $2 billion–$2.5 billion.
Article continues below advertisement
Alcoa has been taking several portfolio actions and has exited some non-core assets. It has also been shutting down plants that aren't placed favorably on the cost curve. These actions have helped the company strengthen its balance sheet and lower its positioning on the global cost curve.
The macro environment is positive for AA stock.
The current macro environment is very supportive of AA stock. In the U.S., the Biden administration's infrastructure plans will help propel the country's aluminum demand. Also, China has curtailed some of its polluting capacity and Alcoa forecasts that the country will remain a net importer of primary aluminum.
Article continues below advertisement
In 2021, China has had to release some aluminum from the state reserves. While the move was aimed at putting a cap on rising aluminum prices, it also reflects the supply tightness in the world's largest aluminum-consuming country. Strong global aluminum demand bodes well for aluminum prices and producers like Alcoa.
Article continues below advertisement
Why AA looks like a good aluminum stock to buy
From a company-specific perspective, AA looks like a good aluminum stock to buy. The company has a strong cost position, especially on bauxite and alumina. It has integrated aluminum operations and has streamlined the portfolio.
The balance sheet also looks healthy, which would enable the company to increase stockholder returns or invest in growth. Alcoa stock trades at an NTM EV-to-EBITDA multiple of just over 3x, which looks attractive.
Article continues below advertisement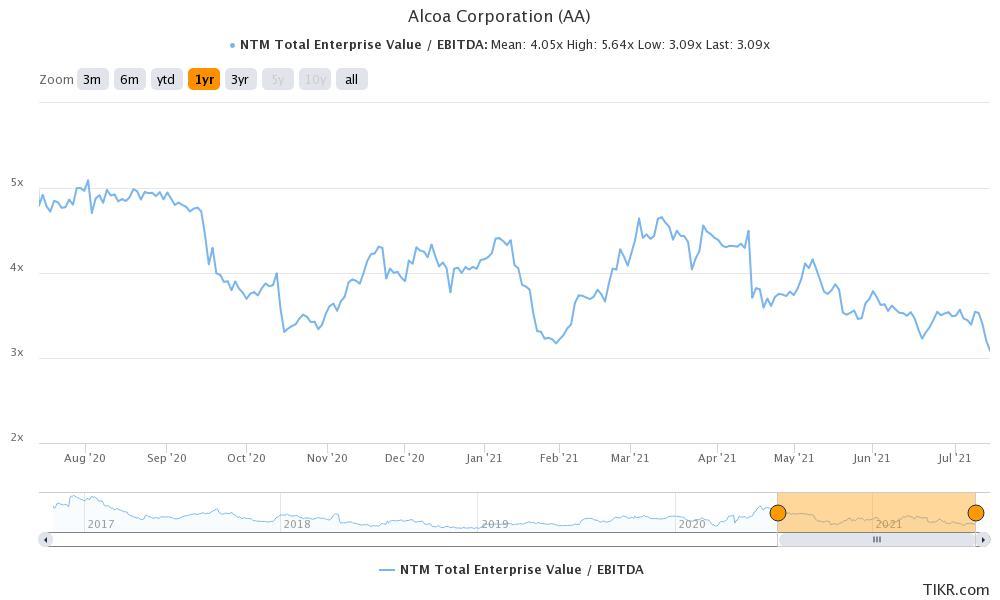 Alcoa's stock forecast
Alcoa's stock forecast looks positive considering the supportive macro environment and the company's strong position in the industry. Its median target price of $45 is a 30 percent premium over the current prices.
Article continues below advertisement
Alcoa trades 10 percent below the lowest street target price, while the highest target price of $56 implies an upside of 62 percent. Among the 13 analysts polled by CNN Business, seven rate AA as a buy, while six rate it as a hold or some equivalent.
Should you buy Alcoa stock now?
Alcoa stock looks like a good buy at these prices. The recent dip in the stock looks like a good buying opportunity. While there are fears that metal prices have peaked, we are in a commodity supercycle that looks here to stay for some time.