Alcoa (AA) or CENX: Picking the Best Aluminum Stock
There was a bloodbath in metal and mining shares on March 23. Alcoa (AA) and Century Aluminum (CENX) fell 9.9 percent and 10.3 percent, respectively. Both of the companies are U.S.-based aluminum producers. Which company is the best aluminum stock?
Article continues below advertisement
Despite the 10 percent tariff that President Trump imposed on aluminum imports, the U.S. continues to import most of its aluminum needs. There aren't a lot of aluminum smelters remaining in the country. AA and CENX are the only U.S.-based listed aluminum producers.
Aluminum's outlook
A few years ago, aluminum's outlook seemed strong due to the growing use of aluminum in vehicles. Using aluminum makes a vehicle lighter and helps improve the fuel economy. However, automakers have shifted focus to zero-emission vehicles instead of focusing on the fuel economy of ICE (internal combustion engine) cars.
Article continues below advertisement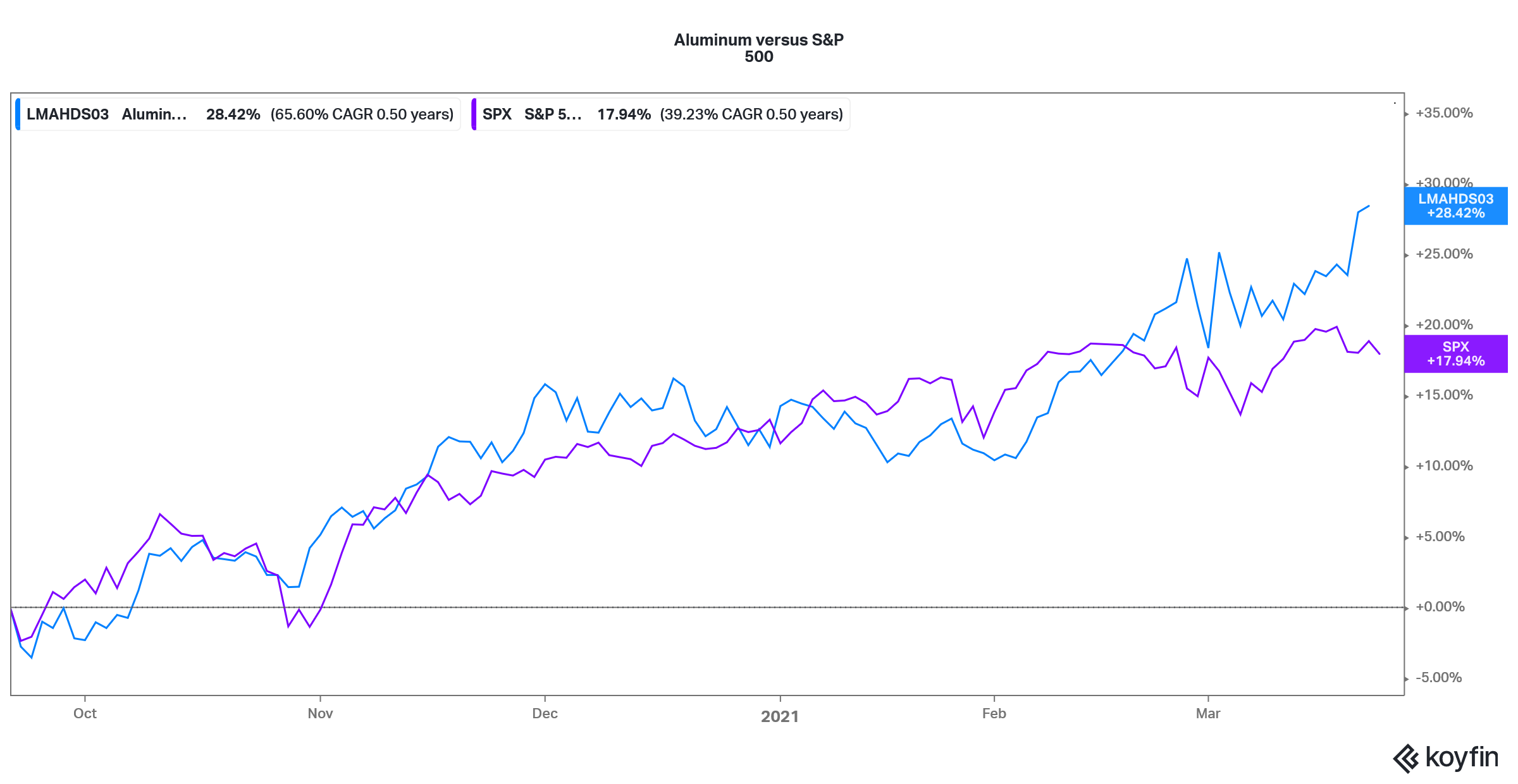 Meanwhile, aluminum might continue to find favor with electric cars. Aluminum's lightweight, which helps electric carmakers offset the higher battery weight and improve the vehicle's range. That said, with their advanced high-strength steel products, steel companies give aluminum a tough fight.
Article continues below advertisement
The bigger problem with aluminum has been massive oversupply, especially in China. This was compounded by higher inventories—both in the official and unofficial ecosystems. However, there has been some rebalancing of aluminum markets with China shutting down some of the polluting smelters. The inventories have also come down.
China plans to release aluminum inventories.
Aluminum prices have been on an uptrend since the middle of 2020. Meanwhile, China is concerned about rising prices. The country is the biggest aluminum producer, consumer, and exporter. Since rising aluminum prices could lead to higher inflation, China reportedly plans to sell almost half a million tons of the metal from its State reserves.
Article continues below advertisement
How to buy aluminum
The news led to a sharp fall in aluminum prices. However, the medium to long-term outlook for the lightweight metal looks positive. Now, to gain exposure to aluminum, you can either trade in futures or buy the iPath Series B Bloomberg Aluminum Subindex Total Return ETN (JJU). You might also buy physical aluminum, but the storage costs would be prohibitive.
Article continues below advertisement
The best way to gain exposure to aluminum would be to buy stocks of companies that produce aluminum. U.S. investors have limited options here. Apart from AA and CENX, Aluminum Corporation of China ADR (ACH) looks like the only viable option.
AA or CENX: Which is the best aluminum stock to buy?
AA is an integrated aluminum producer. The company has bauxite mining, alumina refinery, and smelting operations. CENX only has downstream aluminum smelting operations and buys alumina from third parties.
Article continues below advertisement
Meanwhile, CENX changed its strategy of buying alumina at API (alumina price index) and moved to buy alumina as a percentage of LME (London Metals Exchange) aluminum prices that provide it a natural hedge.
Alcoa is also working on green aluminum products and would supply low-carbon aluminum for Audi's first electric sports car. Low-carbon aluminum could be a key driver for Alcoa as the world wakes up to the climate change crisis. Given its integrated business and globally diversified operations, Alcoa looks like a better value proposition than CENX.
Article continues below advertisement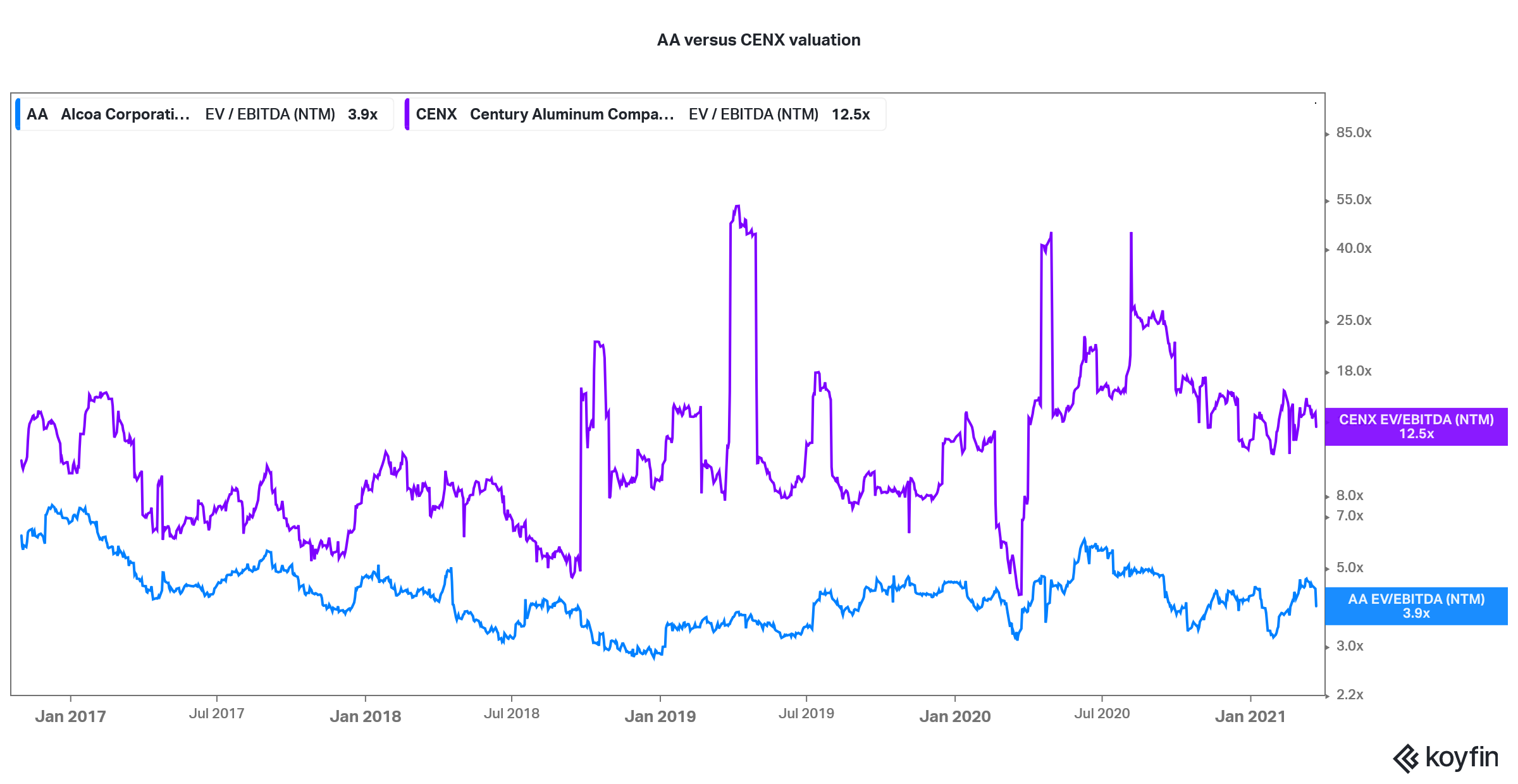 From a valuation perspective, Alcoa trades at an NTM EV-to-EBITDA multiple of 3.9x compared to 12.5x for CENX. Historically, CENX has traded at a premium to AA. However, given the current valuation gap, AA looks like a good buy at the current prices.
Article continues below advertisement
Aluminum could see a rerating too
While copper prices have surged amid optimism about their usage in the green energy ecosystem, aluminum hasn't seen a similar rerating yet. The aluminum industry is among the largest electricity consumers globally and most of it, especially in China, comes from fossil fuels.
As China shuts some of its polluting power plants and smelters and the demand for low-carbon aluminum rises, aluminum and Alcoa could also see a rerating.