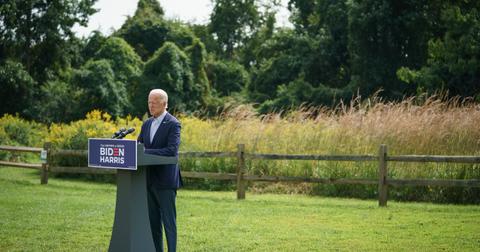 The Best Green Energy Stocks to Buy Under a Biden Presidency
By Mohit Oberoi, CFA

Updated
President-elect Joe Biden could take a more favorable approach toward renewable energy than Donald Trump. The Trump administration relaxed environmental laws and pulled the U.S. out of the Paris climate deal. As Biden is expected to rejoin the deal and spend trillions on green energy, investors should know the best green energy stocks.
Article continues below advertisement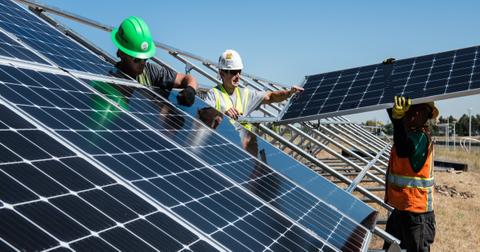 "Green" stocks are spread across the energy generation, automotive, and mining industries. Some examples of green companies include those that produce renewable energy and vehicles that run on clean energy. Others mine minerals that are then used by green energy companies.
Article continues below advertisement
What is green energy?
The U.S. Environmental Protection Agency defines green energy as "those renewable energy resources and technologies that provide the highest environmental benefit," such as wind, solar, biogas, eligible biomass, geothermal, and low-impact small hydroelectric sources.
The U.S. Department of Energy also lists hydrogen as a green fuel. However, only hydrogen produced from clean energy sources should be considered green, not hydrogen produced from natural gas.
Article continues below advertisement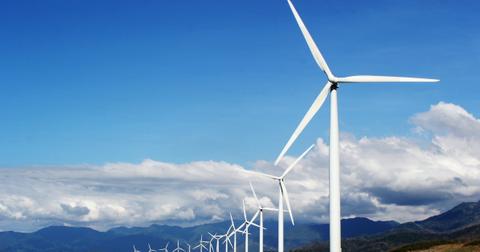 What are the best green energy stocks?
Among solar companies, Enphase Energy, First Solar, SunPower, and Solar Edge Technologies are the best green energy stocks. To diversify your portfolio, consider NextEra Energy Partners, TerraForm Power, or Brookfield Renewable Partners, which produce energy through both solar and wind energy, Ormat Technologies is a play on geothermal power, and Renewable Energy Group, which produces biomass-based diesel, has international operations and is the largest biodiesel producer in North America.
Article continues below advertisement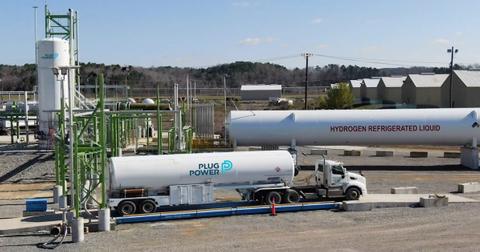 Bloom Energy is another green energy stock. The company produces fuel cells that produce electricity onsite for retail and industrial consumers. Meanwhile, Plug Power, a play in the fuel cell industry, is targeting 50 percent green content by 2024.
Article continues below advertisement
A green portfolio is probably incomplete without Tesla. Currently, the company gets most of its revenue from selling electric cars. However, it also has energy operations, and last year, Tesla CEO Elon Musk was optimistic that the company's energy segment could become as large as its automotive division. All legacy automakers are now focusing on electric vehicles, in part because of Tesla popularizing them.
Tesla's mission is to accelerate the world's transition to sustainable energy.

🌞⚡🚗🔋

(a thread)

— Tesla (@Tesla) May 9, 2019
Article continues below advertisement
Will a Biden presidency help green energy stocks?
Once in office, Biden is expected to take a favorable approach toward renewable energy and to devise policies that support a shift from conventional energy and fossil fuels. It's no wonder that green energy stocks rose after his election.
Similarly, U.S. steel stocks rose in 2016 after Trump's election. The markets expected him to curb U.S. steel imports, which he eventually did by imposing tariffs. In a move called the "Trump trade," investors bought stocks of companies that were set to benefit from Trump's policies, resulting in steel stocks rising.
Article continues below advertisement
Biden repeats calls on Congress to move ahead w/COVID relief bill ASAP. He says that's the essential first step to moving forward. But also cites the need to focus the recovery around green energy/climate policy.

"It's time to reward work, not just wealth in America," he says

— Edward-Isaac Dovere (@IsaacDovere) November 16, 2020
How to buy green energy stocks
To buy green energy stocks, you'll need a trading account with a broker. You can pick green stocks based on your analysis and their risk-return trade-off. Alternatively, you could buy ETFs that invest in green energy companies—the First Trust NASDAQ Clean Edge Green Energy Index Fund, iShares Global Clean Energy ETF, Invesco Solar ETF, ALPS Clean Energy ETF, and VanEck Vectors Low Carbon Energy ETF all invest in green energy. ETFs are a good investment vehicle, especially if you lack the time and expertise to research individual companies.