Best Reddit Stocks for Investors to Buy in 2021
Reddit stocks have made waves in 2021. The notorious Reddit group WallStreetBets helped trigger a short squeeze in many stocks including GameStop and AMC Theatres. The group also tried its hand with marijuana companies. Most of the stocks pumped by the Reddit group have fallen sharply from their peaks. Are there any Reddit stocks that you can still buy and get good returns in 2021?
Article continues below advertisement
First, it's important to understand how WallStreetBets choose its targets. It targeted companies where the sentiment was positive and there was high short interest. It chooses smaller companies where it's much easier to impact the stock prices and trigger a short squeeze.
Certain Reddit stocks are performing well despite falling
While Reddit stocks have fallen from their peaks, many of them are trading with good YTD gains. Based on the closing prices on Feb. 16, GameStop, AMC Theatres, Palantir, Aphria, BlackBerry, and Sundial Growers are up 163 percent, 166 percent, 18 percent, 214 percent, 84 percent, and 362 percent, respectively.
Article continues below advertisement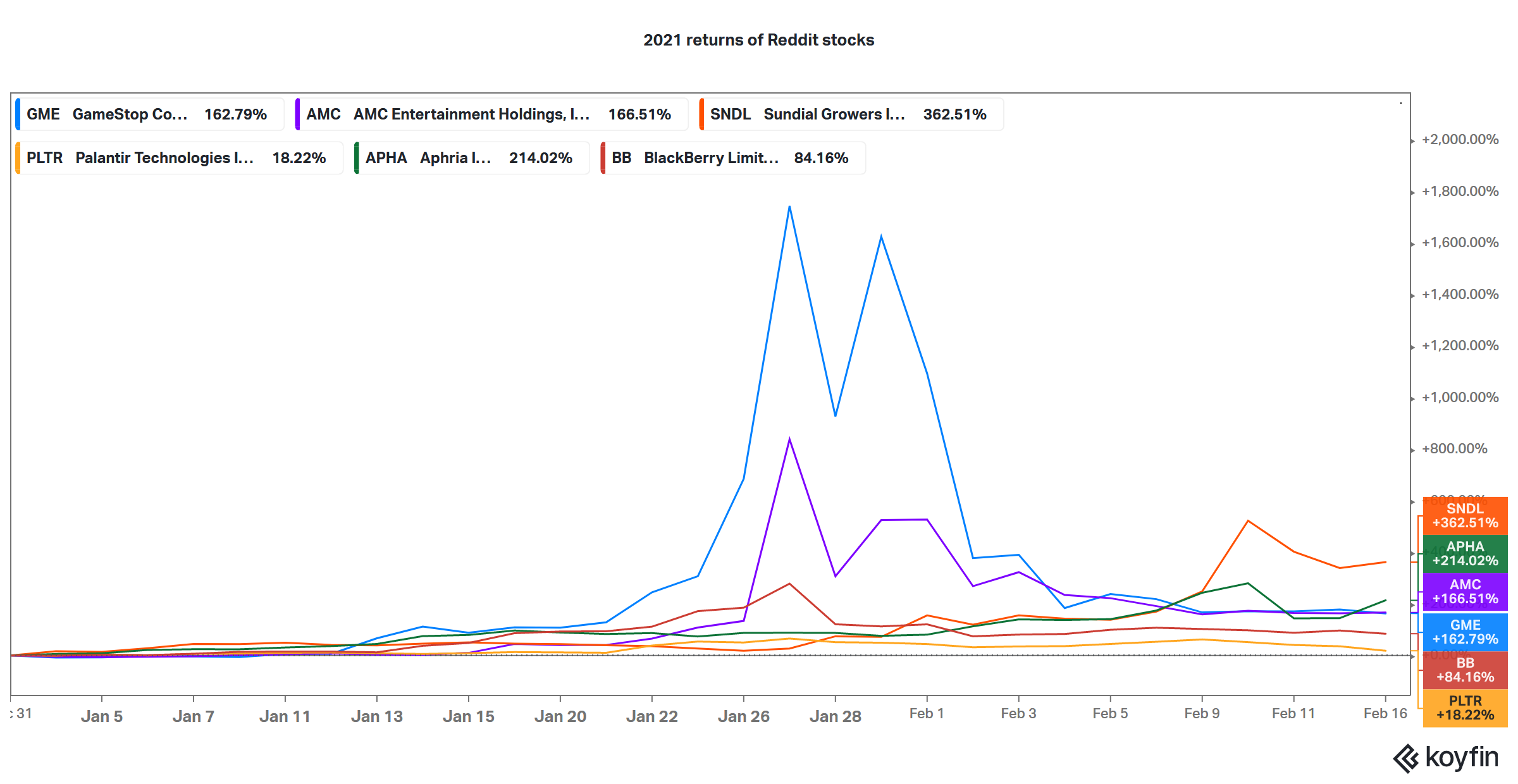 Reddit groups also tried their hand with the iShares Silver Trust ETF (SLV). However, it didn't see much success with propping up the prices. Being an ETF backed by physical silver, SLV prices track physical silver prices, which are much tougher to influence than stocks.
Article continues below advertisement
Hotest Reddit stocks
GameStop, AMC Theatres, and Sundial Growers are among the hottest Reddit stocks. All of these stocks have gained sharply in 2021 despite falling from their peaks. However, if you are looking at buying opportunities now, only GameStop looks like a decent buy among the three companies.
Article continues below advertisement
Apart from GameStop, Aphria is another Reddit stock that you can buy in 2021. It's a play on the merger arbitrage on the Tilray merger. The merged entity would have good economies of scale and diversified international operations across both adult-use and medical marijuana.
BlackBerry looks like another good Reddit stock that you can buy in 2021. It's a turnaround story as the company transitions from hardware to software business. BlackBerry partnered with Amazon Web Services in 2020 to create a new "Intelligent Vehicle Data Platform," BlackBerry IVY.
Article continues below advertisement
Automakers can use the software to read vehicle sensor data and enhance systems and performance. Autonomous driving is among the most prominent investing themes for the next decade.
Promising sectors in 2021
5G, e-commerce, cloud computing, clean energy, autonomous driving, and electric vehicles look like good sectors for investors in 2021. For 5G, the world will soon transition from 4G to 5G, which would lead to higher demand for all of the companies in the 5G ecosystem.
Article continues below advertisement
Clean energy and electric vehicles are also promising sectors in 2021. All leading economies look committed to addressing the climate crisis, which is leading to a once-in-a-lifetime opportunity for clean energy and electric vehicles.
Article continues below advertisement
Even legacy automakers have committed billions of dollars towards electric vehicles. General Motors intends to sell only zero-emission vehicles by 2035.
For investors, e-commerce is another sector with good long-term potential. While online sales soared in 2020 due to the COVID-19 related restrictions, the shift from brick-and-mortar retail to online shopping is expected to continue over the next decade. Capitalizing on the opportunity, South Korean e-commerce company Coupang has also filed for an IPO in the U.S.
Mobility and autonomous driving also promising sectors. Incidentally, during the earnings call for the fourth quarter of 2020, Tesla CEO Elon Musk tried to justify the company's soaring valuation by pointing to its mobility services.