An Investor's Guide to Electric Vehicles
Investing in electric vehicles can be a smart decision, but where do you start? To learn more about this growing market, check out our guide.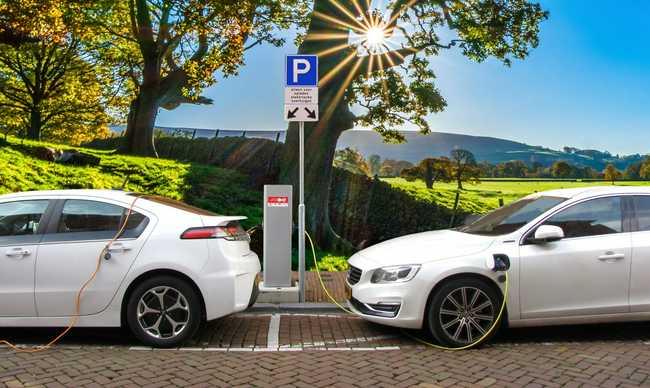 These days, clean energy sources are on investors' minds. People are investing in solar power, discussing their carbon footprints, and looking for ways to reduce emissions. At the center of this trend is the electric vehicle market.
Given that we're projected to run out of gasoline by 2060, it's never been so important to develop electric vehicle technology. And companies like Ford, GM, and Tesla are at the cutting edge of this market.
Read on to learn more about the best electric vehicles or EVs on the market—and how you can expect to see this market change over the coming years.
Article continues below advertisement
Article continues below advertisement
Ford
Ford (F) offers two main electric vehicles: the Fusion and the Explorer. The Fusion comes in both a hybrid form and a plug-in hybrid option.
The standard hybrid runs off of both gasoline and an electric motor. It uses the electric motor to increase the fuel efficiency of the gas motor.
The plug-in hybrid can run in three different modes: gas, electric, or a combination of the two. You can run off the pure gas motor, or you can go an estimated 26 miles on the electric motor alone. You can also run it like the traditional hybrid, using the electric motor to bolster the gas motor.
The Explorer Hybrid is Ford's more rugged hybrid vehicle. This car can go an estimated 500 miles between fillups using a combination of gasoline and electric power.
General Motors
General Motors brand Chevrolet (GM) makes both the Volt and the Bolt, a pair of electric twin vehicles. The Volt is a hybrid car with an innovative driving approach. This EV has a small gas motor that powers an electric motor, which powers the car. It also features a larger electric battery that can run the car for 50 miles or so.
The Bolt is a pure electric vehicle that packs an astounding all-electric range of over 200 miles. You can charge it easily at home, and it will cost you about as much as a single tank of gas to power it for a month. Both the Bolt and the Volt are affordable cars, starting around the $35,000 range.
Article continues below advertisement
Tesla
Tesla (TSLA) is leading the charge on EVs, with five fully electric vehicles currently on the market. The Model S is a sedan with a shocking 370-mile range that starts at about $80,000. Meanwhile, the Model 3 has a 310-mile range and is more of an everyday car, with a starting price tag of $38,000.
The Tesla Model X is an SUV with a 325-mile range that can seat seven. The Model Y is a sedan with a little more storage space than the Model S or 3 and a 300-mile range. And the Roadster is Tesla's sports car model, with a top speed of over 250 miles an hour, a range of more than 600 miles, and an engine capable of going 0 to 60 is a shattering 1.9 seconds. The Roadster is still in the preorder phase.
Nio
Nio (NIO) is a lesser-known company—at least in the US—that has three models currently in production. Nio's cars are set to give Tesla a run for its money in the Asian market. The ES6 is Nio's high-performance SUV with a range of more than 300 miles and a price tag of 358,000 yen.
The ES8 is another SUV with a range of 425 kilometers, or 264 miles. And the EP9 is a futuristic-looking sports car with a top speed of 313 kilometers per hour and a shocking 0 to 200 kph speed of 7.1 seconds. Currently, these cars aren't available for sale in the United States, though Nio does trade on the New York Stock Exchange.
Article continues below advertisement
Article continues below advertisement
New electric vehicle technology
The biggest innovations in electric vehicle technology lie in battery design. Some carmakers are starting to use solid-state batteries that produce electrostatic fields to provide short bursts of power. These are more stable and take much less time to charge—minutes instead of hours.
Carmakers are also working to harness alternative sources of power to run electric vehicles. Some are experimenting with in-vehicle solar panels that can recharge the car as it runs. Others are working to harness the kinetic energy that's expended during braking, using a regenerative braking power system.
Charging options
Electric vehicles come in three levels of charging options: Level 1, Level 2, and Level 3. The differences between the levels lie in how long it takes to charge a car and what power they use.
Level 1 charging stations use a 120-volt connection, which is the standard household connection. The downside is that these chargers are slow. But in a day, most users don't deplete more than the energy that can recharge overnight.
Level 2 charging stations use 240-volt connections, similar to the outlets you'd plug your oven or dryer into. You may need to install one of these outlets in your home, but it's worth the investment. These outlets can charge a car as much as seven times faster than a Level 1 charger.
Level 3 charging stations are expensive enough that they're only in commercial areas. But they're ultra-fast chargers that can power up a vehicle in as little as half an hour.
Article continues below advertisement
EV investments
Major car companies are reading the writing on the wall and putting billions of dollars' worth of investments into electric vehicle technology. Ford announced last year that by 2022, it plans to have upped its investment in electric vehicle tech to $11 billion and have 40 electric-powered vehicles in production. Likewise, GM is pouring $300 million into developing a US-made electric vehicle.
Discover the future of electric vehicles
There's really no doubt about it: electric vehicles are the cars of the future. As technology continues to evolve, you can expect to see longer driving ranges and faster battery charging times. And you can also expect to see automotive giants pouring more and more capital into this lucrative market.
If you'd like to learn more about the electric vehicle sector and opportunities for investment, check out Market Realist's latest coverage of the space. Our mission is to help investors like you make informed decisions.