How Tesla Could Become the Next $2 Trillion Company After Apple
Tesla (TSLA) is among the most polarizing stocks. The polarization is best visible in its stock price forecast for 2021. In 2020, Gene Munster, who correctly predicted that Apple's market capitalization would rise above $2 trillion, projected that Tesla's market capitalization would hit $2 trillion by 2023. Here's how Tesla could become the next $2 trillion company.
Article continues below advertisement
Currently, Apple is the only company that has a market capitalization of $2 trillion. Amazon and Microsoft are strong contenders to achieve that feat. Tesla's market capitalization is below $800 billion and it would need to rise around 160 percent to hit a market capitalization of $2 trillion.
Article continues below advertisement
Could Tesla be the next $2 trillion company?
A rise of 160 percent doesn't look tough for Tesla stock based on the momentum. The stock rose 740 percent last year and is looking strong in 2021. Investors are bullish on the green energy and electric vehicle ecosystem. Tesla looks like the best way to play the electric vehicle story.
Unlike most other pure-play electric vehicle companies that are posting losses, Tesla is sustainably profitable and generating positive free cash flows. The company has a clear growth path over the next decade and sales should continue to soar as it enters new markets and launches new models.
Article continues below advertisement
How Tesla redefined the automotive industry
You might hate or love Tesla CEO Elon Musk, but he gets credit for redefining the automotive industry. In January, General Motors (GM) said that it would only sell zero-emission cars by 2035. Ford is also spending billions of dollars on electric vehicles.
Article continues below advertisement
The automotive industry has come a long way since 2014 when Fiat Chrysler's former CEO Sergio Marchionne referred to Fiat Chrysler's electric 500e and said, "I hope you don't buy it because every time I sell one it costs me $14,000." Most automotive industry experts scoffed at the idea that Tesla could survive selling electric cars.
Seven years down the line, Tesla is the largest automaker by market capitalization. Its market capitalization is above the combined market capitalization of Toyota Motors, General Motors, Ford, and Volkswagen put together. Now, the tables have turned and legacy automakers are trying to make up for lost time. They were slow initially with their electric vehicle plans.
Article continues below advertisement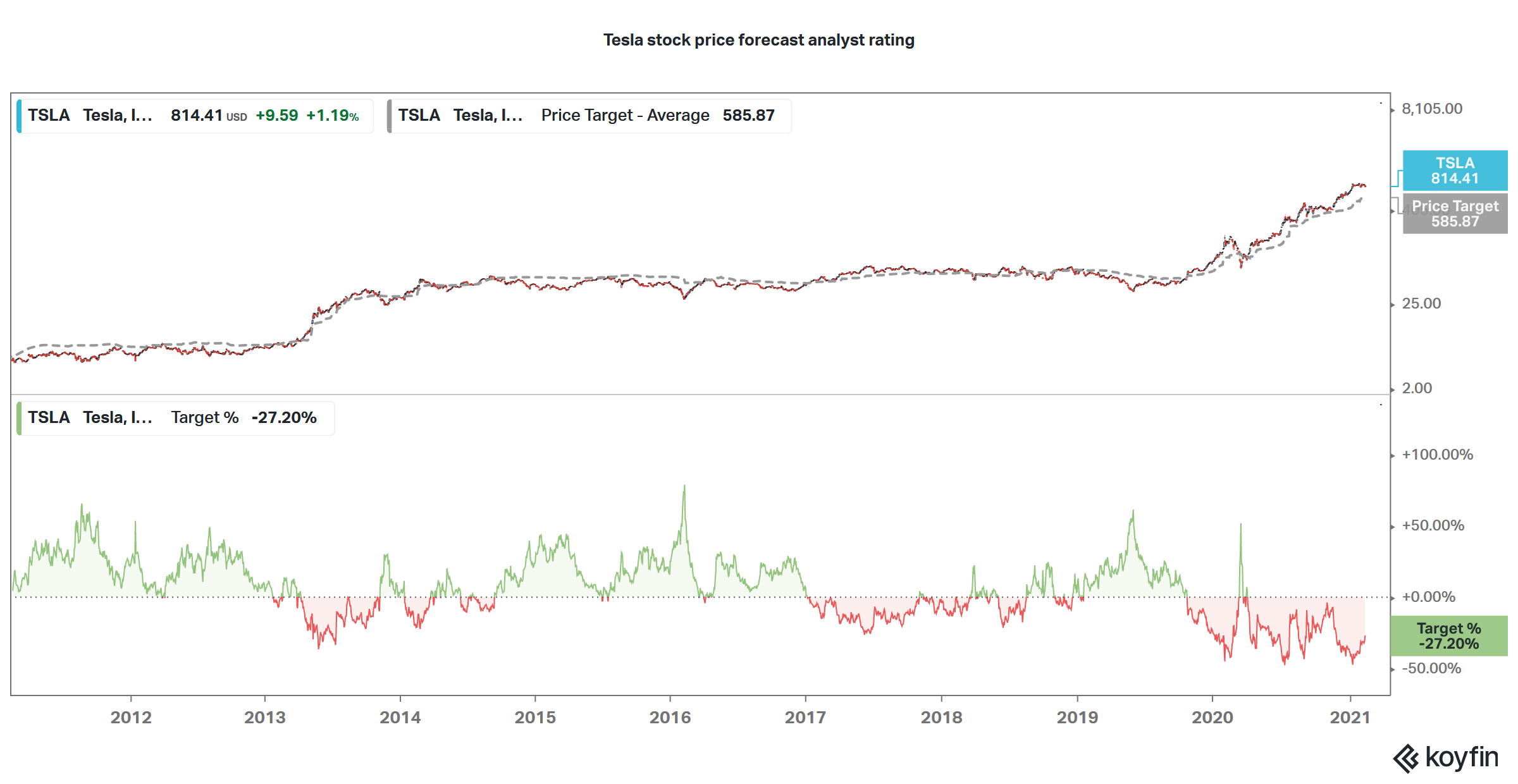 Analysts' forecast for Tesla in 2021
According to the estimates compiled by Koyfin, TSLA stock has a 12-month average target price of $585.87, which is 27 percent below its Feb. 10 closing prices. If you want to follow the "consensus," you would have missed the sharp rally in Tesla as well as NIO.
Article continues below advertisement
All said, while analysts have different target prices on companies, we don't see the kind of stark difference as is the case with Tesla. The stock's lowest target price is $40, while the highest target price is $1,200. Even Ashwath Damodaran, known as the "dean of valuation" valued TSLA stock way below what it currently trades at.
Tesla's valuation
The valuation pundits and some analysts value Tesla as an automaker. You can't justify the valuation based on that criterion. Those who are bullish on Tesla see it as a tech company. To justify Tesla's current valuation as well as the path to $2 trillion in market capitalization, we have to look beyond the myopic view of the NTM earnings.
Article continues below advertisement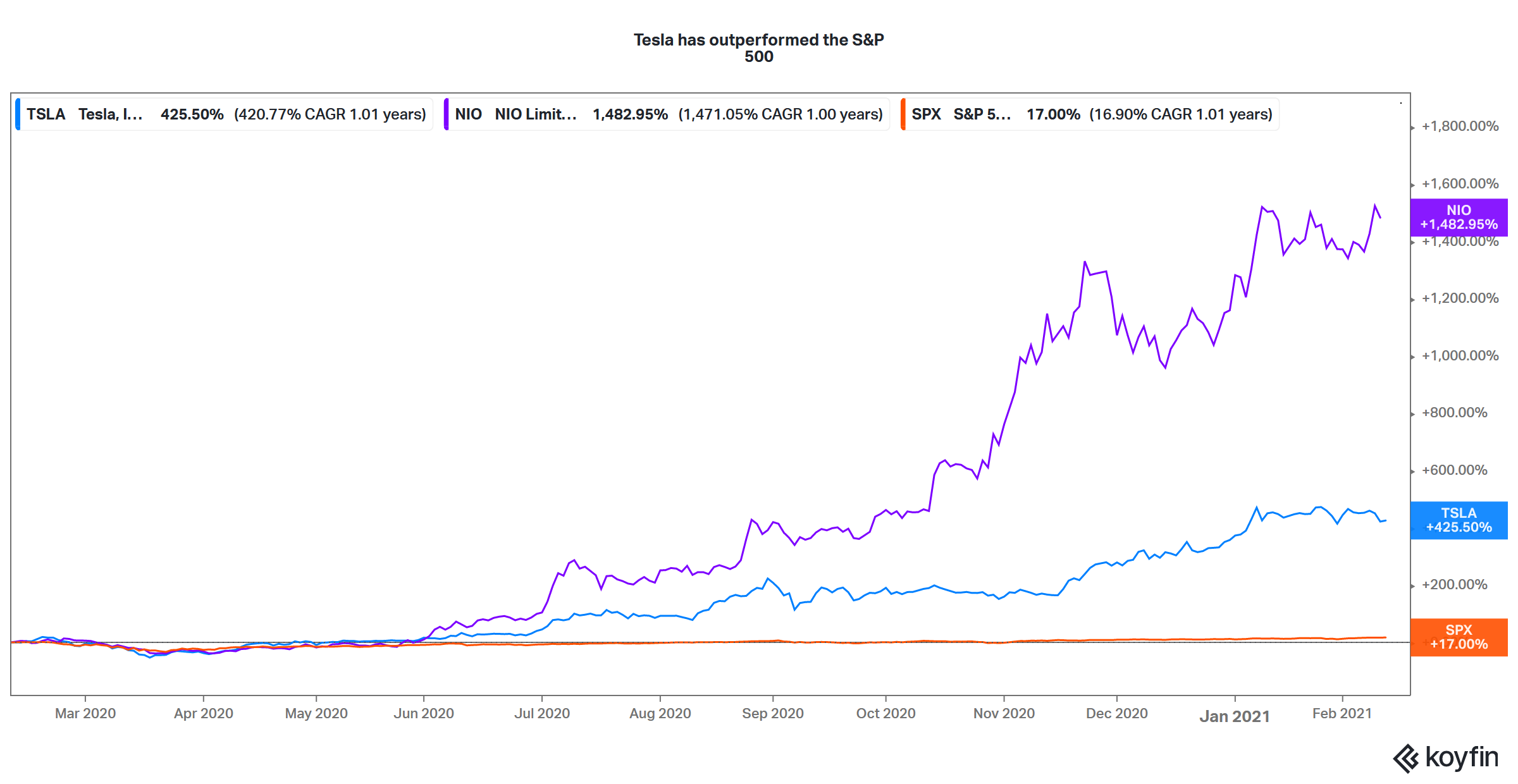 Elon Musk on Tesla's forecast
During Tesla's earnings call for the fourth quarter of 2020, Musk said that the company can generate $60 billion in revenues from services like FSD (full self-driving) and robo-taxis, which would almost entirely flow to its gross profit. Using a PE multiple of 20x, we get a $1.2 billion valuation.
Article continues below advertisement
Also, the core automotive business would continue to grow. There's also a possibility of Tesla licensing its battery and software to other companies. Another under looked opportunity, while forecasting Tesla's stock price, is the energy business. Musk expects the energy segment, which includes solar and the energy storage business, to become as large as the automotive business.
Article continues below advertisement
Doing some back of the envelope calculations, if we assign a PE multiple of 10x for the core automotive and energy business on annual revenues of $60 billion and a profit margin of 10 percent, we get another $120 billion in equity value. The valuation would change drastically (on the higher side) if we increase the PE multiple forecasts. Given Tesla's high growth, it might continue to trade at elevated valuations in the foreseeable future.
Chamath Palihapitiya on Tesla
Chamath Palihapitiya, also known as the king of SPACs, is bullish on Tesla. He expects the first trillionaire to come from the green energy ecosystem.
Musk beat Bezos to become the world's richest person in 2021. If the momentum in Tesla stock continues and Musk lists his privately held companies, he could very well be the world's first trillionaire.