General Motors Could Repeat Ford's Magic in Q4 Earnings
Both Ford and General Motors stocks have looked strong in 2021. Here's what analysts are forecasting for GM stock in 2021.
Last week, Ford Motors (F) released its earnings for the fourth quarter of 2020, which smashed analysts' estimates. The company also announced plans to increase its investments into EVs (electric vehicles). The company gave a better-than-expected 2021 guidance. General Motors (GM) has scheduled its earnings for Feb. 10. Is GM stock a buy ahead of the fourth-quarter earnings? What are analysts forecasting for the stock?
Article continues below advertisement
Article continues below advertisement
While Ford missed the revenue estimates in the fourth quarter, it posted a surprise profit in the quarter. Analysts expected it to post a loss. General Motors stock is already up 30.7 percent for the year. Markets are optimistic about GM's vehicle electrification plans. The company intends to only sell zero-emission vehicles by 2035.
Article continues below advertisement
General Motors' Q4 earnings estimates
The analysts polled by TIKR expect General Motors' fourth-quarter revenues to rise 17.9 percent YoY in the third quarter. In the previous seven quarters, GM has either reported a YoY fall in revenues or flat revenues like it did in the third quarter. Analysts expect GM's adjusted EPS to rise to $1.66 in the fourth quarter compared to only $0.05 in the same quarter in 2019.
What to watch in GM's Q4 earnings call
During GM's fourth-quarter earnings call, markets will watch the company's 2021 guidance. The markets will watch for more updates on how GM plans to progress towards a zero-emission future. While legacy automakers have been late to the race when it comes to EVs, they are catching up with a flurry of new all-electric models.
Article continues below advertisement
Article continues below advertisement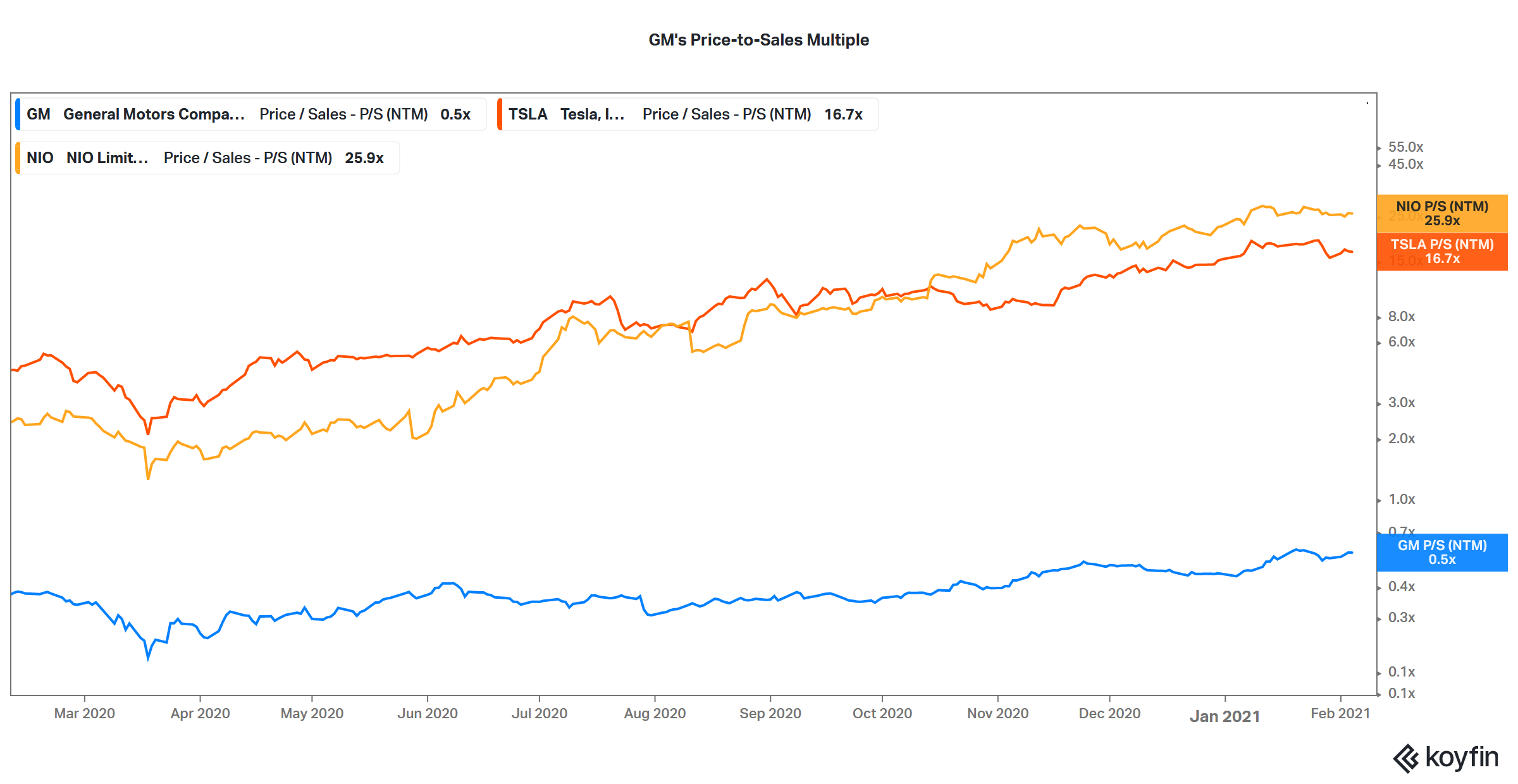 Will GM list its EV business separately?
General Motors might also face questions about whether it plans to list its EV business separately. Many people have been asking legacy automakers to consider the possibility by pointing to the massive valuation premium that pure-play EV makers like NIO and Tesla attract over legacy automakers, which you can see in the graph above.
Article continues below advertisement
Morgan Stanley auto analyst Adam Jonas, who is bullish on GM stock, has floated the idea that legacy automakers should consider a separate listing for their EV business to unlock better value. As we noted in the past, markets aren't fully appreciating the efforts companies like Ford and GM are making towards vehicle electrification.
Article continues below advertisement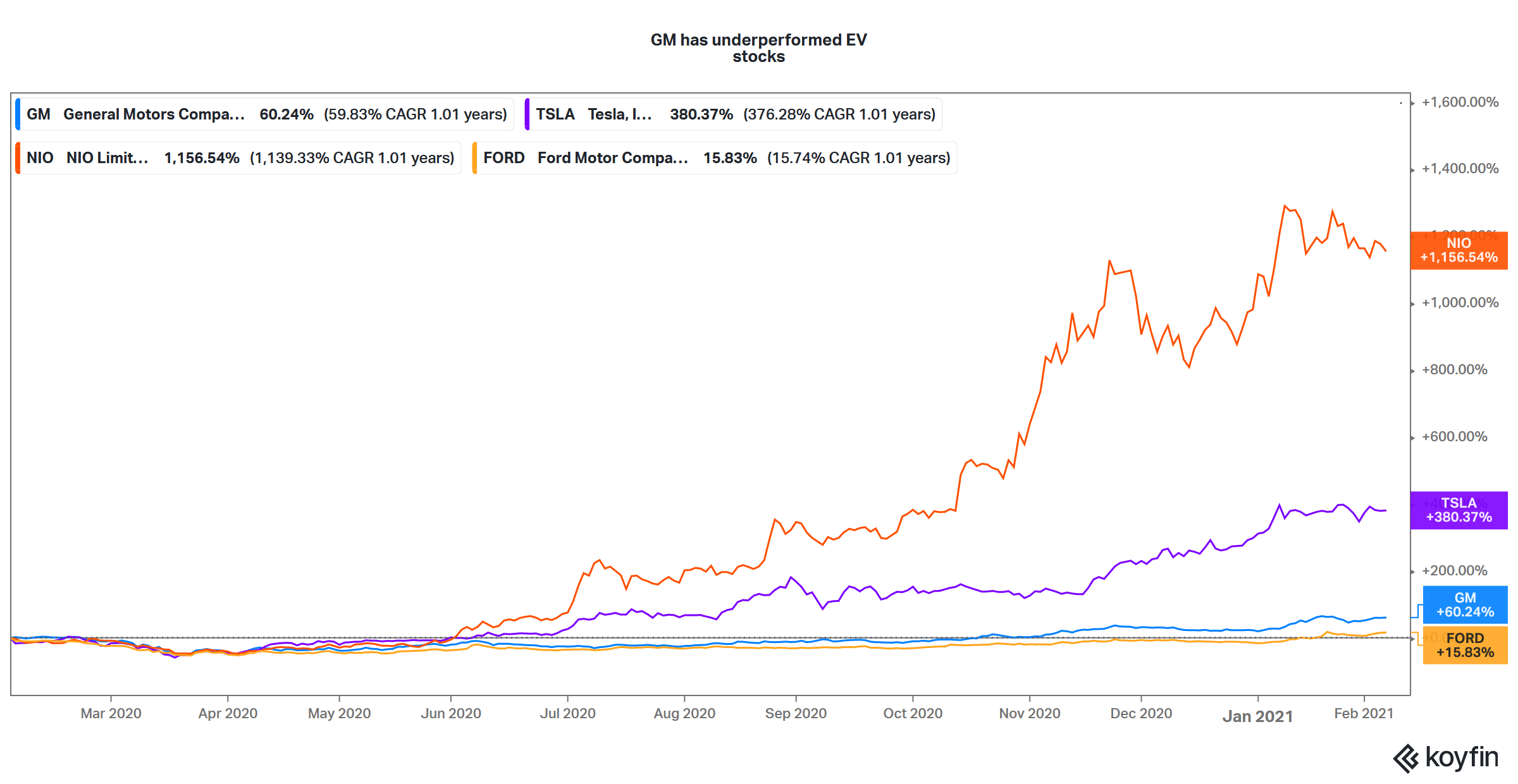 Article continues below advertisement
GM's stock price forecast
According to the estimates compiled by MarketBeat, GM stock has a one-year target price of $52.22, which is 4 percent below its current stock price. GM's highest target price is $80. While GM stock trades above its average target price, EV stocks like NIO and Tesla have as well for the last year.
GM is a value stock. The company's story is built around the value unlocking of its autonomous and electric vehicle businesses that markets don't seem to be valuing appropriately right now.
General Motors stock is a good buy
Both GM and Ford look like good value stocks to buy and hold for the long term. Based on the price action over the last few years, markets don't seem to think that these companies have much chance of success in the EV market. However, with established brands and well-entrenched distribution and supply chain platforms, legacy automakers will ensure that it isn't easy for pure-play electric car makers.