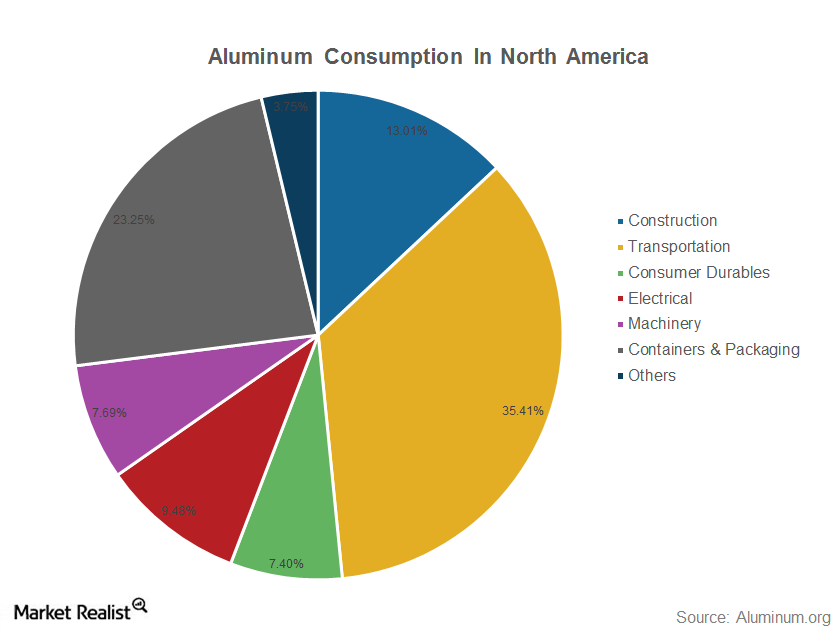 Overview: An investor's guide to the aluminum industry
Key facts about aluminum
Aluminum is the most abundant metal found in the earth's crust. It's soft, lightweight, and durable in nature. Although it was extracted in its pure form in 1827, it's believed that ancient Greeks and Romans used aluminum. Its low density and resistance to corrosion make it a very important metal that a lot of industries use.
Uses of aluminum
Aluminum is widely used in the automotive, construction, and aerospace industries. It's also used in making household appliances and utensils. The automobile industry is the biggest consumer of aluminum as you can see in the chart above. Packaging remains the second biggest consumer of aluminum.
Article continues below advertisement
Since it's a good conductor of electricity, aluminum is also used in electric wires and cables. Although copper is a better conductor of electricity, lightweight aluminum is the preferred choice. Aluminum is also a key raw material in the aerospace industry, it can form almost 75% of an airline's weight.
How aluminum's physical properties are important
Aluminum is mostly used because it's lightweight. Its weight is almost one-third of the weight of steel and copper. So a lot of automotive companies turn to aluminum in a big way. We'll discuss this in greater detail going forward.
Aluminum is more malleable and elastic than steel. Aluminum can be used to form different shapes, and this guides its use in utensils. Because it's corrosion resistant, aluminum can be used in a moist or abrasive environment.
Although aluminum is generally more costly and has less strength when compared to steel, these physical properties make it a tough competitor to steel and other base metals.
Aluminum companies in the US
Alcoa (AA), Century Aluminum (CENX), Kaiser Aluminum (KALU), and Constellium (CSTM) are a few aluminum companies listed in the U.S. An alternate way of accessing the metals sector is through SPDR S&P Metals and Mining ETF (XME).