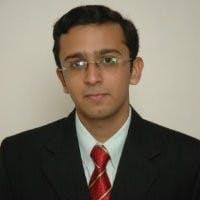 Ambrish Shah
Ambrish Shah has worked at Market Realist since September 2016, and his research focuses on technology, media, and telecom (TMT)–sector stocks. He earned his MBA in finance in 2010. Prior to joining Market Realist, Ambrish worked for a leading analytics advisory firm.
Overall, he has close to nine years of hands-on experience in conducting in-depth fundamental analysis and writing research reports of the analysis to provide prospective investment ideas.
Disclosure: I am in full compliance with all ethics and other policies for Market Realist research analysts. I am not invested in securities that I cover on Market Realist.
More From Ambrish Shah
.

Tech & Comm Services

Uber stock has fallen after the company reported bigger losses than expected in the second quarter. Its sales fell 29.2 percent.

.

Healthcare

Sorrento Therapeutics stock has surged 280 percent year-to-date. Will the rally continue?

.

Guides

If you own shares in an ETF, you may get distributions in the form of dividends. Learn more about dividend-paying ETFs here.