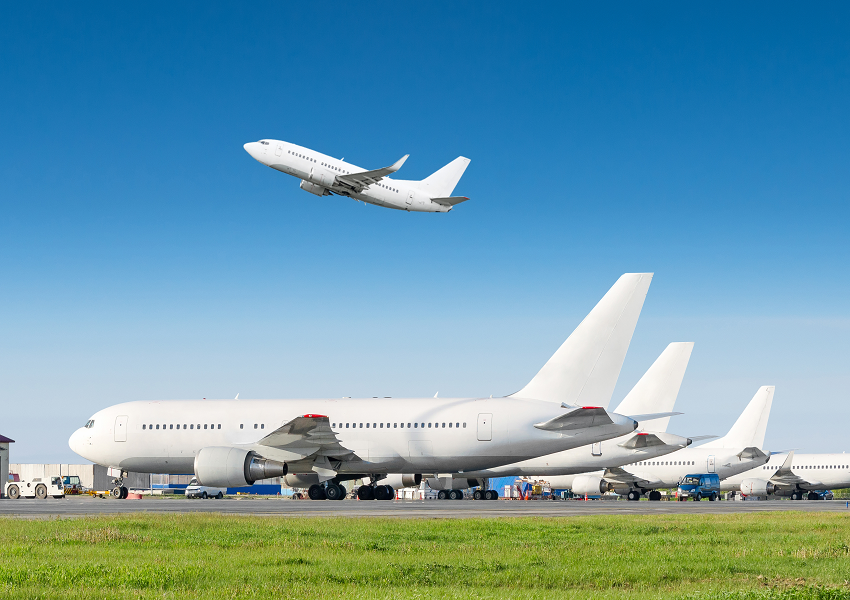 Boeing Supplier Stocks Fall on MAX Production Cut News
By Anirudha Bhagat

Dec. 17 2019, Published 7:40 a.m. ET
Boeing (BA) is not alone in suffering from uncertainties over the return of the 737 MAX. The aircraft manufacturer's part suppliers are also feeling the pinch of the MAX fiasco. Boeing and part supplier stocks fell sharply yesterday on reports of a temporary production halt for 737 MAX planes.
Following the reports, Boeing stock fell around 4.3%. Spirit AeroSystems (SPR), Triumph Group (TGI), and Allegheny Technologies (ATI) stocks fell 1.6%, 6.2%, and 4%, respectively. General Electric (GE) stock also fell, by 1.5%.
Article continues below advertisement
Boeing to suspend MAX production in January
The Wall Street Journal first reported that the Boeing board of directors was discussing MAX production in a two-day meeting that started on Sunday. Boeing confirmed the reports through a statement on Monday following the completion of the meeting.
Boeing, in its statement, said that it would temporarily shut down MAX production beginning next month. The company cited the extension of certification into 2020 as the main reason behind the board's decision to halt MAX production.
Last Wednesday, FAA (Federal Aviation Administration) boss Steve Dickson clearly said that the agency would not certify the Boeing MAX to fly this year. The next day, Boeing gave a similar statement after CEO Dennis Muilenburg's meeting with Dickson on Thursday.
Nonetheless, Boeing has discarded speculations of layoffs after MAX production being shut down at its Renton, Washington facility. The company said that it would preserve the jobs of roughly 12,000 Renton employees by deploying them to other facilities.
Why did Boeing decide to halt MAX production?
Boeing earlier predicted that it would get FAA certification by mid-December. It had also hoped to receive global training approvals in January, thereby opening gateways for airlines to resume MAX services.
However, last week's developments have squashed hopes for a 2019 return of the MAX. Moreover, in late November, the FAA announced it was toughening scrutiny of 737 MAX certifications. The agency said that from now onwards, it would individually certify every MAX assembled.
Article continues below advertisement
The new approach is in contrast with the agency's earlier practices, where it would certify only an aircraft type and delegate individual aircraft certification to plane makers. Considering the recent developments, industry experts believe that Boeing will not receive MAX certifications before February 2020.
Another big problem Boeing could face with the MAX is related to storage. In its statement yesterday, Boeing revealed that there are approximately 400 MAX planes in storage. Despite the plane' worldwide grounding in mid-March, Boeing didn't halt MAX production. Instead, it lowered its monthly output by 19% to 42 units.
Analysts believe that the MAX production suspension could further increase Boeing's costs. So far, the company has already taken a $3.6 billion charge as an additional production cost due to the lowered MAX output. The company has said it will provide more financial information about the MAX production suspension during its fourth-quarter earnings release.
Production halt could hurt suppliers
Considering their significant exposure to Boeing, Spirit AeroSystems, Triumph, Allegheny, and General Electric are now at higher risk. The MAX production suspension could severely hurt these part suppliers' financials.
Spirit AeroSystems is the most vulnerable company. About 70% of the MAX aircraft structure is built by Spirit AeroSystems. The plane accounts for 50% of Spirit's total revenue. Triumph Group supplies aerostructures, landing gear, interior components, and ductwork for Boeing aircraft. Allegheny Technologies provides titanium products for aerospace applications.
Furthermore, CFM International is the sole supplier of LEAP-1B engines, which power MAX aircraft. CFM International is a 50-50 joint venture between General Electric and French company Safran. Therefore, the production shutdown of MAX aircraft could also hurt General Electric.
Boeing part suppliers' growth is intact with the return of the 737 MAX to service. The 737 MAX accounts for about 70% of Boeing's total commercial aircraft shipments.