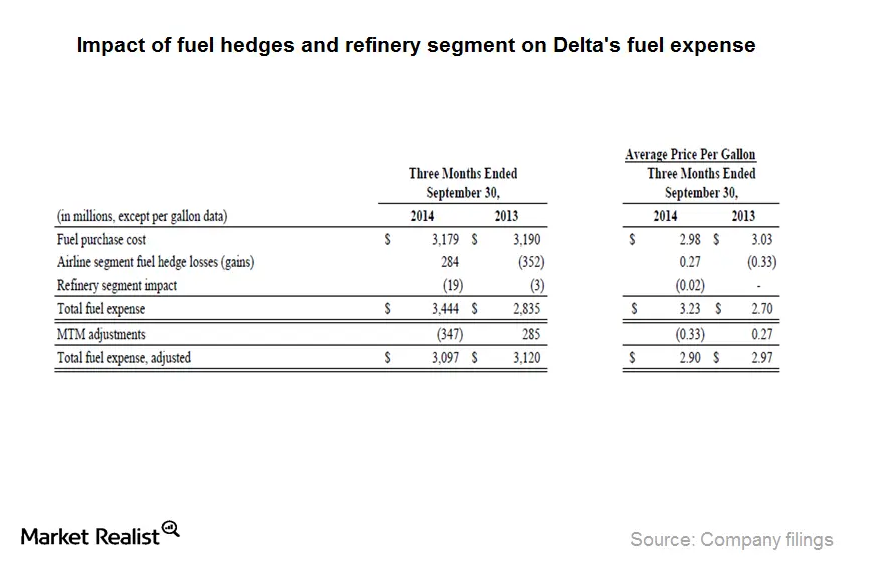 Why Delta's 3Q14 fuel expense was impacted by fuel hedges
Fuel expense
Fuel expense is Delta's largest expense. It accounted for ~29% of the total operating expense in 3Q14. Although Delta's fuel purchase cost decreased due to the lower market price of jet fuel, total fuel expense increased to $3,444 million in 3Q14. It increased despite an increase in fuel efficiency.
Fuel consumption per available seat mile decreased by 1.5% during the quarter. On a per available seat mile (or ASM) basis, fuel cost increased by 18% to $5.22—from $4.43. The increase was mainly due to the higher average price per gallon. It increased to $3.23 in 3Q14—from $2.70 in 3Q13.
Article continues below advertisement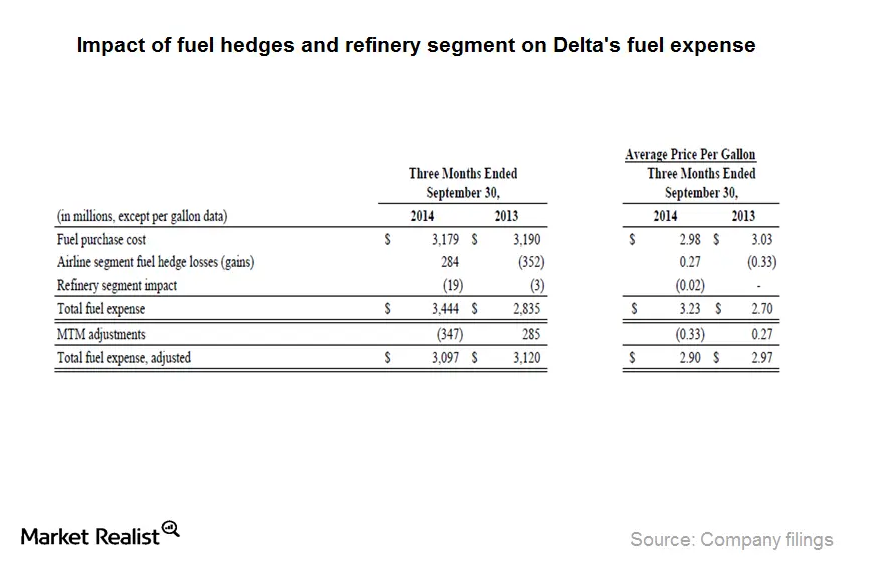 However, the fuel price per gallon—after mark-to-market (or MTM) adjustments—decreased by ~2.3% to $2.90 per gallon in 3Q14. It was $2.97 in 3Q13.
Delta's (DAL) average fuel price per gallon was $2.90—the lowest among its peers. United's (UAL) was $3.02, Alaska's (or ALK) was $3.15, American's (AAL) was 2.97, and Southwest's (LUV) was $2.99.
Lower fuel price improves airline profitability. All of the airlines were impacted positively by lower crude oil prices during the quarter.
Investors can gain access to airline stocks through exchange-traded funds (or ETFs) like the iShares Transportation Average ETF (or IYT) and the SPDR S&P Transportation ETF (XTN).
Fuel hedging
Article continues below advertisement
In 3Q14, the airline segment's fuel hedge loss was $284 million. The negative impact of fuel hedge loses increased the average fuel price per gallon by $0.27. However, it was offset by $347 million in MTM adjustment and refinery segment profits. As a result, the net settled hedge gain in 3Q14 was $63 million.
Monroe's Trainer refinery profit
Delta invested in the Trainer refinery to reduce fuel price. It was profitable in 3Q14. In 2Q14, it reported its first profits since 2012.
For more details on the refinery impact refer to "Delta's unique strategy: Owning a refinery to contain fuel costs."
In 3Q14, the refinery segment's profit was $19 million—$16 million higher than in 3Q13. This had a positive impact on average fuel price per gallon.
During the quarter, the refinery processed 100,000 barrels per day (or bpd). The estimate is to achieve an average of 70,000 bpd for 2014 and 100,000 bpd for 2015. Management projects the 4Q14 profit from refinery to be $20 million. It expects the fuel price per gallon—including the refinery and hedge impact—to be $2.69–$2.74.