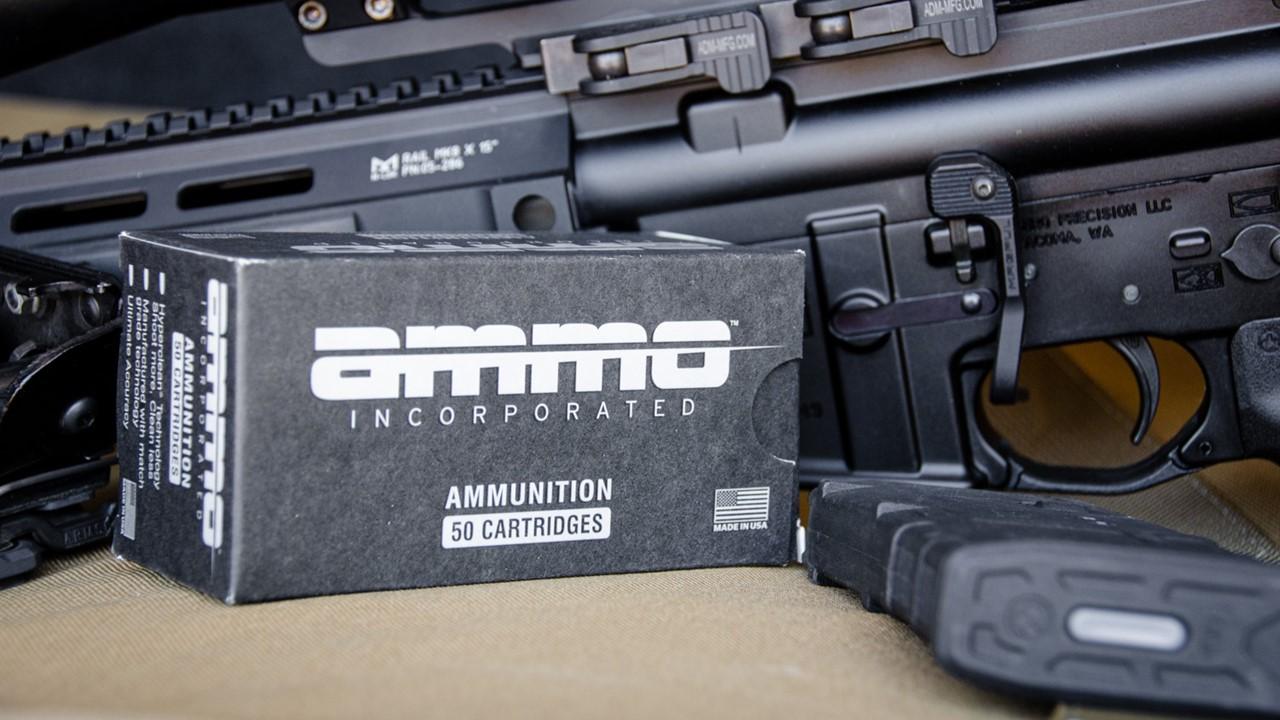 AMMO Is a Speculative Firearm Company, Expect Short-Term Pullbacks
AMMO, Inc. stock rose over 34 percent on Jan. 13. With a YTD gain of over 120 percent, AMMO is among the biggest gainers in 2021. Why is AMMO (POWW) stock rising? Should investors still buy the stock despite it more than doubling this year?
Article continues below advertisement
The rise in firearm companies' stock started in 2020. Firearm stocks have risen amid political uncertainty in the U.S. AMMO has risen by 533 percent over the last year.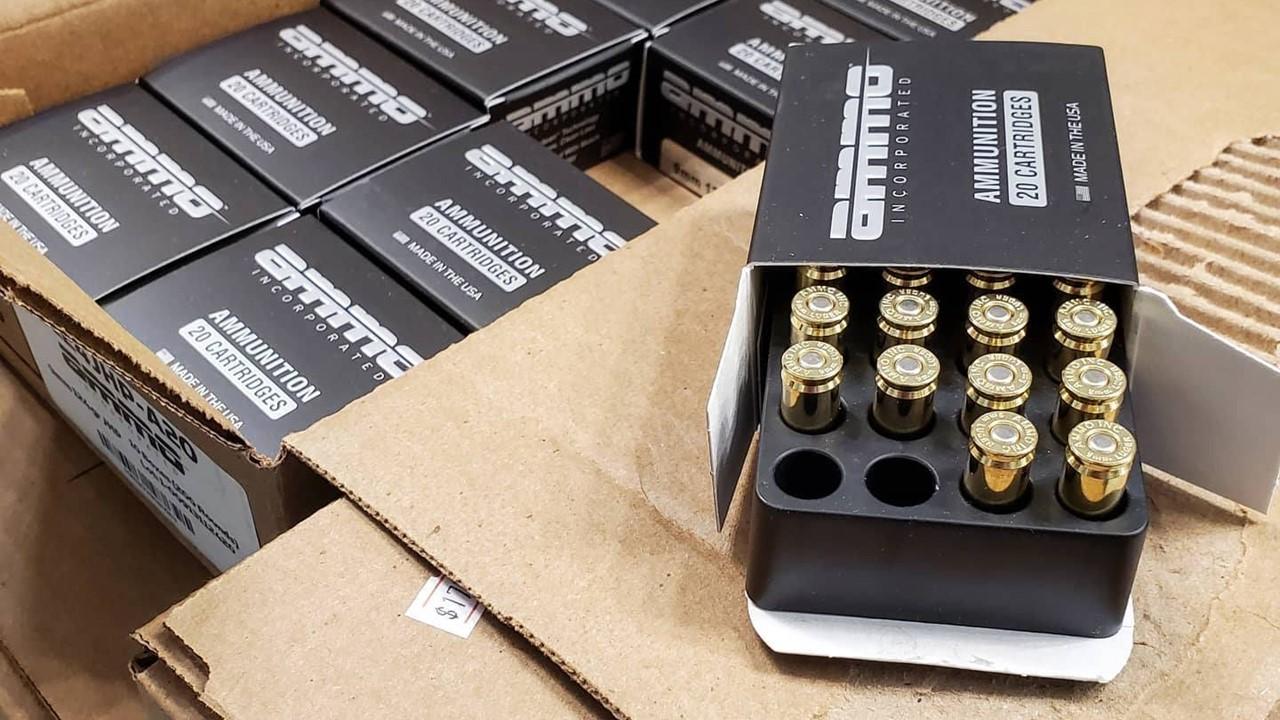 Article continues below advertisement
AMMO stock on Stocktwits
Most users on Stocktwits are bullish on AMMO stock and expect it to rise more. Username WallStOutsider expects the stock to rise more from these levels due to the uncertain political environment. The user expects POWW stock to rise to $10 this week only. Another user with the username Rainman118 also expects the stock to rise to $10 this week.
AMMO's stock forecast
AMMO stock reaching $10 would mean an upside of over 37 percent. None of the analysts cover POWW stock, according to CNN, Yahoo Finance, and MarketBeat. POWW was a penny stock before its rally started last year. It was a penny stock at the beginning of 2021 also with a stock price of less than $5, which is the definition of a penny stock set by the SEC. Not many analysts cover penny stocks.
Article continues below advertisement
POWW stock doesn't pay a dividend
AMMO stock has never posted a profit in its short history. The stock was even negative on gross profits for many quarters. Given the persistent losses, POWW doesn't pay a dividend and might not initiate a dividend anytime soon.
Article continues below advertisement
Why AMMO stock is rising
In general, firearm stocks have been rising amid the uncertain political climate. Regarding the recent news flow over POWW stock, on Jan. 4, the company provided its guidance for the third quarter of fiscal 2021 guidance. The company expects its revenues to rise 500 percent year-over-year.
In a surprising move, within two weeks, AMMO provided the guidance for its revenue in the fourth quarter of fiscal 2021, which it expects to rise 317 percent. Commenting on the guidance, AMMO CEO Fred Wagenhals said, "The Company expects market demand to continue to increase given the recent outcome of the U.S. Senate elections in Georgia, the resulting political uncertainty and impact upon the ammunition and gun industry."
Article continues below advertisement
In between these two guidances, AMMO also announced plans to construct a new plant with an investment of $12 million, which would double its capacity in Wisconsin. The markets received all of this news positively and POWW stock has soared this year.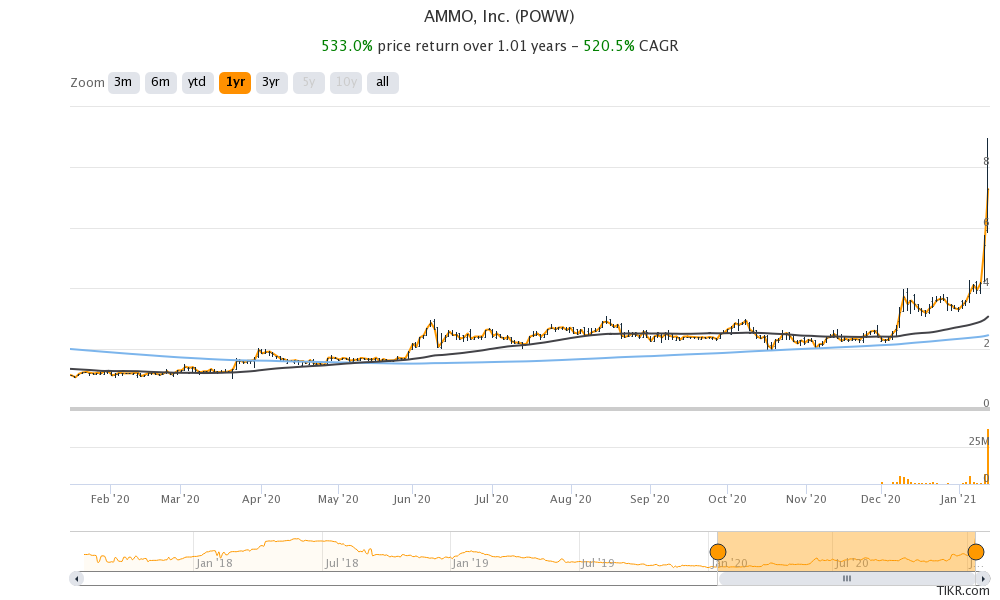 Article continues below advertisement
POWW stock is a risky bet for investors
AMMO is a speculative stock that's a risky investment. The company expects its performance to improve and its EBITDA margins to expand as it pivots towards higher-margin products. AMMO has a market capitalization of around $447 million. The company expects to post revenues of $58.2 million in fiscal 2021, which would mean a price-to-revenue multiple of 7.7x its fiscal 2021 projected revenues.
The valuations seem reasonable considering the triple-digit revenue growth that AMMO is reporting. If you are comfortable holding a speculative firearm company, you can buy POWW stock at these prices. However, be prepared for short-term pullbacks.