Rolls-Royce Stock Forecast: RYCEY Should Bounce Back Long Term
Rolls-Royce (RYCEY) stock fell to multi-year lows in 2020 amid the sell-off in industrial and aviation names. There were genuine concerns about the company's survival and it had to resort to stock issuance to stay afloat. What's the forecast for RYCEY stock in 2021 and will it bounce back?
Article continues below advertisement
While many industrial and aviation stocks have bounced back sharply, RYCEY hasn't seen much investor interest despite the shift from growth stocks to beaten-down value stocks. RYCEY stock is trading almost flat for 2021 and is up only about 22 percent from its 52-week lows. The stock is still down almost 70 percent from its 52-week highs.
Why Rolls-Royce shares dropped
Rolls-Royce faced challenges even before the COVID-19 pandemic. Its engines like the Trent XWB-84 and Trent 1000 had issues that were further compounded by tepid demand for wide-body planes where many of its engines are used.
Article continues below advertisement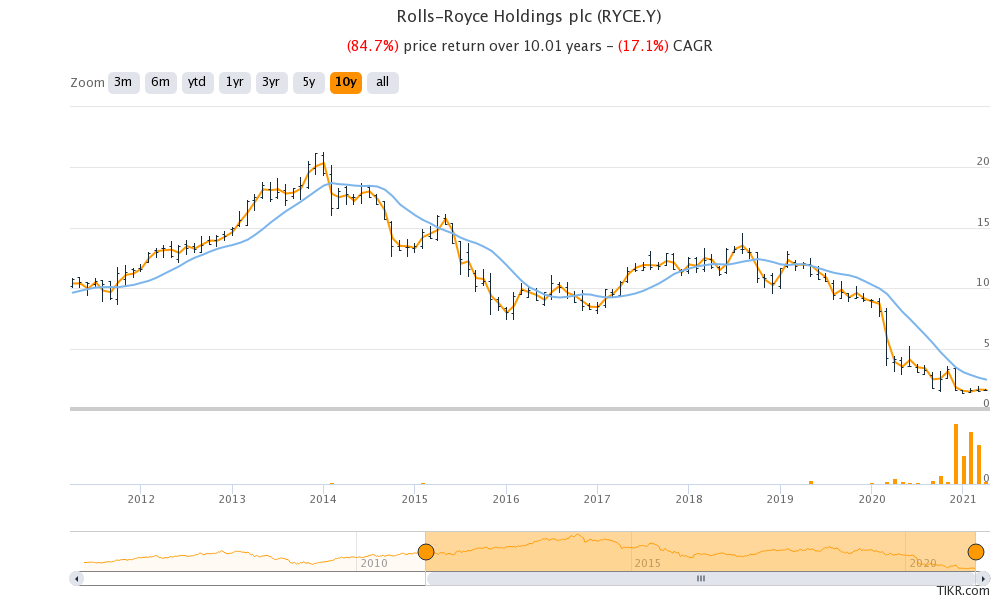 Rolls-Royce has been posting massive losses and cash burn in the last few quarters. The COVID-19 pandemic has taken a toll on the aviation industry. Companies across the aviation spectrum—from OEMs like Boeing to part suppliers like General Electric—have been hit by the pandemic.
Article continues below advertisement
Forecast for RYCEY stock
According to the estimates compiled by CNN Business, RYCEY stock has a median target price of $4.48, which is a premium of 180 percent over its closing prices on April 6. Its highest target price is $7.07, while its lowest target price is $2.18. RYCEY stock trades even 36 percent below its street low target price.
Among the 20 analysts covering RYCEY stock, only three analysts rate it as a buy, seven rate it as a sell, and 10 rate it as a hold. In March, JPMorgan Chase upgraded the stock from underweight to neutral, while Berenberg reiterated its buy rating.
Article continues below advertisement
UBS, Deutsche Bank, Credit Suisse, and Société Générale also reiterated their neutral, hold, underperform, and sell ratings, respectively, on Rolls-Royce stock in March.
Article continues below advertisement
Will RYCEY stock bounce back?
RYCEY stock trades at an NTM EV-to-revenue multiple of 1.1x. However, given the current slowdown in its business, it won't be prudent to value the stock on the NTM numbers.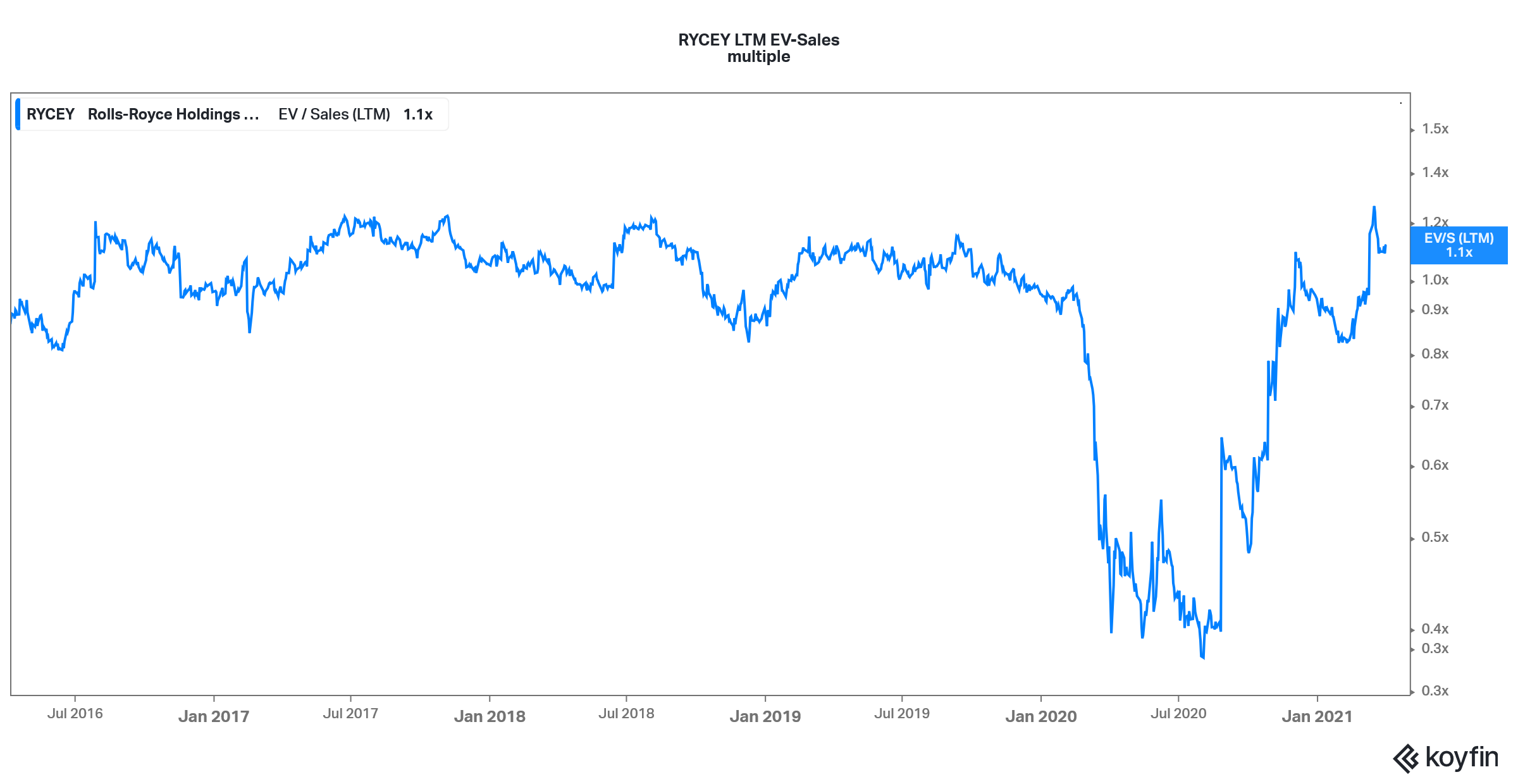 Article continues below advertisement
Rolls-Royce is working to transform its business and is exiting several businesses. The company had an order backlog of 53.7 billion pounds (almost $75 billion) in its 2020 annual report. The order backlog is over three times its 2019 revenues. To put that in perspective, the company's market capitalization is around $12 billion, while its net debt was 3.6 billion pounds (almost $5 billion) at the end of 2020. This would mean an EV of around $17 billion.
Overall, the valuation multiples look comfortable given the huge order book. While RYCEY stock is out of favor with markets currently, it might bounce back when the aviation industry sees better days.
Article continues below advertisement
RYCEY stock is a long-term bet.
Investors willing to take a long-term view can consider RYCEY stock. While many of the industrial names have bounced back sharply, RYCEY stock has been a laggard. However, it might not remain out of favor for long because value investors might find the stock attractive.
Rolls-Royce could get backing from the U.K. government given the strategic nature of the business. As the company exits non-core businesses, it can also repair its balance sheet further. Overall, I would buy RYCEY stock at the current prices.