Why CTRM Stock Is Falling, Prediction for 2021
Castor Maritime (CTRM) stock is in a free fall and is down over 78 percent from its 52-week highs. It was trading sharply lower in pre-market trading on May 24. Why is CTRM stock falling and what's the prediction for 2021? Will it rise or fall more?
Article continues below advertisement
Castor Maritime is a growth-oriented shipping company. Usually, we associate growth with a tech company or an emerging industry like electric vehicles. Shipping is an old industry that doesn't have much organic growth. However, CTRM has been different.
CTRM is a growth stock with a catch.
Lately, CTRM has been on an expansion spree. The company has announced the acquisition of new vessels in a flurry. CTRM has 26 vessels on a fully delivered basis, according to the most recent update. Now, growth is always a piece of welcome news for investors, especially in an industry like shipping.
Article continues below advertisement
However, there's a catch. The growth hasn't been coming from internal funds. Instead, the growth has been coming through a mix of debt and equity issuance. The company has almost 900 million outstanding shares. There are also potentially dilutive preferred shares and warrants. While the warrants are currently out of the money, there's plenty of time for them to get exercised.
Article continues below advertisement
Castor Maritime announces reverse stock split
Castor Maritime has announced a reverse stock split and every 10 shares would be combined into one. This would reduce the company's outstanding share count to around 90 million and the stock would start trading on the split-adjusted basis beginning May 28.
Article continues below advertisement
So, why did CTRM go for a reverse stock split? The company did the reverse stock split to comply with the minimum Nasdaq listing requirement. The stock was trading below $1 and could have been a candidate for delisting.
Recently, Onconova Therapeutics (ONTX) also announced a 1-for-15 reverse stock split. After the split, the total number of outstanding shares of ONTX will fall from around 236.714 million shares to only about 15.781 million.
Article continues below advertisement
Why CTRM stock is falling
CTRM is falling due to the news of a reverse stock split. ONTX also fell on the reverse stock split announcement. General Electric tumbled when it announced a reverse stock split in March 2021.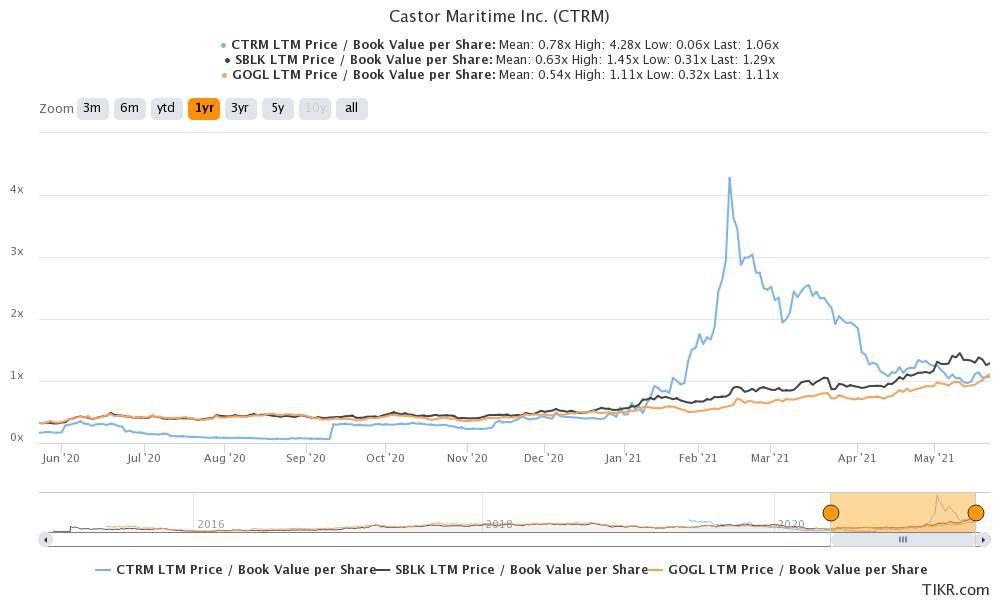 Article continues below advertisement
Meanwhile, CTRM's troubles precede the reverse stock split announcement. Investors have been getting apprehensive of the stock amid the sell-off in growth names. CTRM's high valuation didn't help.
Will CTRM stock go up?
CTRM stock might be close to the bottom. After the fall on May 24, it could be a good opportunity to dabble with the penny stock. However, don't expect it to reach $1 or its all-time highs anytime soon. What could work for CTRM in the medium term is the strong demand for shipping amid the booming global economy.
Article continues below advertisement
CTRM stock price prediction
While none of the analysts are covering CTRM stock, after the recent fall its outlook looks cautiously optimistic. The stock now trades near the book value, which would mean that the downside is limited. If the current upcycle in the shipping industry sustains longer, CTRM could turn out to be a winner with its expanding fleet.
Watch out for related party transactions
There are a lot of related party transactions in CTRM with companies owned by CEO Petros Panagiotidis and his sister. However, such risks aren't uncommon with penny stocks. To sum it up, CTRM stock looks like a much better bet than it did a month ago with the stock falling sharply from its highs.