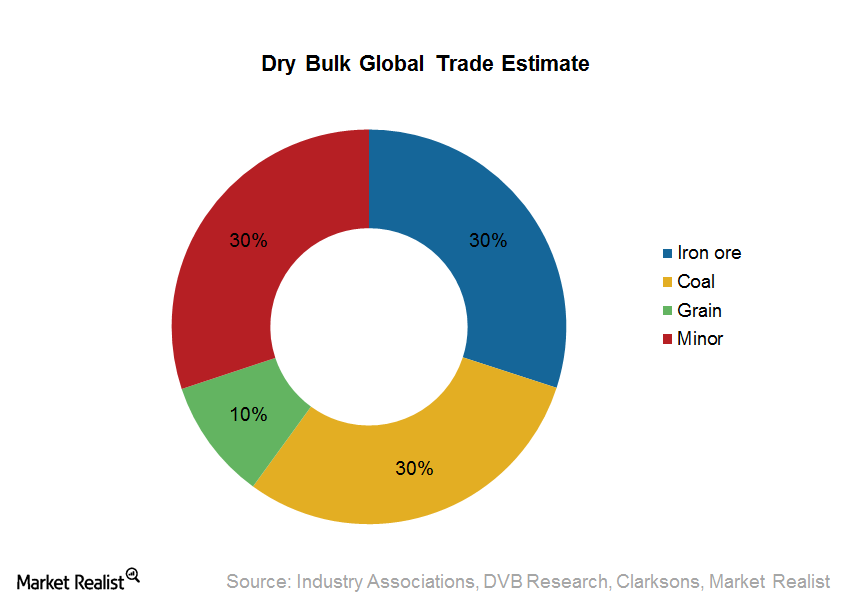 Investing in dry bulk shipping: A must-read overview
Bulk cargo shippers
The dry bulk shipping industry is one of the three main sub-industries of maritime transportation. It transports dry bulks. These dry bulks can be divided into major and minor bulks. Major bulks make up the largest group of dry bulk cargoes and usually include iron ore, coal, and gain. Minor bulks are made up of steel products, forest products, bauxite or alumina and cement, and fertilizers.
Article continues below advertisement
Article continues below advertisement
This series covers key suppliers of various commodities in the seaborne market, indicators pertaining to economic and industry fundamentals that affect the dry bulk shipping business, as well as some important characteristics of dry bulk shipping companies that investors should be aware of before jumping into these investments.
Vessel class
Depending on volume, trade routes, and the geographical limitations of ports, different classes of vessels are employed.
Capesize and Panamax
Capesize vessels (110,000 to 119,999 dwt—deadweight tonnage—in capacity) are used at the largest ports around the world, primarily to transport iron ore or coal on long-haul routes. Panamax vessels (60,000 to 79,999 dwt) are used to carry coal, iron ore, grains, and to a lesser extent, minor bulks. Panamax vessels are capable of passing through the Panama Canal, which makes them more versatile than larger ships in terms of access to different trade routes. Most of this type of ship is "gearless," which means they don't have cargo handling equipment on board.
Smaller vessels
Handymax or Supramax vessels (40,000 to 59,999 dwt in capacity) are used in a larger number of global trade routes to carry primarily grains and minor bulks. Supramax vessels, a subset of Handymax vessels, often range from 50,000 to 59,000 dwt. Unlike Panamax vessels, the Supramax class offers cargo loading and unloading flexibility with onboard cranes.
Investors might notice that Supramax vessels aren't really being built anymore these days, as companies have opted for Ultramax-class carriers. These carriers were launched in 2011 and are used to carry bulk cargoes like coal, iron ore, grain, and cement. Larger than Supramax, with a capacity of 57,000 to 66,000, Ultramax vessels are said to be more fuel-efficient, and they have on-gear cranes.
Other sizes like Kamsarmax, Newcastlemax, Seawaymax, Setouchmax, and Dunkirkmax are employed on more regional trade routes.