Why Investors Should Stay Away from Castor Maritime Stock
Castor Maritime (CTRM) is among the stocks that have rallied hard in 2021 amid the pumping by Reddit group WallStreetBets. Like many other stocks that the group pumped, CTRM stock has fallen sharply off its peaks and is down over 62 percent from its 52-week highs. What's the forecast for CTRM stock in 2021? Should investors buy or sell the stock now?
Article continues below advertisement
Despite falling sharply from its 52-week highs, CTRM has almost quadrupled this year. This has largely been the case for all of the stocks pumped by WallStreetBets. While these stocks have tumbled, they have settled at a higher price than what they traded before the pumping.
Why CTRM stock has dropped
The rally in CTRM stock was speculative driven by the short squeeze and exuberance about the company's outlook. Over the last month, investors have sold stocks of all speculative names. This includes the stocks pumped by WallStreetBets as well as SPACs that haven't found a merger target yet.
Article continues below advertisement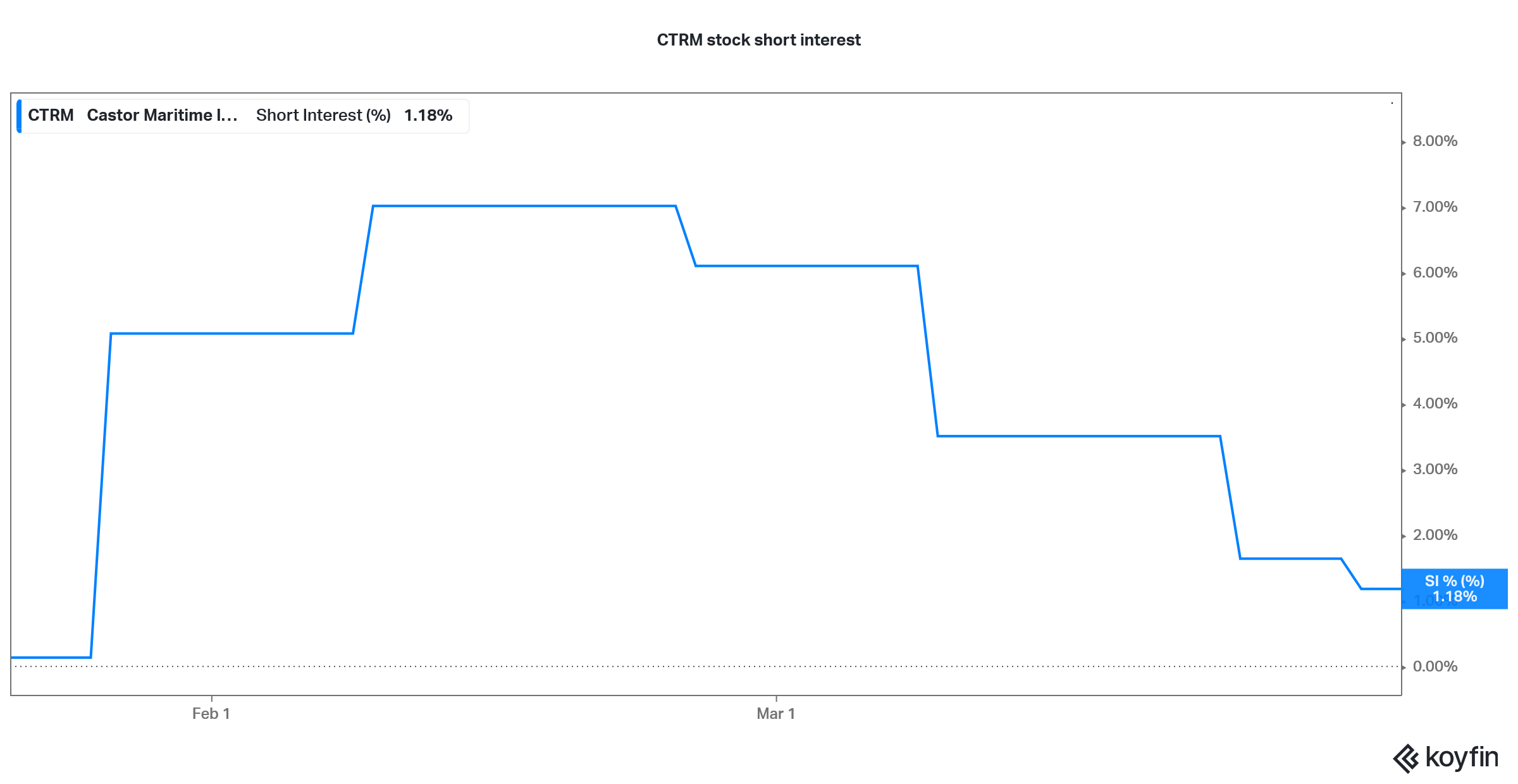 CTRM stock short interest
According to the most recent filing, CTRM stock's short interest is only about 1.2 percent, which is low. A possibility of a short squeeze is highly unlikely now with such low short interest. The focus has turned to the company's fundamentals.
Article continues below advertisement
CTRM stock forecast
CTRM is a penny stock and none of the analysts seem to be covering the stock. The stock's rise this year has largely been fueled by the optimism about the company adding to its fleet. That said, despite the rise this year, CTRM trades below its IPO price.
Castor Maritime is a "growth-oriented" dry bulk shipping company. The fall in the company's stock has also got to do with its status as a "growth stock." Rising interest rates make stocks that have their cash flows skewed to the future less attractive.
Article continues below advertisement
Castor Maritime has been on an expansion spree led by debt and equity issuance. Its outstanding share count has been expanding rapidly due to frequent stock issuances. The company had outstanding shares of over 707 million as of March 26. The company has also diversified into the tanker market, which will help it diversify its business from dry bulk shipping.
Article continues below advertisement
CTRM stock is cheap but not undervalued.
From a valuation perspective, given the fact that the company is expanding and not making many revenues currently, we would look at the asset-based valuation. CTRM is valued at an LTM price-to-book value multiple of 1.85x. Star Bulk Carriers, a much larger and profitable shipping company, is valued at 0.9x its LTM book value, which is less than half what CTRM trades at.
Article continues below advertisement
Simply put, while CTRM stock is cheap (it trades below $1), it isn't undervalued. Sadly, in these markets, cheapness and valuation seem to be seen in a similar light. Many retail investors are running after penny stocks expecting to grab the next big thing.
Is CTRM a good penny stock to buy?
Markets are still in love with penny stocks. Add the growth element and CTRM becomes a good proposition to sell to retail investors. However, CTRM's growth isn't organic but fueled by massive capital raise. Also, it's into a cyclical industry whose outlook is hazy at best.
Article continues below advertisement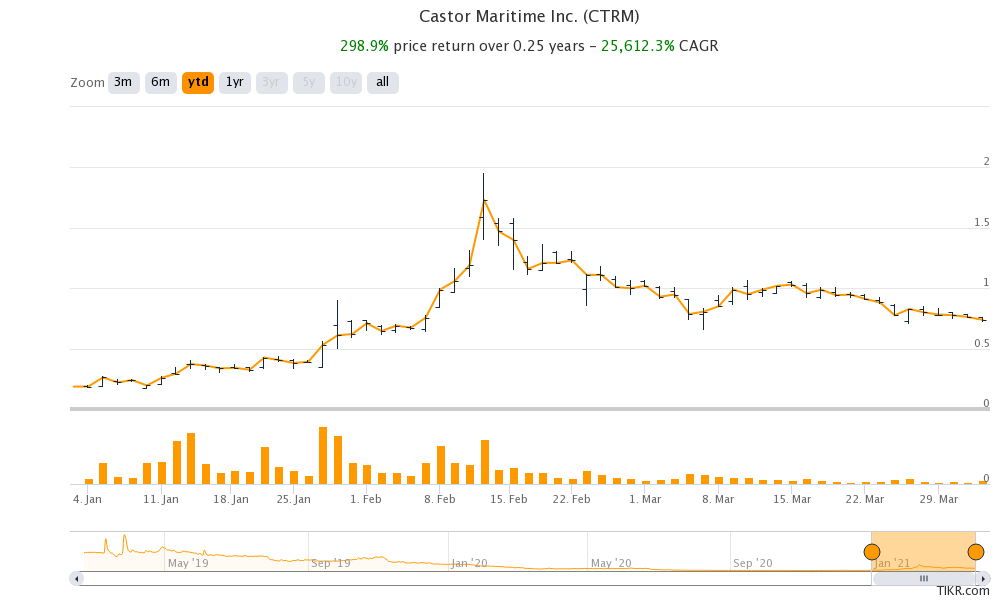 The outlook for global trade isn't very rosy given the protectionist voices across the globe including in the U.S., which has long been a champion of free trade. Overall, while CTRM stock could be a good short-term trade idea, it doesn't look like the kind of penny stock that I would buy for the long term.
Article continues below advertisement
Castor Maritime stock on Reddit
Castor Maritime stock is popular on Reddit. There's a subreddit with over 16,000 members that are specifically focused on CTRM. A post on subreddit r/pennystocks, which was upvoted over 1,100 times, "predicted" that the stock would hit $1 soon and $5 once the COVID-19 pandemic is over.
Of course, there wasn't much in the post that quantitatively suggested that the stock is a buy. However, it did talk about the "growth" that CTRM is witnessing, which as we discussed is being driven by debt and equity raise. Overall, this speculative penny stock is a miss at the current prices.