What Happened to DRYS Stock — and Could GME Meet the Same Fate?
While short selling and short squeezes are not at all new phenomena within the stock market, these terms have generated a lot of discussion in 2021. The WallStreetBets subreddit has pumped up shares with high short interest including GameStop (GME) and AMC Entertainment (AMC).
Article continues below advertisement
At this moment, it would be worthwhile looking at another recent short squeeze that occured with DryShips (DRYS) stock. What happened to DRYS stock after the sharp rally in 2016 — and could the stocks pumped by WallStreetBets meet the same fate?
To begin with, we should understand what qualifies as a short squeeze in the first place. In a short squeeze, those who are short on a stock have to cover up their positions as the stock rises. This creates a domino effect as the stock's price rises even further as shorts buy stocks to cover up their positions.
Article continues below advertisement
What happened to DryShips (DRYS) stock?
In 2016, DRYS stock rose sharply. DryShips is a dry bulk company and its fortunes are closely tied to global trade. As is the case with most short squeezes, a piece of news or a positive fundamental story triggers a buying spree in the stock.
Article continues below advertisement
In 2016, the Baltic Dry Index hit a multi-month high and crossed 1,000. Many believed that Trump's election would spur global growth and trade given his pro-business reform agenda. In reality, Trump waged a trade war against U.S. trading partners, especially China, which took a toll on global trade.
The DryShips short squeeze was preceded by two reverse splits of the common stock.
In 2016, DryShips did two reverse splits. The first one was a one-for-four split and the second was a one-for-15 split in Nov. 2016. After the second split, only about 1 million DRYS shares were available as the float. While many believe that it was a massive short squeeze in DRYS stock, some disagree.
Article continues below advertisement
Ihor Dusaniwsky of S3 Partners contended that it was day traders pumping up DRYS stock that was driving up the prices. He argued that the trading volumes in DRYS stock were way above the volumes that have been sold short, so shorts could have easily cover their positions without much difficulty and price impact.
Article continues below advertisement
Dusaniwsky commented at the time, "Dryships has turned into a game of musical chairs, except for the last traders who will be sitting and holding onto their shares as the bubble eventually bursts and they lose."
Article continues below advertisement
He added, "The traders holding Dryship's 1 million shares of the float will see the stock price slip back to its "pre-tulip" craze levels of $5 per share."
This is exactly what happened, and DRYS stock tumbled in 2017. It was eventually bought out by its founder at $5.25 per share—not very far from the pre-spike fundamental value.
DRYS doesn't even make the list of the biggest short squeeze in history.
There have been several major short squeezes in recent history. These include:
Volkswagen's short squeeze in 2008
KaloBios in 2015
Freeport-McMoRan in 2016
Herbalife in 2018
Tesla in 2020
GME, AMC, and many other WallStreetBets stocks in 2021
Article continues below advertisement
GME short squeeze
GME was an epic short squeeze. At its peak, 140 percent of GME shares were sold short. You need not be a financial wizard to tell that it is a way too high short interest for any company. Look at it this way: for every 1 GME share, 1.4 were sold short.
Article continues below advertisement
A flurry of positive news from GME's results to activist investor Ryan Cohen joining the board triggered a buying spree in GME stock. The rest, as they say, is history. GME shorts lost billions betting against the company. Melvin Capital, a hedge fund that was short on GME stock, lost over half of its value in Jan. 2021 and eventually closed the short position.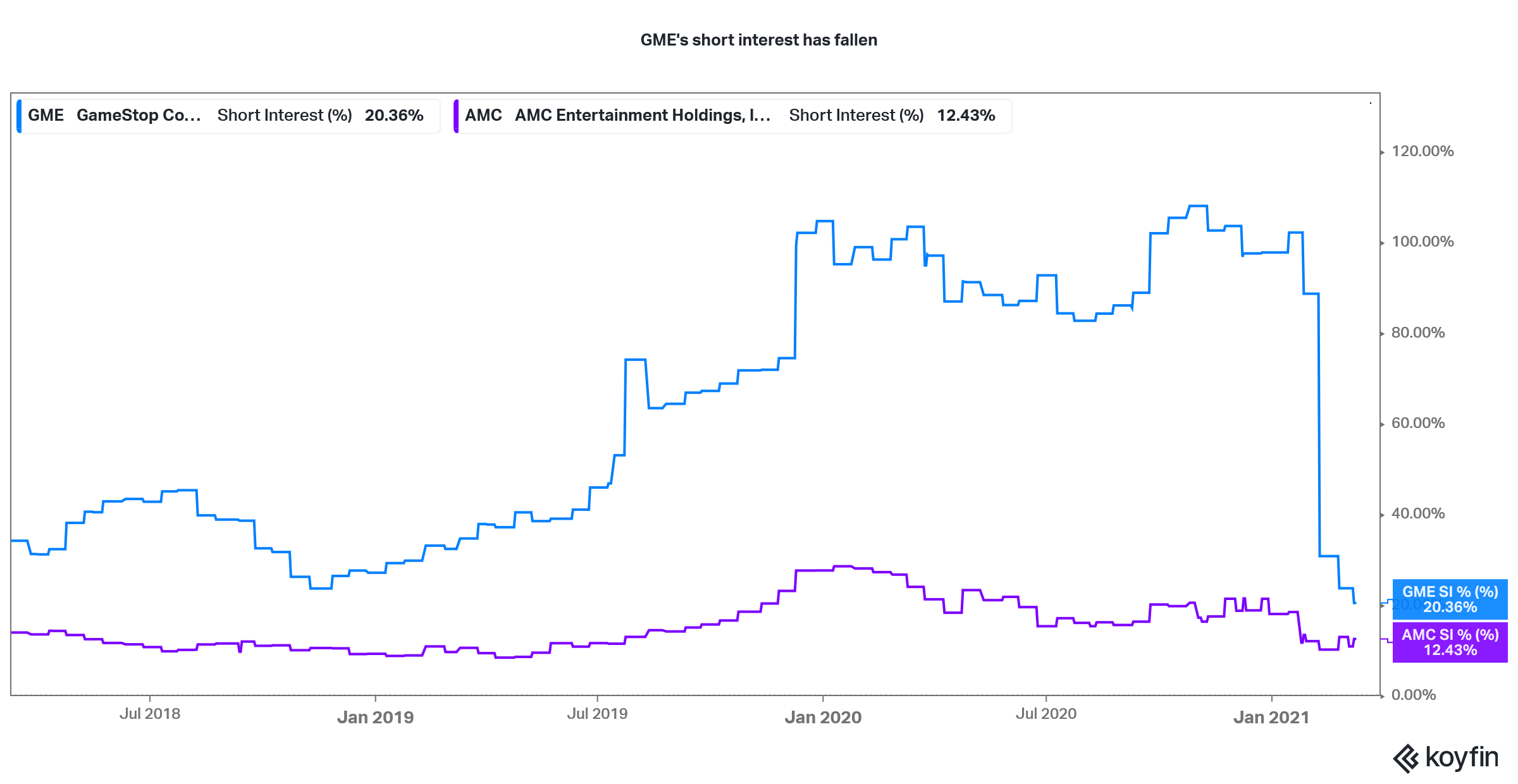 Article continues below advertisement
However, GME soon tumbled and at one point had lost over 90 percent of its value. The stock is on a rise again but the short interest is not too high this time. All said, GME stock might soon fall as it is again trading way above its fundamental value.
Eventually, it is the investors who are late to the party and buy GME at higher price levels will end up burning their fingers. While GME might not go the DRYS way, it is nonetheless quite overvalued and prone to a crash soon.