Volkswagen Short Squeeze in 2008 Puts GameStop Into Perspective
The short squeeze isn't a new market phenomena. In fact, we saw it in 2008 with Volkswagen stock. What happened during the short squeeze in 2008?
If you thought that the market's latest short was the first of its kind, you're highly mistaken. Hedge funds and institutional investors have been shorting stocks for centuries both domestically and abroad. In 2008 — smack dab in the middle of the Great Recession — one stock reaped the capital of a short squeeze — Volkswagen.
Article continues below advertisement
Article continues below advertisement
If the Volkswagen story tells us anything, it's that market manipulation can come from both sides of the table.
Explaining the Volkswagen short squeeze of 2008
Around 2006, Porsche decided that it wanted to get more voting rights and decision-making power as a Volkswagen business partner. The company ensured this through investments. After purchasing Volkswagen shares in swarms, the stock started to steadily increase over a few years by hundreds of a percent.
Article continues below advertisement
Hedge funds saw this and thought that Volkswagen stock was majorly overvalued. So, they shorted the stock in much the same fashion that we have seen with AMC, Blackberry, GameStop, and more.
By late 2008, short positions were 12 percent above outstanding shares. But since most of Volkswagen's shares were reserved for institutional and governmental shareholders, there was a disparity in purchasing power.
Article continues below advertisement
Article continues below advertisement
Hedge funds lost about $30 billion, while Porsche made bank.
However, the interesting thing is that the squeeze didn't last. Most hedge funds maintained their positions and they were rewarded by a 70 percent dip just one month after the Volkswagen squeeze.
Article continues below advertisement
How long the Volkswagen short squeeze lasted
The bulk of the Volkswagen short squeeze lasted just four days, after which shares had fallen 58 percent from their peak. However, it took weeks for VW stock to falter enough for most of the squeeze to have been returned to hedge funds at last.
Article continues below advertisement
A visual chart of the Volkswagen short squeeze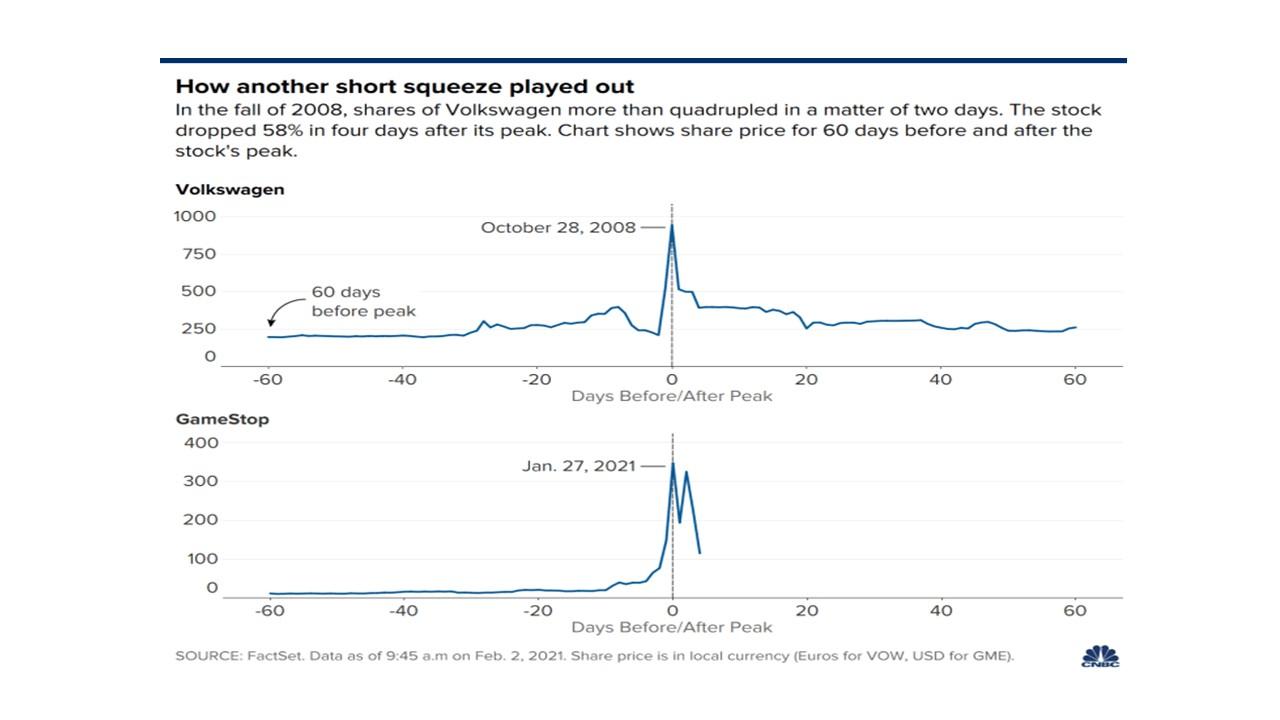 Here, you can see that the Volkswagen share price faltered to about the same level that it was at 60 days before the peak, and it only took another 60 days to do so. We have yet to see how things with GameStop (and other squeezed stocks from early 2021) will play out.
Article continues below advertisement
The Volkswagen short squeeze puts GameStop into perspective
One of the hedge funds that shorted GameStop ("GME" on the NYSE) is called Melvin Capital. Over the course of January 2021, Melvin lost a massive 53 percent of its assets under management. Most of the loss impacts wealthy investors, but it also impacts pensioners operating under the hedge fund.
On the other side of the coin, some retail investors who bet against the shorts (did the squeezing) won big, while others went in at the peak and have lost comparative fortunes.
Dissimilar to Volkswagen's 2008 escapade, the modern-day short squeeze was more dramatic. Most hedge funds covered their positions, and some even went so far as to swear off shorting from here on out. All the while, retail investors either won or lost, but it seems the latter category might be on the uptick.