CTRM Stock Forecast: Don't Expect a Recovery to $1 Anytime Soon
Castor Maritime (CTRM) stock has been very volatile this year. Like all of the other stocks that were pumped by Reddit group WallStreetBets, CTRM has fallen sharply from its peaks and is currently down 75 percent from its 52-week highs. What's the forecast for CTRM stock? Will it fall more or recover to $1?
Article continues below advertisement
CTRM stock is still trading with YTD gains of 170 percent. We've seen something similar in most of the stocks pumped by WallStreetBets. While they have crashed from their highs, they are still up significantly for the year.
CTRM's short interest has fallen.
WallStreetBets targeted stocks with high short interest. However, thanks to the short squeeze triggered by WallStreetBets, which led to massive losses for bears, they seem to be wary of betting against the shipping company. According to the most recent filing, CTRM's short interest was less than 2 percent, which is very low and might not be enough to trigger a short squeeze.
Article continues below advertisement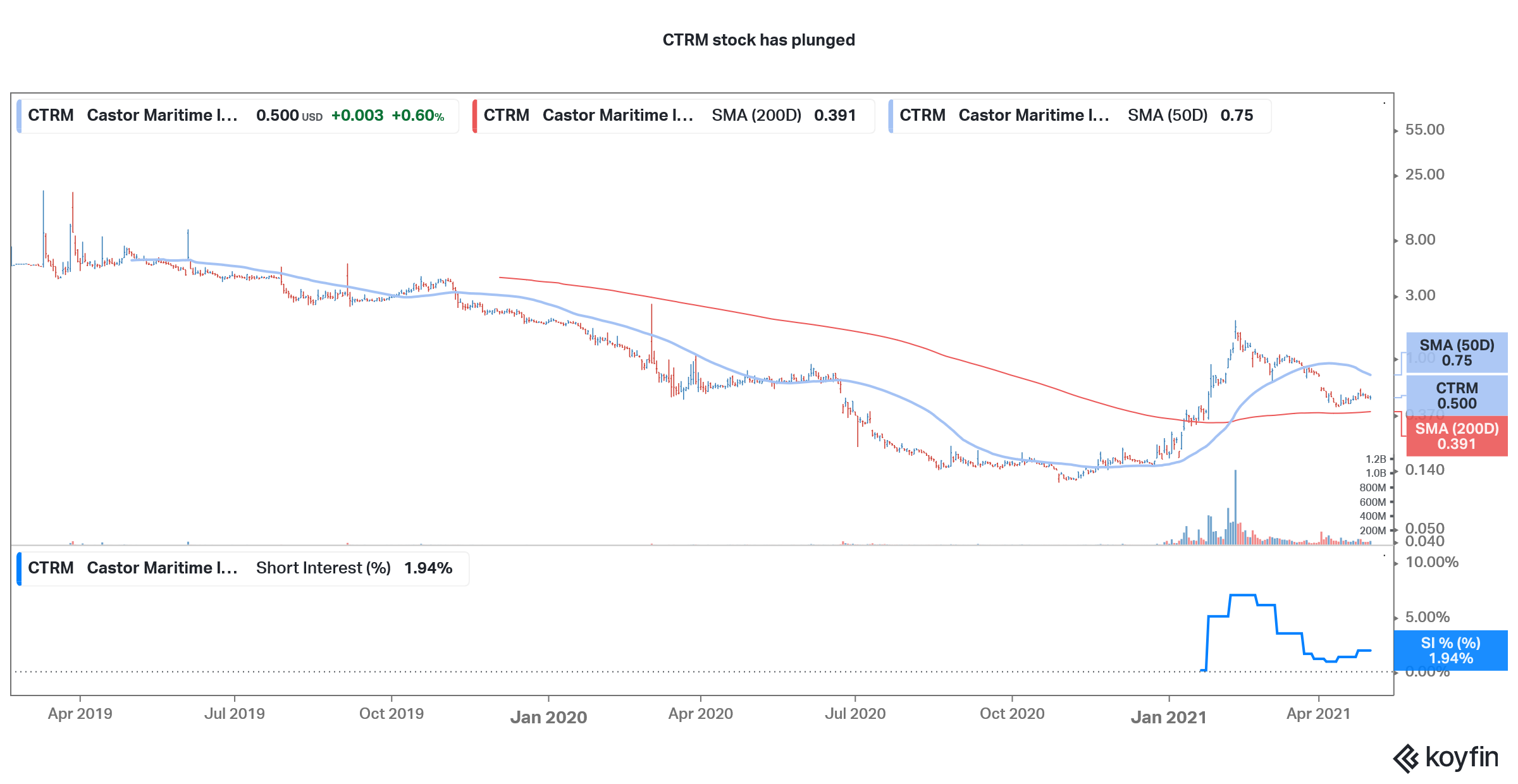 Is a short squeeze possible again in CTRM stock?
Looking at the frenzied share issuance that CTRM has been doing, don't expect a short squeeze anytime soon in the stock. For a short squeeze, the shares shorted as a percentage of outstanding shares should be substantial.
Article continues below advertisement
After the most recent stock sale, CTRM had almost 900 million common shares outstanding. The share issuance is expected to continue as CTRM raises more cash to fund the ship purchases.
Also, the outstanding share count might increase even more. The company has 480,000 Series A preferred shares and 12,000 series B preferred shares outstanding. Also, along with the most recent share issuance, it issued 192,307,700 warrants at an exercise price of $0.65. The warrants are currently out of the money but they still have five years that they can be exercised.
Article continues below advertisement
CTRM might be a good stock to buy.
CTRM has been selling shares in a frenzy and the stock has been falling after every capital raise. If you think that CTRM's management can invest the capital judiciously, you might think that CTRM stock is a good buy now. Simply put, management has to make every dollar it has gained through a capital raise count for more than $1.
Article continues below advertisement
So far, Castor Maritime has been on a ship buying spree and has taken its fleet count to 23 after it announced an en-bloc acquisition of a tanker fleet with five vessels. That said, shipping is a very cyclical business and shipping rates can vary significantly depending on the demand-supply scenario.
Article continues below advertisement
Risks of investing in Castor Maritime stock
Castor Maritime's annual report identifies the risks that investors face. The company said that investing in CTRM stock is "highly speculative" and said that it "involves a high degree of risk."
Among the risks, it listed the dilution from the share issuance, the volatility in its stock price, and delisting since it doesn't satisfy the minimum listing criterion with the stock price below $1.
Article continues below advertisement
CTRM stock is still undervalued.
After the crash in its stock, CTRM's valuations have also come down and it trades at an LTM (last-12 month) price-to-book value multiple of 1.25x. While the stock still appears overvalued, it isn't as overvalued as it was a month back.
CTRM's stock forecast
Currently, the shipping industry is in an upswing led by the rebound in industrial activity in China and countries that have addressed the COVID-19 pandemic. Given the cyclical nature of the shipping industry, I would still be wary of buying CTRM stock now. However, if the stock falls more and gets closer to the book value, I might look at speculating on this penny name. For now, I don't see the stock rising back to $1 anytime soon.