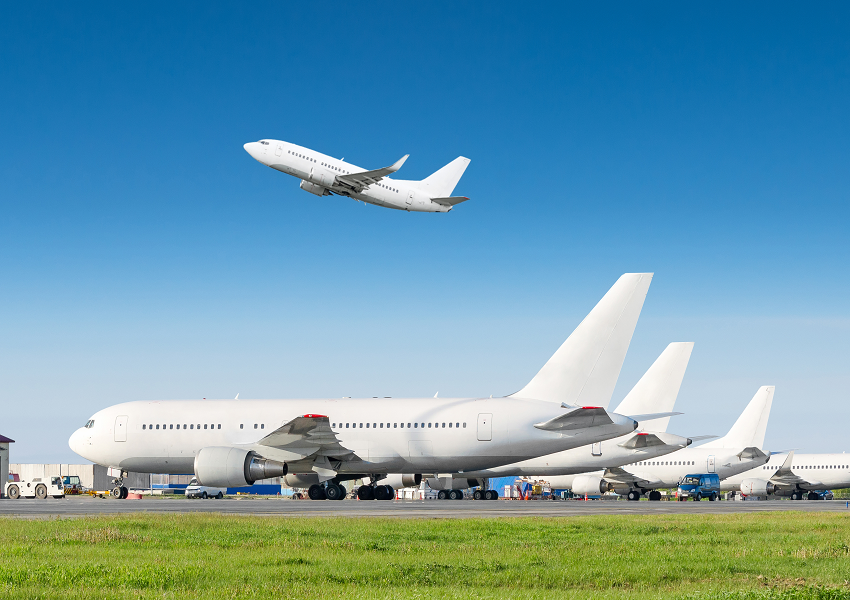 Boeing Supplier Stocks in Focus as MAX Crisis Worsens
By Anirudha Bhagat

Oct. 21 2019, Published 5:25 p.m. ET
Boeing (BA) is not alone in suffering the heightened uncertainty over the 737 MAX's return to service. The aircraft manufacturer's part suppliers are also feeling the pinch of the MAX crisis. The ongoing troubles with MAX aircraft worsened last Friday after some leaked internal messages pointed out that Boeing delayed informing regulators about key information during the aircraft's certification process.
Article continues below advertisement
Following the report, shares of Boeing and its part suppliers plunged significantly, as this new revelation could hurt MAX production. Boeing stock plunged nearly 6.8% on October 18. Shares of part suppliers Spirit AeroSystems (SPR), Triumph Group (TGI), and Allegheny Technologies (ATI) fell 4.2%, 5.4%, and 1.4%, respectively.
Boeing MAX crisis worsened
The 2016 internal messages between two employees indicate that Boeing was aware of the fundamental issue with the 737 MAX. According to the New York Post, one pilot texted sarcastically, "Granted, I suck at flying, but even this was egregious." The company's former chief technical pilot of the 737 MAX, Mark Forkner, noted, "It's running rampant in the sim," referring to the MAX flight simulator.
The FAA has called for an immediate explanation from Boeing. The company's CEO, Dennis Muilenburg, plans to testify before Congress on October 30. He will respond to questions about the delay in fixing the software problem with MAX's flight-control system. Muilenburg will also be asked about the recently leaked messages.
The latest development has compelled Boeing's management to reconsider the production plans for its previously fast-selling commercial jet. Reportedly, Boeing's board is undergoing a two-day meeting with its aircraft division and supply chain officials to discuss the MAX's prospects.
Article continues below advertisement
Citing anonymous sources, Reuters reported last Saturday that the company might cut jobs and reduce MAX production as it continues to drain cash. Notably, Boeing's financial burden has been mounting due to the delay in receiving regulatory safety approval. During the second quarter, the MAX crisis cost the company approximately $7.3 billion in compensation and higher production expenses.
MAX production cut would hurt suppliers
Considering the significant exposure to Boeing MAX aircraft, suppliers Spirit AeroSystems, Triumph Group, and Allegheny Technologies are now at higher risk. A further MAX production rate cut would severely hurt the financials of these key part suppliers.
Spirit AeroSystems is the most vulnerable company to the ongoing MAX crisis due to its significant business exposure to Boeing. Spirit AeroSystems builds about 70% of the total MAX aircraft structure. The aircraft accounts for 50% of Spirit's total revenues.
Triumph Group supplies interior components, landing gear, aerostructures, and ductwork for Boeing aircraft. Allegheny Technologies is one of the leading suppliers of titanium products for aerospace applications.
In April, Boeing reduced the aircraft's monthly output by 19% to 42 units. The company made this move due to uncertainty surrounding the MAX's return to service. So, if the company's management reduces production, this would be in contrast with Boeing's commitments to part suppliers in July.
During an online meeting on July 30, Boeing told part suppliers that it intends to increase MAX monthly output to 47 units this year. Boeing also wants to reach the March 2019 production rate of 52 units again in February 2020.
Stock performance
Boeing and part supplier stocks have been under tremendous pressure since the global flying ban on the 737 MAX was implemented in mid-March. Boeing has lost 18.6% or $44 billion in market capitalization since the Ethiopian Airlines crash on March 10. Spirit AeroSystems, Triumph Group, and Allegheny Technologies have lost 17.7%, 3.6%, and 21.4% of their respective market value since the Ethiopian Airlines accident.