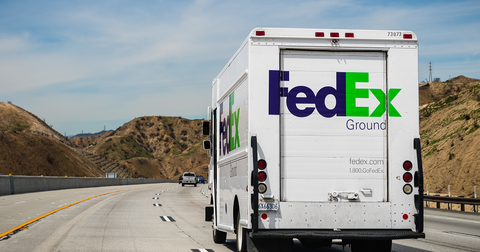 FedEx Stock Near 52-Week Low as Struggles Continue
By Anirudha Bhagat

Updated
FedEx (FDX) stock fell last Friday, approaching its 52-week low. FedEx is among the most beaten-down stocks in the logistics industry in the previous 12 months. Over the last year, it has lost approximately 40% of its market value.
With its September 20 closing price of $148.78, FDX stock was trading near its 52-week low of $147.82. Moreover, the stock is down 40% from its 52-week high of $247.12.
FDX stock has plunged 7.8% YTD (year-to-date), underperforming the broader US market and the iShares Transportation Average ETF (IYT). The Dow Jones and the S&P 500 are up 15.5% and 19.4%, respectively, YTD.
IYT, which invests in Dow Jones transportation stocks, has gained 14.3% YTD. About 20% of the ETF's portfolio constitutes air freight and courier services companies.
FedEx stock has underperformed its peers in the logistics industry as well. Shares of the company's primary competitor, United Parcel Service (UPS), have gained 23.8% YTD. Old Dominion Freight Line (ODFL) and XPO Logistics' (XPO) stocks have returned 37.3% and 26%, respectively.
Article continues below advertisement
What's dragging down FedEx stock?
FedEx stock lost 14.5% (or approximately $7 billion) in market capitalization in the last five trading days. The maximum decline, nearly 14%, came after it reported dismal Q1 results and lowered its fiscal 2020 earnings outlook on September 17.
The company's Q1 revenues and earnings missed analysts' estimates and also fell YoY (year-over-year). FedEx blamed the slowdown in global trade and production as the main reason behind the dismal quarterly performance.
Citing the factors mentioned above, which hampered its international business operations in the near term, the company trimmed its earnings outlook for fiscal 2020. FedEx stated that the negative manufacturing output in Germany would hurt its European business. It also revealed that trade in the Asian region has softened due to uncertainty over the US-China trade negotiations.
Furthermore, FedEx assumes that the nonrenewal of its two delivery contracts with Amazon (AMZN) would hurt its near-term results. In June, the logistics giant didn't renew its air-shipping contract with Amazon. In August, it declined to extend the ground delivery contracts with the e-retailer. The e-commerce giant accounted for 1.3% of FedEx's total revenues in fiscal 2019.
Article continues below advertisement
Citing these near-term headwinds, FedEx now forecasts its fiscal 2020 adjusted EPS to be $11–$13. Earlier, the company had projected earnings of $15.52 per share in the current fiscal year. Its updated earnings guidance range reflects a YoY decline of 16%–29%. The Wall Street analysts' consensus earnings estimate for fiscal 2020 is $12.71.
Analysts change stance after Q1 results
Analysts have turned increasingly cautious over FedEx's growth prospects following its disappointing Q1 results and dismal outlook. Several analysts have either downgraded the stock or have lowered their target price in the last week.
Before the company's Q1 earnings release, about 68% of the 28 analysts had a bullish stance on FedEx stock. Nearly 25% had a neutral view, while the remaining 7% had a bearish opinion.
This equation changed following FedEx's Q1 results on September 17. On September 23, the number of bullish analysts fell to 15 from 19. Now, 54% of the analysts have a buy-equivalent recommendation, 39% have a neutral view, and the remaining 7% have a bearish stance on the stock.
Moreover, Wall Street's average target price on the stock fell to $178.20 from $187.84 on September 16. The current target price reflects a 20% return over the next year.
Furthermore, Wall Street analysts' estimate for Q2 expects that FedEx could witness another quarter of dismal financial performance. Analysts project the company's Q2 revenues to decline 0.5% YoY to $17.7 billion. They forecast its EBITDA to plunge 13.2% YoY to $1.9 billion. Their EPS estimate of $6.80 signifies a YoY decline of 16.2%.