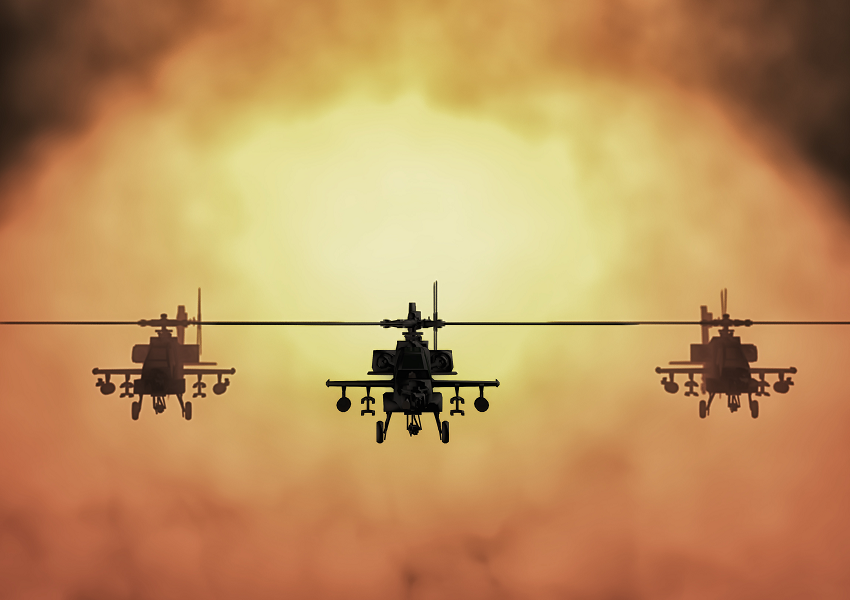 Boeing: Thailand Plans Multimillion-Dollar Defense Order
By Anirudha Bhagat

Sep. 26 2019, Published 11:49 a.m. ET
Boeing (BA) could receive a multimillion-dollar defense order soon. Thailand's army announced this morning that it plans to purchase eight Boeing attack helicopters, according to a Reuters report. The Thai military is looking to place orders for Boeing's AH-6i light attack reconnaissance helicopters. The deal would be worth 4.2 billion Thai baht, or nearly $137 million.
Thailand had earlier requested the US government's approval to buy these helicopters. On September 24, the US State Department gave Thailand permission to buy eight AH-6i helicopters and the related weapons and equipment. The total program cost is $400 million, according to a Defense News article. The article also states that Thailand will use the AH-6i helicopters to replace its older fleet of seven AH-1F Cobra helicopters.
Article continues below advertisement
The latest arms deal represents improving ties between Thailand and the US. In its report, Reuters noted that the relationship between the nations became strained in 2014 after the military took control of Thailand. The election held earlier this year reinstated civilian rule once again in the country after five years.
During the military rule in Thailand, the US stopped providing the country with military aid. Therefore, Thailand turned to China and other countries for weapons during this time, according to Reuters. However, on the country's establishment of a new government, the US is now opening up its arms inventory to Thailand.
The latest arms sale approval is the second time this year that the US government has cleared a defense deal for Thailand. According to the Reuters report, the Thai army announced last month that it would purchase "70 U.S.-made Stryker armored personnel carriers worth 3.7 billion baht ($120.84 million)."
Article continues below advertisement
Boeing needed a major defense boost
Boeing desperately needs new defense contracts. Its commercial aircraft division is struggling due to the ongoing 737 MAX crisis. Its 737 MAX planes have been facing a global flying ban since mid-March following two deadly accidents within five months of one another.
MAX planes account for nearly 70% of Boeing's total commercial jet orders and contribute approximately 30% of its total operating profits. However, following the aircraft's grounding in mid-March, airlines are neither placing orders for nor taking deliveries of MAX. Frozen shipments for its fast-selling commercial planes are hurting Boeing's financials.
However, Boeing's Defense segment has remained on a growth trajectory. Last month, the company won defense contracts worth over $1.8 billion. In September so far, the aerospace and defense equipment provider has received contracts worth nearly $700 million.
Boeing's Defense division has somewhat offset the negative impact of the underperformance in its Commercial Aircraft segment. In the second quarter, the Commercial Aircraft segment registered a 66% YoY fall in revenue due to a 54% decline in shipments. However, the Defense segment registered an 8% increase in sales mainly driven by higher volumes across derivative jets, weapons, and satellites.
Boeing's Defense segment had an order backlog of approximately $64 billion at the end of the second quarter. Continuous defense contract wins will increase Boeing's order backlog and assure long-term cash flows.
Year-to-date underperformance
After riding high at the beginning of 2019, Boeing stock fell sharply following the Ethiopian Airlines crash. Before the mishap, the stock had a YTD (year-to-date) return of 31% as of March 8. However, its YTD gain has eroded to 19.8%. Boeing was the top performer among the Dow Jones 30 components leading up to March 10. It's since slipped to 15th place.
Boeing has underperformed the iShares U.S. Aerospace & Defense ETF (ITA), which has risen 31.8% YTD. The ETF has exposure to companies engaged in manufacturing, assembling, and distributing aerospace and defense equipment.
Boeing stock has also underperformed its major peers in the aerospace and defense sector. Shares of Northrop Grumman (NOC), Lockheed Martin (LMT), and United Technologies (UTX) are up 53.1%, 49%, and 28.5%, respectively, YTD.