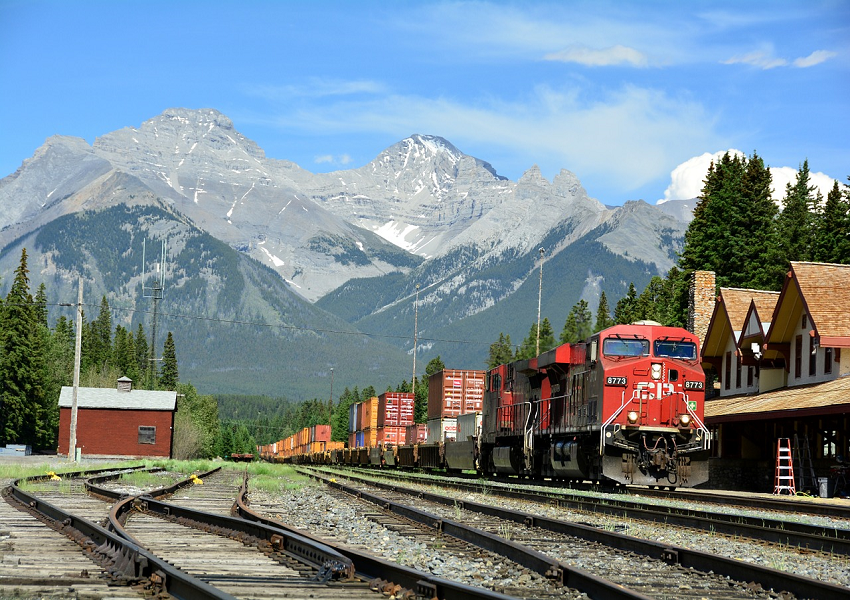 Canadian Pacific Posts Record Q2 Earnings, US Peers Struggle
By Anirudha Bhagat

Jul. 16 2019, Updated 12:18 p.m. ET
On Tuesday, Canadian Pacific Railway (CP) reported strong second-quarter earnings. The company's top and bottom lines touched a record mark for the second quarter. Canadian Pacific Railway's quarterly revenues and adjusted EPS beat analysts' expectations and a marked significant YoY (year-over-year) improvement. The company's second-quarter adjusted EPS of $4.30 beat analysts' consensus estimate of $4.18 and rose 36% YoY.
Article continues below advertisement
Canadian Pacific's latest quarterly results marked an impressive turnaround from its dismal first-quarter results. The company posted lower-than-expected results in the first quarter due to weak rail traffic volume. A derailment in British Columbia's Rocky Mountains and challenging winter conditions hurt the company's rail traffic volume during the quarter.
Canadian Pacific revealed that its second-quarter earnings were mainly driven by higher revenues, lower costs, and reduced taxes. The company's revenues were $1.98 billion—marginally higher than analysts' estimate of $1.97 billion. The quarterly revenues grew 13% YoY due to pricing gains and higher volumes across most of the commodity groups.
Canadian Pacific's total carload traffic increased 6% YoY to 716,800 railcars. Except for metals, minerals, and consumer, the company recorded volume growth across all of the commodity groups. The freight revenue per carload grew 7% YoY to $2,694 in the second quarter. The company recorded freight revenue per carload growth across all of the commodity groups.
Article continues below advertisement
Canadian Pacific's record operating ratio 
Canadian Pacific's adoption of the PSR (Precision Scheduled Railroading) system helped lower costs and improve its operational efficiency. In the second quarter, the company's expenses increased 2.8% YoY to $1.16 billion compared to the second quarter of 2018.
However, the operating ratio fell significantly. Canadian Pacific's operating ratio fell by 580 basis points YoY to 58.4% compared to 64.2% in the second quarter of 2018—a second-quarter record for the operating ratio.
The improved operating ratio led to a 31% YoY increase in the operating income to $822 million. The operating margin grew by 580 basis points YoY to 41.6%. The company's bottom-line results also benefited from the lower effective tax rate. The effective tax rate was 14.6% in the second quarter compared to 21.9% in the second quarter of 2018.
Canadian Pacific's president and CEO, Keith Creel, said, "This quarter, we saw revenue growth across every line of business, strong operating metrics, and our best-ever second-quarter performance from a workload perspective, as measured by Gross Ton-Miles." He further added, "Our strategy for sustainable, profitable growth is working and we look forward to a strong finish to 2019."
Article continues below advertisement
Peers' expectations
Analysts don't expect US railroad companies to report strong quarterly numbers compared to their Canadian rivals. US railroads' overall rail traffic volumes fell 4.3% in the second quarter, according to data compiled by the Association of American Railroads.
For the US, trade disputes with China and European countries led to a decline in US rail traffic volumes. Cheap natural gas prices and flooding across several North American regions contributed to the fall. CSX (CSX) and Union Pacific (UNP) reported a 4% decline in their second-quarter rail traffic. Norfolk Southern's (NSC) traffic fell 3.8% in the second quarter.
Analysts project CSX's second-quarter revenues to grow 1.2% YoY, which is lower than the growth rate of 4.8% in the first quarter. The earnings growth projections of 9.4% are also much lower than over a 31% rise the previous quarter.
Analysts expect Union Pacific's revenues to fall 1% YoY. The company recorded high-single-digit growth in all four quarters of 2018. Analysts expect Union Pacific's EPS to increase 8.2% YoY compared to over 30% in 2018. Norfolk Southern's revenues and earnings are expected grow 1.8% and 11.6%, respectively. In the first quarter, the company's top line and bottom line rose 4.5% and 30%, respectively.
Stock performance
Canadian Pacific stock was trading over 2% higher on Monday. So far, the stock has experienced a remarkable run this year. With a YTD (year-to-date) gain of 36.3%, Canadian Pacific is outperforming the broader market. The Dow Jones and the S&P 500 have risen 17.3% and 20.2%, respectively, YTD. The stock is also beating the iShares Transportation Average ETF (IYT), which has risen 15.5% YTD. IYT allocates nearly 54% of its fund to ground freight and logistics stocks.