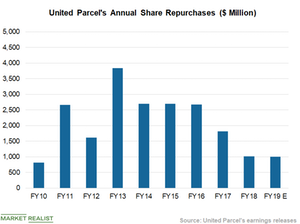 UPS Increases Shareholder Wealth through Share Repurchases
By Anirudha Bhagat

Updated
Share repurchases
Share repurchases are yet another strategy that United Parcel Service (UPS) uses to create wealth for its shareholders. Share buybacks are considered a more tax-efficient method to enhance shareholders' value compared to dividend payments. Additionally, as share repurchases lead to a decline in the number of outstanding common share of a company, they boost the EPS.
Sign up for Bagels & Stox, our witty take on the top market and investment news, straight to your inbox! Whether you're a serious investor or just want to be informed, Bagels & Stox will be your favorite email.
Continuing with its policy of enhancing shareholder wealth, UPS repurchased 2.4 million of its common shares for $250 million. Last year, the company bought back 8.9 million of its shares for ~$1 billion.
The company approved share repurchases of $8 billion in May 2016. Since then, it has repurchased $4.9 billion worth of common share, and approximately $3.1 billion remain under the same authorized amount. Going forward, UPS intends to repurchase about $1 billion worth of its shares this year.
The delivery and courier services provider has always tried to enhance shareholders' wealth through share repurchases and dividend payments. Share buybacks and dividend payments show a company's sound financial position and give investors confidence in the stock.
UPS ended the first quarter of 2019 with $5.1 billion in cash, cash equivalents, and restricted cash. The delivery giant generated an operating cash flow of $2.3 billion and an adjusted free cash flow of $757 million in the first quarter.
Article continues below advertisement
Stock performance
So far 2019 hasn't been great for UPS, and the stock has risen only 3.2% YTD, significantly underperforming the gains of the Dow Jones Industrial Average and the S&P 500, which are up 11.2% and 14.9%, respectively. The stock has also underperformed the returns of the iShares Transportation Average ETF (IYT). The ETF tracks performances of transportation stocks in the Dow Jones Industrial Average and has gained 15.6% YTD.
Major competitors FedEx (FDX) and J.B. Hunt Transport (JBHT) have gained 10.3% and 2.2%, respectively. C.H. Robinson Worldwide (CHRW), however, has lost 2.8% of its value in the same timeframe.