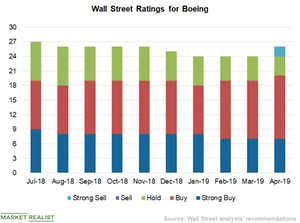 Analysts Stay Bullish on Boeing amid 737 Max Crisis
By Anirudha Bhagat

Updated
737 Max crisis
Boeing (BA) is currently going through one of the worst periods in its history following two deadly crashes that involved its fast-selling 737 Max series planes. The airplane manufacturer (XLI) is facing a probe from federal agencies about its anti-stall system, also known as MCAS (maneuvering characteristics augmentation system), which is installed in the company's 737 Max aircraft.
WAKE UP WITH BAGELS & STOX, OUR NEW EMAIL THAT ENTERTAINS AND INFORMS YOU BEFORE THE DAY STARTS. SIGN UP HERE!
The primary investigation suggests some faults in the flight control system, which might have led the plane to automatically guide the aircraft nose lower despite repeated efforts by pilots to take control. Investigators are also suspecting misconduct or lapses in gaining approval for the system.
Additionally, following the Ethiopia crash on March 10, countries and air carriers around the world grounded their 737 Max fleets. Currently, there are 371 737 MAX jets in operation worldwide.
Article continues below advertisement
Analysts' bullish stance
Despite the ongoing troubles related to its 737 Max series planes, the majority of Wall Street analysts have maintained their bullish recommendation on Boeing stock. They believe that it will take Boeing three to six months to solve this problem, which might impact its financials in the near term. However, in the long run, the company will likely witness strong revenue and earnings growth due to its huge order backlog for over 5,000 jets, enhanced production, and pricing.
Nonetheless, a few analysts downgraded their rating on the stock after the Ethiopia crash. Argus Research lowered its rating on the stock to "hold" from "buy" on March 19. Furthermore, in March, the stock saw its first "sell" or some equivalent rating in the last 19 months.
Boeing has received a consensus "outperform" recommendation from analysts polled by Reuters. Among the analysts, 77% provided bullish recommendations on the stock. Among the 26 analysts covering Boeing, seven recommended a "strong buy," 13 recommended a "buy," four recommended a "hold," and two recommended a "strong sell." The Wall Street consensus target price of $436.10 depicts a return of 10.2% from the current market price of $395.86.
Analysts' one-year target price on other major aero defense stocks such as Lockheed Martin (LMT), General Dynamics (GD), and Northrop Grumman (NOC) reflects a return of 14.6%, 19.8%, and 17.9%, respectively.