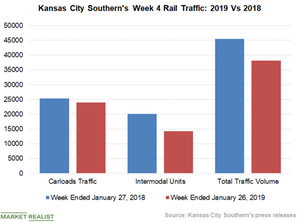 KSU Had the Worst Traffic Performance among Its Peers in Week 4
By Anirudha Bhagat

Feb. 4 2019, Updated 9:01 a.m. ET
Rail traffic fell
Kansas City Southern (KSU) reported a dismal rail traffic performance in Week 4 of 2019. The smallest Class I railroad company hauled 38,201 railcars in the week, down 16.1% from the 45,516 railcars it moved in Week 4 of 2018.
The week marked the third consecutive week of YoY (year-over-year) decline in the company's rail traffic.
The YoY fall in Kansas City Southern's rail traffic was the highest among Class I railroad companies (FTXR) in Week 4. During the week, all major Class I railroad companies' rail traffic declined YoY except for Union Pacific's (UNP) and Canadian Pacific Railway's (CP), which increased 4.3% and 1.3%, respectively.
Article continues below advertisement
Kansas City Southern's dismal rail traffic performance was mainly the result of its intermodal volumes falling drastically by 29.1% YoY to 14,281 containers and trailers from 20,156 units. Its container volumes fell 29.1% YoY to 14,055 units from 19,818 units, and its trailer traffic plunged 33.1% YoY to 226 units from 338 units.
Carload traffic
In the fourth week, Kansas City Southern's carload traffic fell 5.7% YoY to 23,920 units from 25,360 units. Commodities excluding coal and coke, which accounted for 84% of KSU's total carload traffic in Week 4, fell 8.6% YoY to 20,085 units from 21,976 units. On the other hand, coal and coke traffic grew 13.3% YoY to 3,835 railcars from 3,384 railcars.
Excluding coal, only petroleum products and nonmetallic minerals recorded YoY volume gains. Commodities including motor vehicles and equipment, chemicals, and metals registered massive declines in volumes.
Except for Union Pacific and Canadian Pacific Railway, every other Class I railroad company's carload traffic declined in Week 4. Norfolk Southern (NSC) reported the highest fall in carload traffic of 14.4%. Next, we'll look at CSX's Week 4 rail traffic performance.