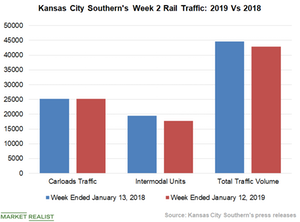 Kansas City Southern's Weak Rail Traffic Performance Continued
By Anirudha Bhagat

Updated
KSU's rail traffic
After reporting the weakest rail traffic growth in Week 1, Kansas City Southern (KSU) posted a decline in rail traffic growth for the second week in a row. 
The company's rail traffic in Week 2 decreased 4% YoY (year-over-year) to 42,888 railcars from 44,681 railcars.
KSU was the only Class I railroad (XLI) company that registered a YoY decline in rail traffic in the week. Canadian National Railway (CNI) reported the highest rail traffic gain of 12.2% during the week. Canadian Pacific (CP) and CSX (CSX) were in second and third places with 11.4% and 11% gains, respectively.
Article continues below advertisement
KSU's dismal rail traffic performance was mainly the result of a drastic decline in its intermodal units. It reported a 9.2% YoY decrease in intermodal traffic in the second week of 2019. The company carried 17,728 containers and trailers in the week compared to 19,524 units in the second week of the previous year.
KSU's container volumes decreased 9.1% YoY to 17,511 units in Week 2 compared to 19,264 units in Week 2 of 2018. Moreover, the railroad company's trailer traffic plunged 16.5% YoY to 217 units from 260 units.
Carload traffic
KSU's carload traffic for the week remained almost flat YoY at 25,160 units compared to 25,157 units. KSU was the only railroad company that didn't register a YoY increase in carload traffic. CSX came in first with an 18.7% carload gain in Week 2 followed by CNI's 11.4% carload gain and Norfolk Southern's (NSC) 9.9% carload gain.
Commodities excluding coal and coke carloads accounted for 83% of KSU's total carload traffic in Week 2. Coal and coke commodities accounted for the remaining 17% of railcars. Traffic for commodities excluding coal and coke inched down 0.4% YoY to 20,954 units from 21,043 units in the second week of 2018. However, coal and coke traffic grew 2.2% YoY in the week to 4,206 railcars from 4,114 railcars.