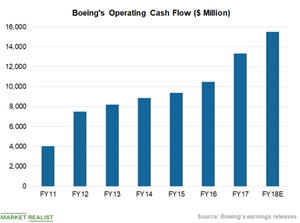 Strong Balance Sheet Helps Boeing Enhance Shareholder Wealth
By Anirudha Bhagat

Dec. 31 2018, Updated 7:30 a.m. ET
Strong balance sheet
Boeing's (BA) financial strength and cash flow–generating capabilities enable it to continue its shareholder return policy. The aircraft manufacturer had cash and cash equivalents of $8 billion at the end of third-quarter 2018. Moreover, it generated cash flows worth $12.4 billion from operating activities in the first three quarters of 2018.
Boeing's operating cash flow has improved significantly over the last six years. From $8.1 billion in 2012, its operating cash flow rose 63% to $13.3 billion in 2017. The company anticipates that its operating cash flow will reach $15.5 billion at the end of 2018, a year-over-year or YoY rise of 16.3%. Its capex over these years has mostly remained range-bound between $1.7 billion and $2.1 billion, which has resulted in a sizable boost in free cash flow.
Article continues below advertisement
Free cash flow
Free cash flow is determined by subtracting a company's capex from its operating cash flow. The cash is used for business reinvestment, stock buybacks, and dividend payments. Boeing's free cash flow has risen steadily over the last few years.
The airplane maker's free cash flow has almost doubled over the past five years, reaching $11.6 billion at the end of 2017 from $6.1 billion at the end of 2013. Last year, the company saw a whopping 47% YoY rise in its free cash flow. Wall Street analysts expect Boeing to generate free cash flow of $13.7 billion in 2018, 18% higher than last year.
Analyst optimism
On November 29, Cowen aerospace analyst Cai von Rumohr wrote in a note to clients that there are several key areas likely to drive Boeing's cash flow next year. He stated that the company is expected to see an upward trend in production in 2019, with its delivery shifting to more profitable models.
Von Rumohr also said that stable supplier pricing and a lack of upcoming labor negotiations should boost Boeing's profitability as well as its cash flows. He anticipates that the company's cash flow per share will reach $28.60 in 2019, 16.4% higher than Wall Street's consensus estimate of $24.57 for 2018. Rumohr expects Boeing's cash flow per share to rise as high as $35.00 in 2021, which should allow it to raise its dividend per share to $10.00.
Wall Street expects aerospace and defense (ITA) players Lockheed Martin (LMT), General Dynamics (GD), and Northrop Grumman (NOC) to see cash flows per share of $24.95, $14.65, and $19.82, respectively, in 2019.