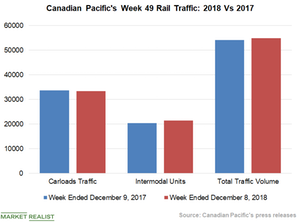 CP's Rail Traffic Growth Was the Lowest among Its Peers
By Anirudha Bhagat

Dec. 18 2018, Updated 7:30 a.m. ET
Canadian Pacific's rail traffic
Canadian Pacific Railway (CP) reported 1.5% YoY (year-over-year) total traffic volume growth in Week 49. The company pulled 54,963 railcars compared to 54,159 units in Week 49 of 2017.
Canadian Pacific's YoY rail traffic gains were 3.9% in the first 49 weeks of 2018. The company's traffic growth was higher than US railroad companies' (PWB) 3.6% gain and Canadian rail carriers' 3.8% gain during the same period.
Article continues below advertisement
The company's total traffic volume growth was mainly driven by strong growth in intermodal traffic. It moved 21,518 containers and trailers in Week 49 compared to 20,454 units in the same week last year. For the first 49 weeks, Canadian Pacific reported 3.1% YoY growth in intermodal units. During the period, the company moved 967,221 units compared to 938,353 units in the previous year's period.
Carload traffic
Canadian Pacific's carload traffic inched down 0.8% YoY in Week 49. Apart from Canadian Pacific, only two other companies, Union Pacific (UNP) and Norfolk Southern (NSC), registered YoY falls in their carloads. The two companies recorded declines of 2.1% and 0.4%, respectively, in their carload traffic in Week 49. All other companies recorded YoY increases in rail traffic, with Kansas City Southern (KSU) experiencing the highest growth of 4.8%.
Canadian Pacific pulled 33,445 railcars compared to 33,705 in the same week of the previous year. The traffic of commodity groups other than coal accounted for 82% of its total carloads. The traffic of commodity groups excluding coal fell 1.3% YoY to 27,460 railcars in Week 49 from 27,830 units in Week 49 of 2017. However, its coal carloads increased 1.9% YoY to 5,985 units from 5,875 units.
Commodity groups excluding coal that reported notable volume growth in Week 49 included energy, chemicals, and plastics, potash, and metals, minerals, and consumer products. The commodity groups that recorded YoY declines in volumes in Week 49 included grain, fertilizer and sulfur, forest products, and automotive products.