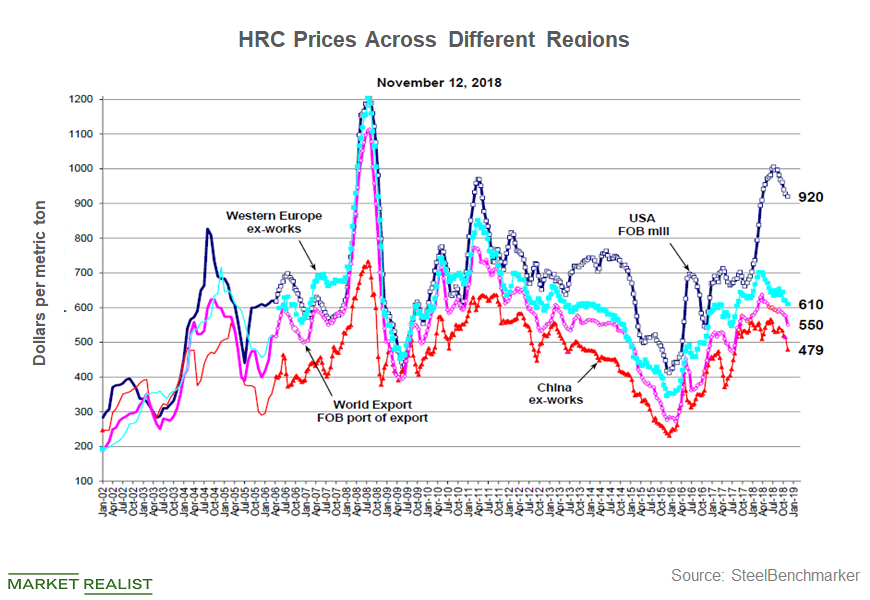 US Steel Companies Are Exposed to China's Slowdown
US steel companies
As we noted previously, US steel prices rallied sharply in the first half of 2018. However, the prices fell last month. We should remember that US steel prices have varied. Historically, US steel prices have been higher than global steel prices. The spread between US and international steel prices has driven imports.
Article continues below advertisement
China
Usually, Chinese steel is the cheapest globally and tends to set a floor under global steel prices. How much spread US steel companies command over global steel prices depends on several factors including Chinese steel exports and domestic demand-supply dynamics. When domestic demand slows down, the spreads between US and international steel prices narrow. The spreads tend to rise in strong steel markets.
In 2018, steel prices have been strong globally. Higher global steel prices raised the floor for US steel companies. The Section 232 tariffs enabled US steel mills (CLF) like U.S. Steel Corporation (X), AK Steel (AKS), and Nucor (NUE) push for steeper price hikes.
Trade protection
Historically, we've seen a spike in steel product prices that got trade protection—for example, the 2016 flat-rolled trade cases. The Section 232 tariffs are broad-based, unlike the other trade cases that cover specific products from certain countries.
Since the Section 232 tariffs provided US steel companies with pricing power by making steel imports expensive, we saw a sharp rally in steel prices (XME). After a strong rally, US steel prices have pared the gains, which we'll discuss in the next part.