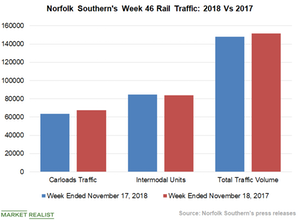 Norfolk Southern's Carload Traffic Plunged over 6% in Week 46
Rail traffic volume
Norfolk Southern (NSC) reported a 2.2% YoY fall in its rail traffic volume in week 46. The Eastern US railroad company hauled 148,100 total cars compared with 151,460 units in the same week of last year. Norfolk's rail traffic decline in week 46 was in contrast to the 0.04% gain registered by US railroad companies. However, in the first 46 weeks, Norfolk Southern's overall rail traffic volumes grew 4% YoY. The company's traffic gains were higher than the 3.7% YoY growth reported by US railroad companies during the period.
Article continues below advertisement
Carloads declined
The company reported a 6.1% YoY fall in its carload traffic in week 46. The company hauled 63,371 railcars excluding intermodal units in the week compared to 67,470 in the comparable period last year.
Compared to Norfolk Southern's carload loss, competitor CSX (CSX) reported a 1.6% YoY rise in week 46. In terms of carload traffic growth, Canadian Pacific Railway (CP) ranked first among all class I railroad companies (FXR) with an 11% gain in week 46. Its rival Canadian National Railway (CNI) was in second place with a 5.9% carload gain. With a loss of 9%, Kansas City Southern (KSU) was the worst performer in terms of carload traffic growth.
In week 46, NSC's commodity groups excluding coal and coke made up 70% of its total carload traffic. Coal and coke traffic made up 30% of its total carloads. The traffic of commodity groups excluding coal and coke plummeted 8.4% YoY to 44,216 units from 48,264 units. Coal and coke volumes inched down 0.3% YoY to 19,155 units in the week from 19,206 units.
Commodity groups (excluding coal and coke) reporting notable volume growth in week 46 include iron & steel scrap, lumber & wood products, metallic ores, and non-metallic minerals. Commodity groups recording a YoY decline in week 46 volumes included grain, chemicals, food & kindred products, metals & products, motor vehicles & equipment, petroleum products, forest products, and pulp, paper & allied products.
Intermodal volumes
Norfolk Southern's intermodal traffic expanded 0.9% YoY in week 46 to 84,729 containers and trailers compared to 83,990 units last year. NSC's container traffic expanded 0.1% YoY to 76,312 units from 76,209 units. Its trailer volumes increased 8.2% YoY to 8,417 units from 7,781 units in week 46 of 2017.
In the next part, we'll discuss BNSF Railway's (BRK.B) rail traffic trends.