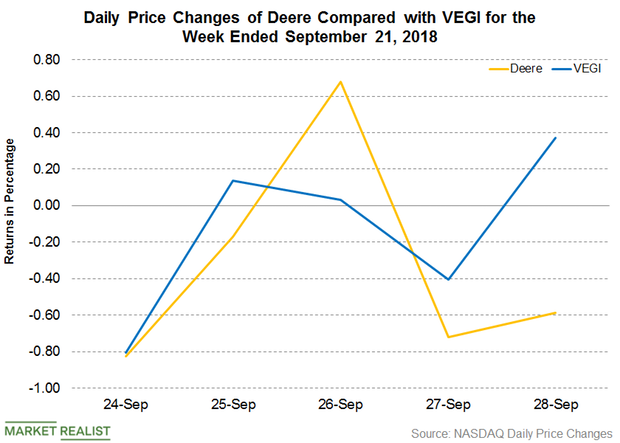 Deere Completed the PLA Acquisition
By Peter Neil

Oct. 1 2018, Published 8:21 a.m. ET
Deere completed the PLA acquisition
On September 26, Deere (DE) announced that it completed the acquisition of PLA. Deere entered the definitive agreement to acquire PLA in July. Deere didn't disclose the financial aspects of the takeover.
PLA is an Argentina-based company that specializes in manufacturing agriculture sprayers, planters, and specialty products. PLA has facilities in Las Rosas, Argentina, and Canoas in Brazil with ~450 employees.
The acquisition will likely boost Deere's fourth-quarter earnings. In the third quarter, Deere reported an adjusted EPS of $2.59, which implies 31.5% growth compared to the previous year. Deere's revenues grew 32%, which reflects revenues of $10.31 billion.
Article continues below advertisement
Deere's stock price
Deere stock declined ~1.6% and closed at $150.33 for the week ending September 28. Despite the decline in the stock price, the stock traded 3.0% above the 100-day moving average price of $145.96. Deere's 100-day moving average price has fallen from ~157.80 to the current levels. Although the stock has fallen, it appears to be stable and could start rising again.
Deere has recovered some of the lost ground and has minimized its decline for 2018. On a year-to-date basis, the stock is still down 4.0% However, analysts are bullish on Deere stock and have recommended a target price of $172.8, which implies an upside of 15% based on the company's closing price on September 28. Caterpillar (CAT), AGCO (AGCO), and CNH Industrial (CNHI) have fallen 3.2%, 14.9%, and 10.4%, respectively. Deere's 14-day relative strength index score of 56 indicates that the stock isn't overbought or oversold.
Investors could hold Deere indirectly through the iShares MSCI Global Agriculture Producers ETF (VEGI), which had 13.8% of its portfolio invested in Deere as of September 28.