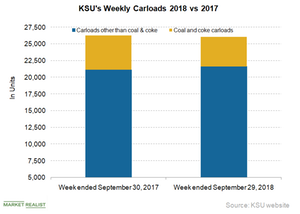 A Summary of Kansas City Southern's Rail Traffic in Week 39
By Samuel Prince

Dec. 4 2020, Updated 10:53 a.m. ET
KSU's carload traffic
Kansas City Southern (KSU), the smallest US class I railroad, reported a marginal loss of 0.7% YoY (year-over-year) in carload traffic in week 39. The railroad hauled slightly more than 26,000 carloads during the week. KSU's carload traffic trended in the reverse direction compared to 0.5% YoY gains reported by US railroad (XTN) companies in the week.
Kansas City Southern wasn't the only railroad to report lower YoY carload traffic in week 39. Norfolk Southern (NSC) and Union Pacific (UNP) also registered a carload traffic loss during the week. Canadian Pacific Railway's (CP) 6% gain was the highest in week 39.
Article continues below advertisement
In week 39, KSU's traffic for commodities excluding coal and coke carloads made up 83% of total carload traffic. Coal and coke railcars made up 17% of total carloads. Commodities excluding coal and coke reported a 2.4% YoY rise in traffic to ~21,600 railcars in week 39 from 21,100 units last year. Coal and coke traffic, however, contracted 13.8% YoY in the week to 4,400 railcars from 5,100 units.
Changes in KSU's carload commodity groups
These carload commodity groups reported higher volumes in week 39:
grain
lumber and wood products
pulp, paper, and allied products
chemicals and allied products
petroleum products
These carload commodity groups posted lower volumes in week 39:
crushed stone, sand, and gravel
grain mill products
stone, clay and glass products
metals and products
motor vehicles and equipment
KSU's intermodal traffic
Kansas City Southern posted 6.7% YoY intermodal volume growth in week 39. The company carried ~23,400 containers and trailers in the week compared to ~21,900 units in the same week of 2017. KSU's container traffic grew ~6.5% YoY to ~23,000 units in the week from ~21,600 units. Trailer volume grew 21.3% YoY to 416 units from 343 units.
Kansas City Southern's 2.6% rail traffic growth was lower than US railroads' average 3.7% gains in week 39. In the next part, we'll examine Canadian National Railway's (CNI) rail traffic trends.