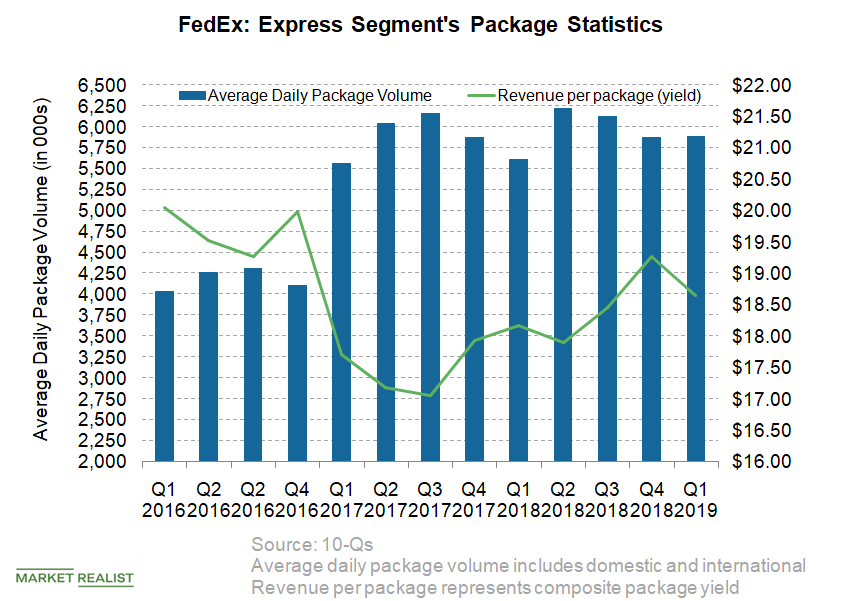 Inside FedEx Express's First-Quarter Revenue Growth
By Samuel Prince

Sep. 20 2018, Updated 12:05 p.m. ET
FedEx Express's first-quarter revenue
In this part, we'll look into the FedEx (FDX) Express segment's first quarter performance. The FedEx Express segment accounts for the lion's share in the company's total revenue. The segment's revenue share was 56.2% in the first quarter's total revenue, down 0.9% from 57.1% in Q1 2018. In Q1 2019, the vertical reported revenue of $9.2 billion compared to $8.4 billion in the first quarter of fiscal 2018, which reflects a 9.8% YoY (year-over-year) increase.
Article continues below advertisement
FedEx Express revenue breakup
The FedEx Express vertical includes US package revenue and international package revenue. The company receives US package revenue from US overnight box, US overnight envelope, and US deferred services. In the first quarter, the US package revenue was ~$3.3 billion, up 7% from $3.0 billion in Q1 2018.
US overnight box revenue included in US overnight package revenue accounted for 57% of total US package revenue in the first quarter. Overnight box revenue increased 7% YoY to $1.8 billion in Q1 2019. US deferred revenue accounted for 28.8% of US package revenue. US deferred revenue totaled $952.0 million in the quarter, up 0.3% from $878.0 million in Q1 2018.
In the Express segment, FedEx receives international package revenue from international export package and international domestic package revenues. International export package revenue is derived from international priority package and international economy package. International package revenue was $3.8 billion, up 7.6% in the first quarter compared with ~$3.5 billion in Q1 2018.
Within the international export package revenue, international economy package revenue jumped 10.4% YoY to $850.0 million in the quarter. International domestic package revenue went up 8% to $1.1 billion from $1.0 billion in Q1 2018.
Article continues below advertisement
Yield and volume statistics
The Express vertical's revenue growth was on account of higher yield across the worldwide portfolio of package and freight services. The segment's revenue rise was also due to a 16.3% YoY increase in total daily average freight pounds in the first quarter. Average daily volumes in US packages rose 2.9% YoY to ~2.7 million packages from 2.6 million packages in Q1 2018. Total US packages yield jumped 4.3% in the quarter to $18.85 per package in Q1 2019 from $18.07 per package in the first quarter of 2018.
On the international package front, international economy packages witnessed 9.5% YoY higher average daily volumes in Q1 2019. International priority package volumes expanded 2.8% YoY, whereas International domestic packages saw 7% YoY volume growth in the quarter. International priority packages yield grew 3.1% YoY, and the same rose 1% for international economy packages.
Management outlook
The efficiency of FedEx's air fleet coupled with strong international package volume growth is expected to drive the Express vertical's yield. The addition of new aircraft starting in fiscal 2020 along with the launch of new services should boost the vertical's revenue growth in the long term.
If you are bullish on US transportation and logistics stocks, consider investing in the First Trust Industrials/Producer Durables AlphaDEX ETF (FXR). The ETF invests 2.1% of its portfolio in Southwest Airlines (LUV), 2.05% on Norfolk Southern (NSC), and 1.94% in Alaska Air Group (ALK).
The next article discusses FedEx Ground segment's performance.