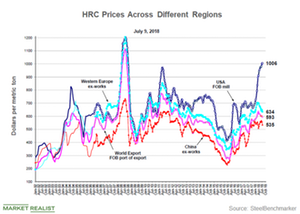 Why Cleveland-Cliffs Benefits More from a Rise in US Steel Prices
US steel prices
Steel prices are a major driver of steelmakers' earnings and revenues. According to S&P Global Platts, US (SPY) steel prices rose 17.5% on average in 2017 compared to 2016. Even in 2018 so far, the momentum in steel prices has remained strong.
According to SteelBenchmarker, US hot rolled coil prices were $982 per metric ton on June 11. In the first week of August, prices were near $900 per ton.
Article continues below advertisement
More correction in the cards?
The fall in steel prices was expected by the market. Prices got a boost from import tariffs, but they've had to stabilize as more capacity comes online in response to higher prices. While this capacity has not yet fully come online, prices have started correcting and could fall even lower.
According to S&P Global Platts, a source at a US service center was quoted as saying, "The mills are not desperate at this point, but they do need business." The source added, "The opinion in the market in recent weeks has been that HRC is the strongest product, but I think we're already seeing the effects of additional capacity coming back online."
Still supportive of earnings
While prices remain attractive and supportive of US steelmakers and Cleveland-Cliffs (CFO), there are now more risks associated with the downside than the upside.
Cleveland-Cliffs' realized revenue in the second quarter was $112.60 per ton, representing a rise of 16% YoY (year-over-year). The realization was also 7.2% higher sequentially. The strong realization was the result of increased steel prices and pellet premiums.
Cleveland-Cliffs' CEO, Lourenco Goncalves, mentioned during the company's second-quarter earnings call that "the base case scenario for steel pricing must be re-rated much higher than what we have seen so far."
Goncalves went on to say that Cleveland-Cliffs benefits from steel price rises more immediately than domestic steelmakers and service centers. Some of the annual contracts for US steel companies rolled over before the spike in steel prices, which is why they have not been able to reap as many benefits from the spike as CLF has.
The problem is especially acute for AK Steel (AKS), which sells almost 90% of its steel on a contract basis. ArcelorMittal (MT) also sells steel to automotive customers on a contract basis. For U.S. Steel Corporation (X), almost 40% of its US flat rolled shipments have annual fixed-price contracts, and roughly 75% of these contracts reset on January 1.