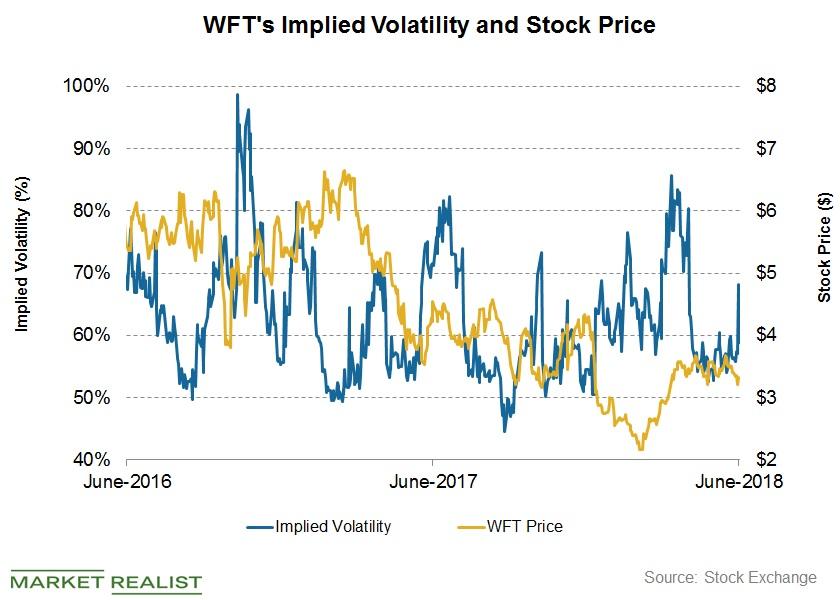 WFT's Stock Price Forecast for This Week
Weatherford International's implied volatility
As of June 22, Weatherford International's (WFT) implied volatility was 58.9%. Since April 24, when Weatherford International's first-quarter financial results were released, its implied volatility has decreased from 63%. WFT's stock price increased nearly 21%.
Article continues below advertisement
Weatherford International's price forecast
Implied volatility for WFT' peers        
Helix Energy Solutions Group's (HLX) implied volatility as of June 22 was 46.5%, which implies that HLX's stock price can vary between $8.12 and $7.14 by June 29.
Oil States International's (OIS) implied volatility was 37.9%, which implies that OIS's stock price can range between $35.15 and $31.65 by June 29.
McDermott International's (MDR) implied volatility was 34.4%, which implies that MDR's stock price can vary between $21.94 and $19.94 by June 29.
Next in this series, we'll discuss WFT's correlation coefficient with crude oil.