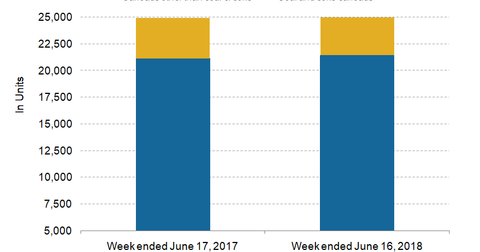 How KSU's Week 24 Traffic Growth Compared with the Industry
By Samuel Prince

Updated
KSU's carloads in Week 24
In Week 24 of 2018, the United States' smallest Class I railroad, Kansas City Southern (KSU), registered a small gain of 0.2% in its carload traffic. Our observation of KSU's overall traffic pattern in 2018 suggests that the railroad is witnessing a bumpy ride.
In the 24th week, this US–Mexico railroad hauled slightly less than 25,000 carloads. On a relative basis, KSU's carload volume gains were much lower than the 1.9% YoY growth reported by US railroad (IYT) companies.
Kansas City Southern's traffic excluding coal (ARCH) and coke reached 85.8% in Week 24 of 2018. KSU's coal and coke traffic was 14.2% in Week 24. Carloads excluding coal and coke rose 1.3% YoY, in contrast with a 6.3% YoY fall in coal and coke carloads in the reported week of 2018.
KSU hauled less than 21,500 carloads of other than coal and coke in Week 24, compared with more than 21,100 in Week 24 of 2017. Coal and coke carloads declined to ~3,600 units from 3,800 in Week 24 of 2017.
Article continues below advertisement
Changes in KSU's carload commodity groups
The following commodity groups' volumes rose in Week 24:
metallic ores
lumber and wood products except for furniture
pulp, paper, and allied products
stone, clay, and glass products
metals and products
motor vehicles and equipment
The following commodity groups' volumes dropped in Week 24:
grain
crushed stone, sand, and gravel
grain mill products
food and kindred products
chemicals and allied products
petroleum products
KSU's intermodal traffic in Week 24
In Week 24, Kansas City Southern registered 3.4% YoY growth in intermodal traffic. The company hauled over 21,200 containers and trailers in that week from ~20,500.
Containers, which dominate KSU's intermodal traffic mix, posted YoY growth of 2.8%. These volumes rose from 20,300 units to ~20,900 in Week 24 of 2018. Trailer volumes jumped by a robust 64.2% YoY to ~350 units from ~210 in 2017.
Kansas City Southern's rail traffic, including intermodal, grew 1.6%, much lower than the US railroads' (GWR) 4.1% gains in Week 24 of 2018.
We'll take stock of Canadian railroads in the next part, beginning with Canadian National Railway (CNI).