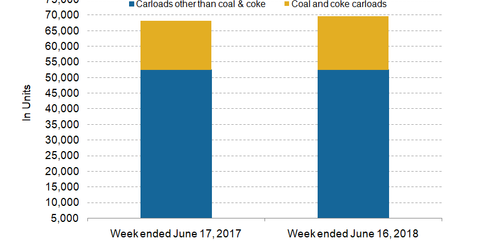 Comparing CSX's Rail Traffic with the Industry in Week 24
By Samuel Prince

Updated
CSX's carloads in Week 24
In Week 24 of 2018, Eastern US rail carrier CSX (CSX) witnessed a 2.2% YoY (year-over-year) rise in carload traffic. In that week, CSX moved 69,600 carloads, up from over 68,100 carloads in the same week in 2017. In 2018, CSX's overall traffic is slowly getting back on track after a lackluster 2017. 
Percentage-wise, the railroad's carload traffic growth was slightly lower than rival Norfolk Southern's (NSC) 3.2% YoY gains. Compared with US rail carriers' (XTN) 1.9% YoY gains, CSX's carload traffic growth was a bit higher in Week 24.
CSX's traffic excluding coal (BTU) and coke traffic was 75.3% in Week 24. Its coal and coke traffic was 24.7% in Week 24. Excluding coal and coke carload traffic rose 0.07% YoY to less than 52,500 units. Coal and coke carload traffic gained 9.4% YoY from ~17,200 units from just over 15,700 units.
Changes in CSX's carload commodity groups
The following commodity groups' shipments increased in Week 24:
grain
petroleum and petroleum products
primary metal products
pulp and paper products
crushed stone, sand, and gravel
stone, clay, and glass products
The following commodity groups' shipments fell in Week 24:
grain mill products
chemicals
non-metallic minerals
waste and non-ferrous scrap
motor vehicles and parts
non-metallic minerals
CSX's intermodal volumes
In Week 24, CSX's intermodal traffic grew 3.7% YoY to ~57,500 trailers and containers compared to less than 55,500 trailers and containers. Containers, which accounted for more than 95.0% of intermodal traffic, gained 3.4% YoY. 
CSX moved over 55,200 containers in Week 24 from ~53,400 containers in the same week last year. Trailer volumes posted growth of 13.3% YoY to less than 2,300 units from ~2,000 units in 2017.
CSX's rail traffic including intermodal fell 0.8% YoY in the first 24 weeks of 2018. On a relative basis, US railroad companies' overall traffic gains reached 3.6% during the same period. 
In the next part, we'll discuss Kansas City Southern's (KSU) traffic trends.