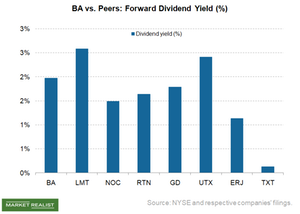 How Boeing's Dividend Yield Stacks Up with Peers
By Samuel Prince

Nov. 20 2020, Updated 3:30 p.m. ET
Boeing's dividend yield
Boeing (BA) has a forward dividend yield of 2%, which is slightly higher than the average 1.6% forward dividend yield of the aerospace and defense sector peer group. Most of the companies in the aerospace and defense sector have a lower dividend yield. A company's forward dividend yield is calculated by dividing a year's worth of expected future dividend payments by its present stock price. In fact, this metric is a better measure than the trailing dividend yield when investors expect a higher dividend growth rate.
Article continues below advertisement
Boeing has a strong order book and a healthy balance sheet. The company's business prospects have increased after the Trump administration's boost to manufacturing in the US. BA's stock may not be a lucrative proposition for high-income-seeking investors. However, regular income-seeking investors might consider Boeing going forward.
Dividend yield indicates an iterative rate on investment regardless of a stock's price. Note that higher dividend yields might support a stock's upward movement. On the other hand, a sizeable drop in the stock's price can entice new investors to enter at lower levels when the dividend yield rises. In the industrial space, General Electric (GE) was often an attractive pick for regular income-seeking investors. However, with the dividend cut along with a substantial fall in GE's stock price, the stock became less attractive.
Peer group's forward dividend yield
Among the Aerospace and Defense sector's major companies, Lockheed Martin (LMT) has the highest forward dividend yield of 2.6%. After LMT comes United Technologies (UTX) with a yield of 2.4%. The company is a provider of high-end industrial-technological solutions in the US. Boeing ranks third among these peers in terms of the metric.
General Dynamics (GD) has a forward dividend yield of 1.8%, followed by Raytheon (RTN) at 1.6%. Northrop Grumman (NOC) and Embraer (ERJ) have yields of 1.5% and 1.1%, respectively. Boeing makes up 9.7% of the SPDR Dow Jones Industrial Average ETF (DIA). This ETF has 13.1% exposure to Aerospace and Defense companies overall.