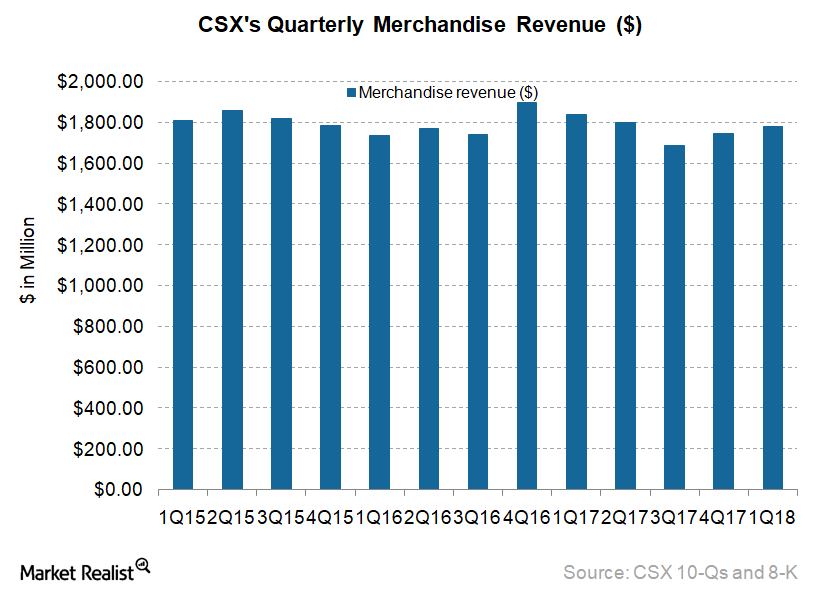 The Fall of CSX's Merchandise Freight Revenue in 1Q18
By Samuel Prince

Apr. 21 2018, Updated 7:32 a.m. ET
CSX's merchandise revenue in 1Q18
In the previous part of this series, we looked at CSX's Intermodal segment's revenue in 1Q18. Now, let's look at its merchandise revenue for that quarter. Its general merchandise revenue fell $60 million, or 3.3%, to $1.77 billion in 1Q18 from $1.79 billion YoY (year-over-year).
Merchandise's share of CSX's total operating revenue fell 2.2% to 61.9% in 1Q18 from 64.1% in the same quarter last year.
For CSX, growth in general merchandise revenue remains a concern. Looking at the above chart, you'll see that for three consecutive quarters ending in 1Q18, its merchandise revenue YoY has declined. It has fallen seven of the last eight quarters.
Article continues below advertisement
CSX's merchandise volumes in 1Q18
CSX's overall merchandise volumes declined 8% in 1Q18 to 642,000 units, from 699,000 units in 1Q17. Shipments of agricultural (ADM) and food products declined 12% in 1Q18 to 107,000 units compared with 121,000 units in 1Q17. Losses in the ethanol market coupled with tough conditions in the domestic and export grain market led to lower agricultural volumes.
Chemical (DWDP) volumes declined 7% to 162,000 units in 1Q18 from 175,000 units in 1Q17. That was due to lower shipments of fly ash and continuing challenging conditions in energy markets. Automotive (TSLA) shipments fell 6% to 112,000 units from 119,000 units. Lower vehicle production in North America and the industry's strained autorack fleet led to the fall in automotive volumes.
The volume for the Forest Products segment was almost flat in 1Q18 at 67,000 units. Mineral shipments fell due to mild winter weather in 2017. Carloads of metals and equipment plummeted 9% due to a reduction in scrap metal shipments and declines in the movement of transportation (XTN) equipment. Fertilizer shipments contracted 17%, mainly due to the customer facility closure.
CSX's merchandise revenue outlook
CSX anticipates automotive freight volumes to decline later in 2018 due to an expected fall in North American light vehicle production. However, the railroad foresees a stable business in paper boards and base chemicals. The crude-by-rail shipments are expected to increase slightly in the coming quarters. CSX believes its merchandise revenue will grow at or above the US economic growth rate.
In the next part, we'll take a look at CSX's operating margins for 1Q18.