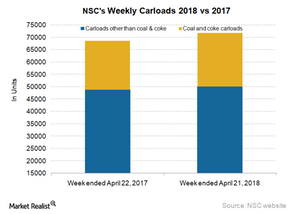 Comparing Norfolk Southern's Railcar Traffic in Week 16
By Samuel Prince

Updated
NSC's carload traffic in Week 16
Eastern US rail carrier Norfolk Southern's (NSC) carload traffic rose 4.6% YoY (year-over-year) in Week 16. Excluding intermodal, the company's rail traffic rose YoY from ~68,600 units to ~71,700.
Norfolk Southern's prime competitor in the eastern United States, CSX (CSX), also reported carload traffic growth, of 1.6%. The Norfolk-headquartered rail giant's traffic growth has been consistently higher than CSX's this year. In Week 16, NSC's carload volumes grew slightly more than US railroads' (GWR), which rose 3.5%.
Article continues below advertisement
In Week 16, carloads other than coal and coke (ARCH) accounted for 69.8% of NSC's total carloads, whereas coal-and-coke carloads comprised 30.2%. The company's other than coal and coke carloads rose 2.6% YoY to ~50,000 units from ~48,800. Its coal-and-coke carloads rose 9.3% YoY to ~21,600 units from ~19,800. In comparison, competitor CSX's coal carloads grew by double digits, by 11.4%.
Changes in NSC's carload commodity groups
The following commodity volumes rose in Week 16:
chemicals
crushed stone, sand, and gravel
motor vehicles and equipment
petroleum products
non-metallic minerals
The following commodity volumes fell in Week 16:
grain mill products
grain
metals and products
pulp, paper, and allied products
stone, clay, and glass products
Intermodal volumes in Week 16
Norfolk Southern's intermodal volumes witnessed solid double-digit gains in Week 16, rising 14.2% from 73,600 containers and trailers to ~84,100. CSX recorded mid-single-digit gains in the same category. Norfolk Southern's container traffic expanded 12.3% YoY to ~75,800 units from ~67,500. Trailer traffic, which accounts for ~10% of NSC's intermodal traffic, rose 36.4% YoY to ~8,300 trailers from ~6,100.
Norfolk Southern's railcar volumes including intermodal rose 2.9%, almost in line with the 3% gain reported by US railroads (XLI). In the next article, we'll cover CSX's railcar traffic.