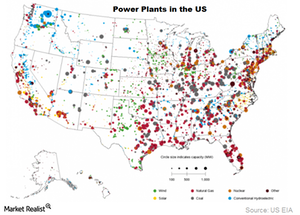 Will Coal Drive the Railroad Stocks Going Forward?
By Samuel Prince

Mar. 21 2018, Updated 3:20 p.m. ET
US railroads and coal
Coal accounted for 31.6% of the total tons originated by the US Class I railroads in 2016. Coal was followed by chemicals with an 11.3% share. In gross revenues earned by these railroads, coal-related revenues accounted for the highest share of 13.9% out of all the carload commodity groups. Coal remains the single largest commodity hauled by US Class I railroads.
2016 and 2017 were particularly bad for coal traffic due to the strength in the US dollar, international markets flooded with coal, and most importantly, low natural gas prices. The natural gas prices were low due to a slump in crude oil prices, which led to a switch to natural-gas-fired power plants from coal-fired power plants. A slump in steel production cooled off the demand for metallurgical coal (or coking coal).
Article continues below advertisement
Coal's share of revenue and carloads
For Norfolk Southern (NSC), coal accounted for 17% of its total revenues, and coal carloads were 13.7% of volumes in 2017. The coal business accounted for 18% of revenue and 13% of volume for CSX (CSX). Kansas City Southern (KSU) received 11.4% in revenues from coal hauling and coal's share in total volumes was 12.9%. Canadian Pacific Railway (CP) earned 9.9% of revenues from its coal business, whereas the commodity's share in total carloads was 11.6% in 2017. For Canadian National Railway (CNI), coal accounted for 4.4% of total operating revenues and 5.3% of total carloads. Coal's share in Union Pacific's (UNP) revenues was 13.3% and 14.3% in overall carloads.
Coal volumes and revenues of the Class I railroads have gone up in recent quarters. However, it's important to note that coal's share in US electricity production is not expected to go up in 2018. In the last year, coal accounted for 30.1% of US electricity generation. The domestic utility coal stake had a sizable share in coal tonnage of these Class I railroads (XTN). The tonnage of domestic utility coal has dwindled in recent quarters. Even the pro-coal approach of the Trump government may not bring about the desired results for coal haulage.
EIA's projections on coal
The US EIA projects a 5% decline in coal production to 736 million short tons (MMst) in 2018. However, it is expected to rise 1% to 745 MMst in 2019. Lower anticipated worldwide demand for US coal exports and reduced forecasts for coal use in electricity generation (down 5% in 2018) will most likely lead to lower coal production.
Though the rise in coal price will give these railroads the required pricing power, coal volumes have given mixed signals so far in 2018. To sum up, investors shouldn't count on coal to drive railroad stocks in the coming quarters.