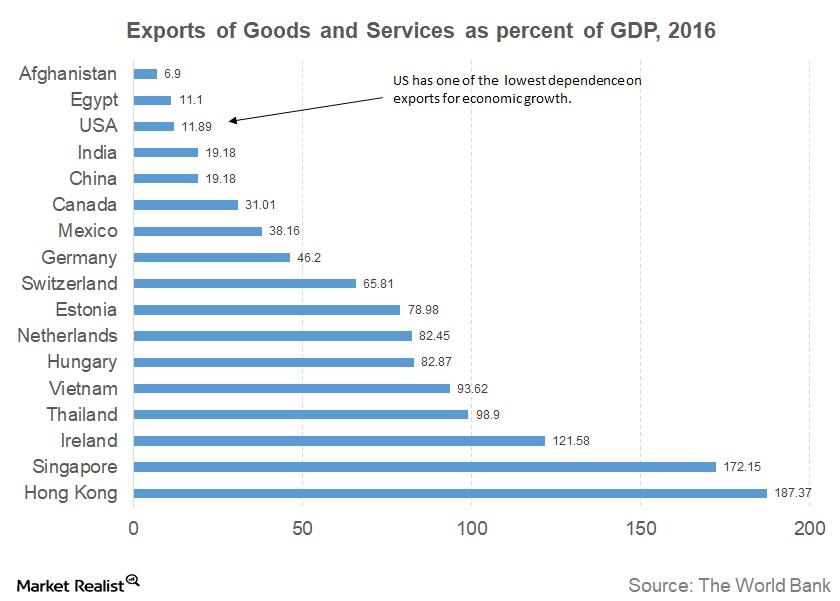 Why President Trump Thinks Tariffs Are a Good Measure
By Ricky Cove

Mar. 8 2018, Updated 12:43 p.m. ET
President Trump's trade policies since assuming office
President Donald Trump's announcement about tariffs on steel (SLX) and aluminum (AA) imports shouldn't come as a surprise, as he's been on this path since taking office last year. One of the first trade policy actions from the Trump administration was to withdraw from the Trans-Pacific Partnership, which would have created the largest economic block.
Then there's the North American Free Trade Agreement (or NAFTA) involving Canada (EWC) and Mexico (EWW), which the Trump administration is trying to renegotiate. Other examples of trade measures from the Trump administration include the introduction of punitive tariffs ranging from 65%–195% on Chinese stainless-steel products in February 2017, a 20% tariff on softwood lumber, a 10% tariff on paper, a downward-revised tariff of 80% on Bombardier C-series jets from Canada, and finally recent tariffs on washing machines and solar panel imports.
Article continues below advertisement
US domestic consumption higher
Among the global economies, the United States is one of the countries with the lowest export-to-GDP ratio. US consumers consume most of the goods and services produced in the country, with only 12% of GDP coming from exports. In a unilateral trade policy, companies that contribute to the 12% of GDP could face problems, as they'd be hit by retaliatory tariffs from other nations.
For instance, the European Commission president, Jean-Claude Juncker, indicated possible tariffs on US motorcycles from companies such as Harley Davidson (HOG), denim from companies such as Levi's, and bourbon whiskey. President Trump assumes that the United States can take stiff measures and force itself into favorable trade contracts, but history points out that trade protectionism could have a disastrous impact on the domestic and global economies.
Would this shift in policy succeed?
It's unlikely that such protective measures, which the US has always resisted in the past, are likely to succeed in the long term. The international free trade system, which was created with the United States as the main contributor, has helped improve global trade and increased efficiencies across industries and countries. 
President Trump wants to help revive the struggling US industries, but at what cost? Consumers and manufacturers end up paying higher costs for domestic products, while a few producers stand to gain substantially. In the next part of this series, we'll explore the economic costs involved with tariffs.