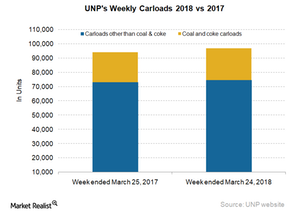 Intermodal Growth Pushed Norfolk Southern's Volumes in Week 12
By Samuel Prince

Updated
NSC's carloads in Week 12
Major eastern US railroad company Norfolk Southern (NSC) saw its carload traffic in positive territory in Week 12. The company's carload traffic was down 2.7% in the week ended March 24, 2018.
In the week, NSC moved ~70,000 carloads compared to ~71,900 carloads in the week ended March 25, 2017. Its competitor CSX (CSX) also recorded a 3.1% fall in carload volumes. Norfolk Southern's change in carloads stood in contrast to the 2.5% gains posted by US railroad companies (GWR) on the whole in Week 12.
Article continues below advertisement
NSC's carloads excluding coal (BTU) and coke fell 4.4%, crossing 48,300 units compared to over 50,500 carloads in last year's Week 12. Its coal and coke carloads rose 1.4% in the reported week of 2018. The company hauled fewer than 21,700 carloads of coal and coke compared to ~21,400 carloads in the same week last year. Carloads other than coal and coke made up 69% of its total carloads, and its coal and coke carloads made up 31%.
Rising and falling carload commodity groups
Commodity groups that reported rises in shipments were as follows:
chemicals
metals and products
pulp, paper, and allied products
waste and scrap materials
Commodity groups that reported carload slumps were as follows:
grain
motor vehicles and equipment
petroleum products
grain mill products
NSC's intermodal traffic in Week 12
Norfolk Southern reported a 7.2% rise in its intermodal traffic in Week 12. Its competitor CSX posted a very slight 0.05% rise in volumes. NSC hauled over 72,800 containers in Week 12 compared to 68,700 containers in the comparable period last year. On a year-over-year basis, its container traffic was up 6%. Its trailer volumes were up 17.6% to 9,000 trailers compared to 7,600 units last year.
For the first 12 weeks of 2018, Norfolk Southern's railcar volumes, including intermodal, grew 2.8% compared to the 2.6% rise posted by US railroad companies (XLI) overall.
In the next article, we'll assess CSX's railcar traffic.