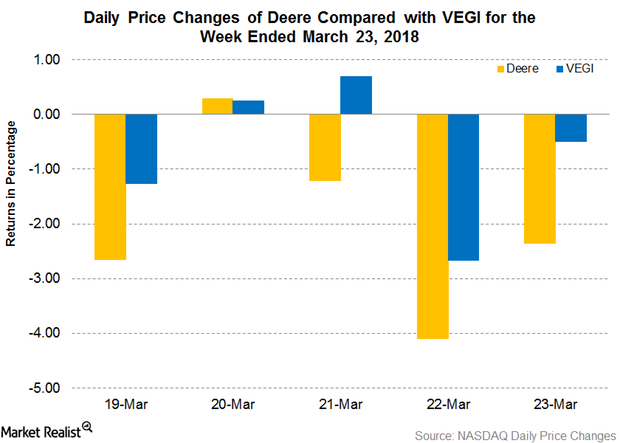 Deere & Company Launches Higher Durability Pallet Forks
By Peter Neil

Mar. 26 2018, Updated 10:12 a.m. ET
Deere's new pallet forks
On March 20, 2018, Deere & Company (DE) announced that it had improved the Worksite Pro pallet forks, which are expected to be more powerful and more durable than their predecessors. The pallet forks will be available in 45-inch and 60-inch versions, and they are suitable for Deere G- and E-series skid steers and compact truck loaders.
The pallet forks are compatible with L, K-II, and K-Series compact wheel loaders. The new pallets can handle up to 6,200 pounds (2,812 kg).
Jessica Hill, the program manager of global attachments at John Deere, noted, "Knowing that pallet forks are staple attachments for our customers, we designed a better, more durable frame for years of wear and tear."
Hill continued, "Owners and operators can have peace of mind knowing that they can transport heavy loads without worrying about damage to their materials or machines."
Article continues below advertisement
Update on Deere's stock price
Deere & Company's (DE) stock price declined 9.7% and closed at $148.00 for the week ended March 23, 2018. As a result, the stock traded 4.7% below the 100-day moving average price of $155.33, indicating a trend reversal. On a year-to-date basis, the stock has declined 6.3%.
Deere's peers Caterpillar (CAT), AGCO (AGCO), and CNH Industrials (CNHI) have declined 8.4%, 12.9%, and 9.1%, respectively. However, analysts are bullish on Deere stock and recommended a target price of $185.50, which is 25.0% above its closing price of March 23, 2018.
DE's 14-day relative strength index of 35 indicates that the stock is neither overbought nor oversold.
Investors can indirectly hold Deere via the iShares MSCI Global Agriculture Producers ETF (VEGI), which invested 10.9% of its portfolio in Deere on March 23, 2018.